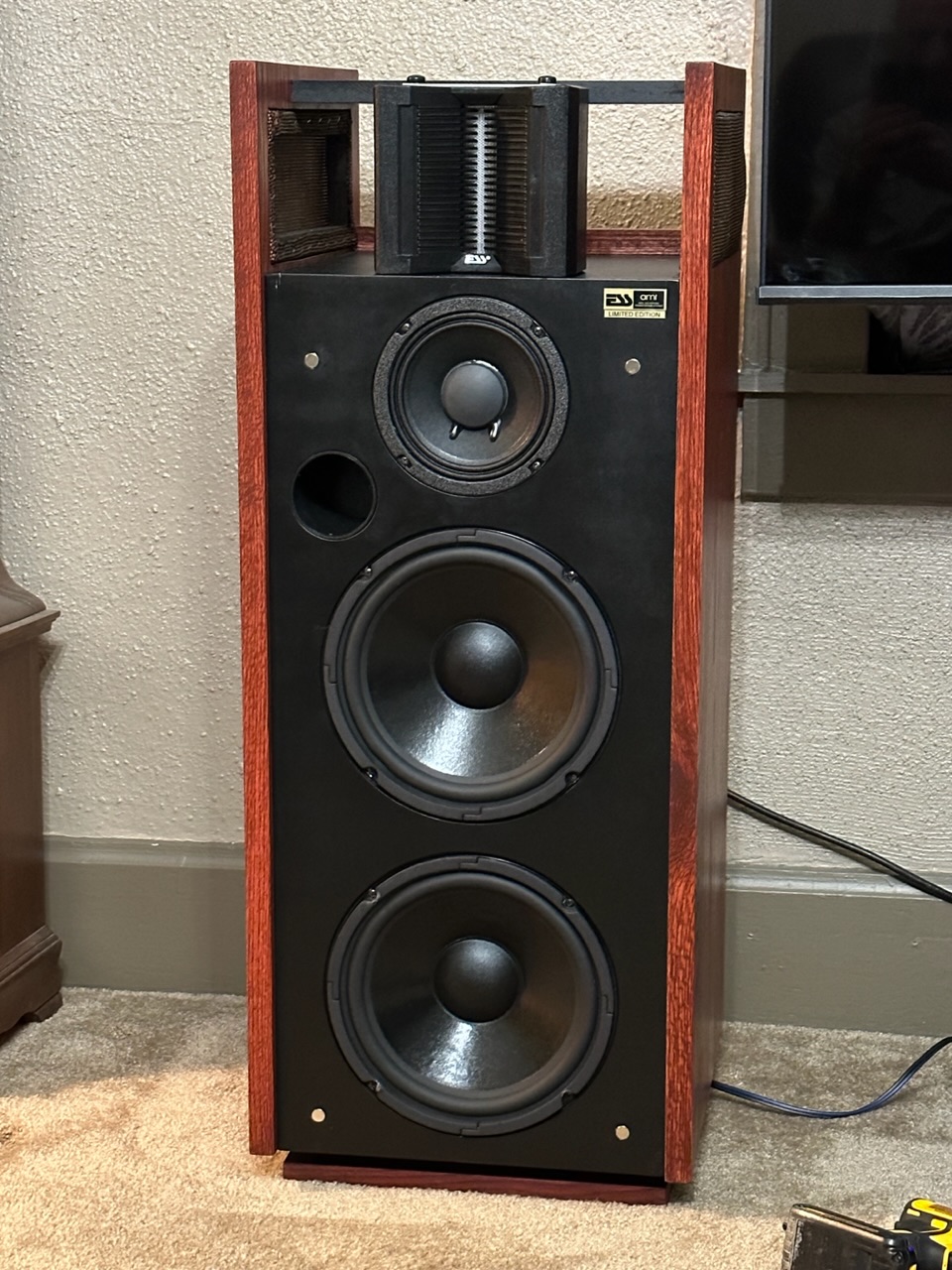 ESS AMT 3 Replica
---
Designer: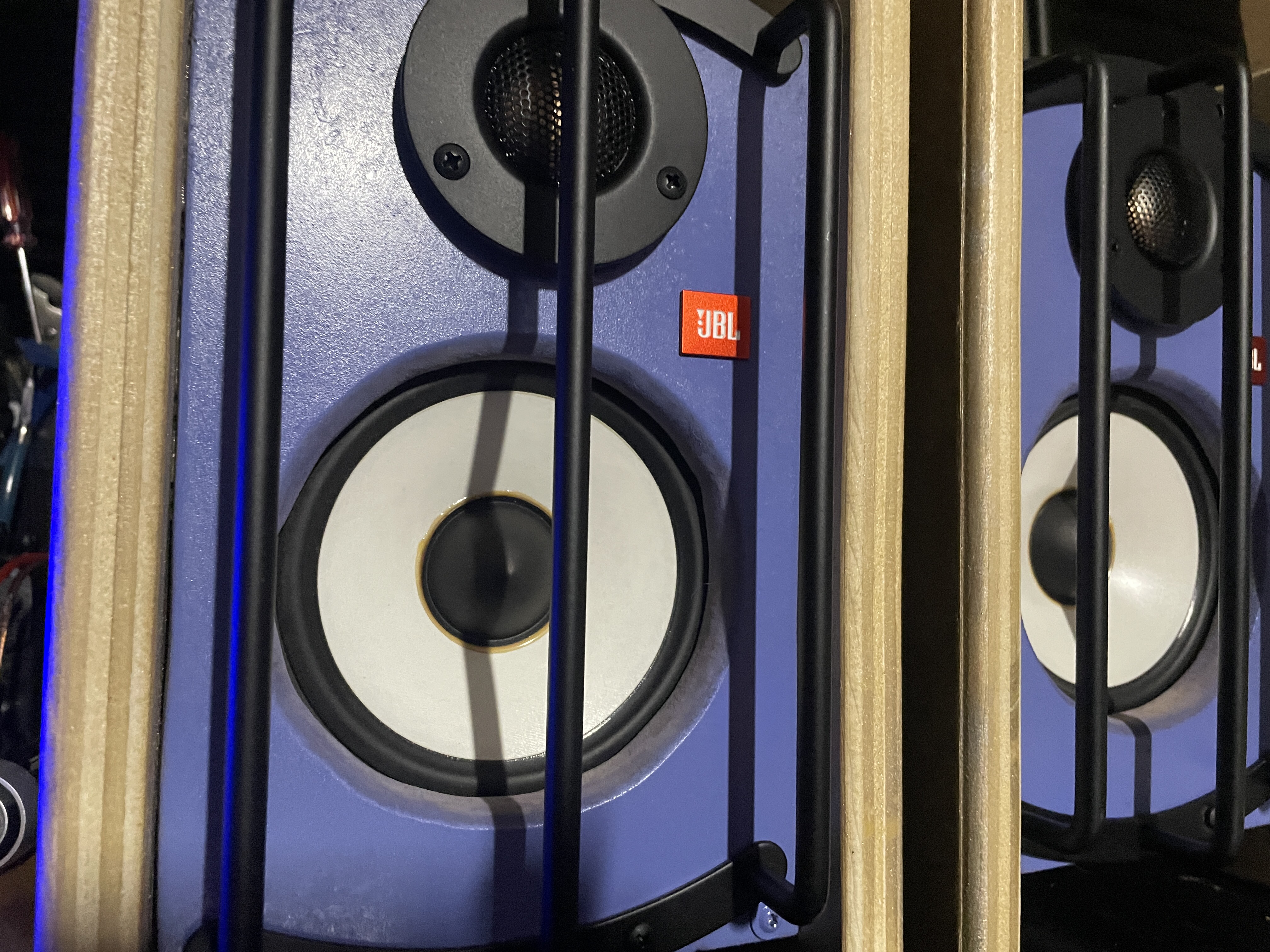 Matt

Project Category:
Tower Speakers

Project Level

Intermediate
Project Time:
20+ Hours

Project Cost:
Over $1,000
Project Description:
I have always wanted a pair of ESS AMT 3 speakers. I grew up listening to a pair my uncle had. I've been looking for 15 years for my own pair and finally I saw a pair for sale 7 hours away. I was also going through a divorce so I was hesitant to buy them… my uncle saw them and bought them before I could! Snooze ya loose. Lol. After hear 2 pair hooked up in his garage I decided if I couldn't buy them, I'd build them. ESS is producing the Heil AMT tweeters again and I knew I could get adequate parts for the rest of it. I took measurements of my uncle's original speakers, made drawings and took notes. My stepdad built the cabinets for me. He did a spectacular job. I purchased the tweeters directly from ESS. The rest came from here. The mid-bass is an Eminence Beta 6a. I found a pair on clearance as a restock for a deal I couldn't pass up. The Alpha 6a was my original choice and would've worked extremely well. The 4 10 inch woofer are Dayton Audio DC250-8. For only $45 per woofer I am quite impressed. I could not purchase the new woofers from ESS because they are 4 ohm woofers and I don't have an amp that would be happy running a 2 ohm speaker. I was planning on building the crossovers myself. It I came across a guy on eBay that had built an exact replica of the original crossovers and for the price I couldn't justify building them myself. All of the components he needed to build the crossovers were purchased here on parts-express.com. The only other important detail was a grill cloth that looked like the original. I did. Or want these speakers to have a modernized look at all. The grill material needed to have that vintage vibe… and I think I nailed it. Found the grill material at speakerbuildersupply.com These sound every bit as good as my uncle's original pairs. I really tried to recreate this speaker to the best if my and my stepdad's abilities. Put these next to an original pair and you see a better quality finish on mine because they're new… everything else is the same. To within 1/16 of an inch.


Design Goals:
 
To accurately and respectfully reproduce my own pair of ESS AMT 3 Rock Monitors
Driver Selection:
Woofer Dayton Audio DC250-8
Mid-Bass Eminence Beta 6a
Enclosure Design
I measured and reproduced the original cabinet with some added bracing and a better enclosure for the mid-bass. The side panels are made from oak that was in my uncles barn for as long as I've been alive. The finish on the oak is Rubio Monocoat. Cherry coral is the color.
Crossover Design:
Crossovers were made exactly to the original specs. Even the layout is the same.
Tips & Tricks:
N/A
Conclusion:
I now have complete one of my life goals. To own a pair of these speakers. It doesn't bother me they aren't an original pair. I reproduced these in a very detailed and respectful manner. They are every bit as good as the originals.
About the Designer:
Started building speakers as a teen because of these ESS speakers. All these years later I've built what got me interested in audio gear to begin with.

Project Parts List:
| | | |
| --- | --- | --- |
| Part # | Description | Qty. |
| 295-315 | Dayton Audio DC250-8 | 4 |
| 290-662 | Eminence Beta 6a | 2 |
| 260-265 | Speaker L-Pad Attenuator 100W Mono 1″ Shaft 8 Ohm | 2 |