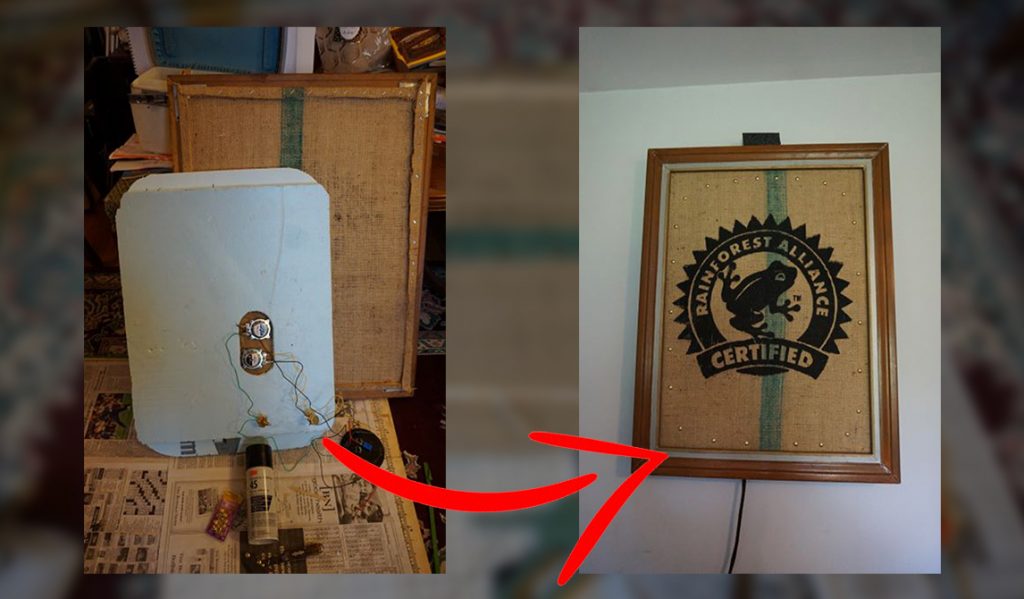 Exciter Pannel
---
Designer:
Bob
Project Category:
Home Theater
Project Level:
Beginner
Project Time:
1-8 Hours
Project Cost:
Under $100
Project Description:
Have been sticking these exciters on to all kinds of things, it is a lot of fun! Haven't tried any full size panels yet, but now have one project ready for exhibition. I thought a good use for non-intrusive panels would be for bedroom TV.
Design Goals:
Having looked at a few forums on these panels, I decided not to worry about bass (leave that to a separate driver). I used material on hand, which did limit performance to some extent.
Driver Selection:
Part#294-224; Dayton Audio DAEX25FHE exciter
(2 in series @ 8 ohms)
Enclosure Design:
Large picture frame.
Enclosure Assembly:
A burlap coffee bean bag was used as a membrane stretched taunt across a picture frame. To this membrane, I fitted/glued a slightly smaller foam panel to which the exciters were then attached. I used battens & Liquid nails to attach the burlap (first reinforcing the frame corners with metal brackets).
Crossover Design:
Part#269-2198; Spring loaded 4 1/2″ round Terminal cup.
Tips & Tricks:
I used a spray adhesive to attach the rigid foam insulation to the burlap. TEST Materials for compatibility FIRST. I did & these are basically welded together. I am not recommending these materials, they are just what I happened to have on hand. In an attempt to dampen the "bright" performance of these drivers, I glued two layers of foam together with a free form wooden sounding board in-between. the exciters were attached to this ridged sub straight. It does dampen, but maybe not in a good way.
Conclusion:
Generally satisfied but still tinkering. Been using a small D-amp to drive this & currently testing another exciter driver design on the right channel. Not using the Terminal cup filters at this at this time.
About the Designer:
tttt..too much time on my hands!
Project Parts List: