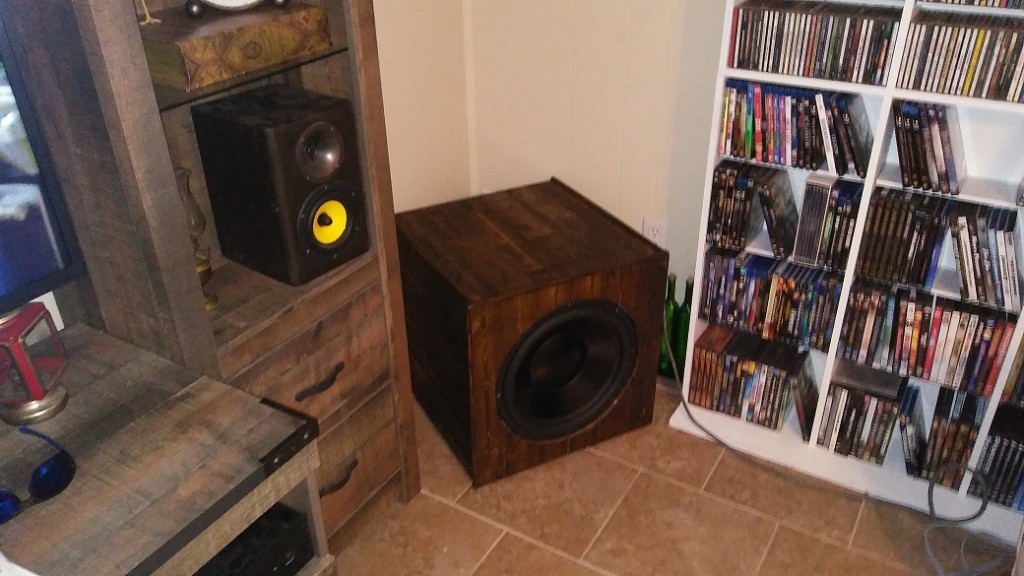 Farmhouse bumper
---
Designer:
Dan
Project Category:
Subwoofers
Project Level:
Beginner
Project Time:
20+ Hours
Project Cost:
$500 – $1,000
Project Description:
I had to build a new sub to fit my new house's decor.
Design Goals:
Aesthetically pleasing with wall shaking bass.
Driver Selection:
15″ D.A Reference HF 4 OHM. P/N 295-468
Enclosure Design:
Denovo 3 cu ft knockdown box. P/N 300-7078. I covered this box with pine wainscotting (face down) to simulate the "farmhouse" style. I kept the box sealed as it was made for the HO version of the driver I selected.
Enclosure Assembly:
I glued and screwed together the knockdown box then sealed the inside seams with silicon. I used wood glue to glue the front baffle onto the front for the dual baffle design of the box. I cut various lengths of pine wainscotting and, using construction adhesive, glue them to the top, and both sides. Due to the rounded edges of the baffle, I aligned the wood boards with the face of the baffle and filled the space between the boards and the baffle fully with the construction adhesive. I used the same technique for the front but cut the boards to coarsely fit the speaker cut out before gluing them in place. I used a combination of wood clamps and weight to ensure the wood boards were firmly glued to the box. I sanded out the speaker cut out portion of the boards with a Dremel to finely line the board edges with the cut out. I did a quick sanding with 80 grit then glued trim pieces to the top and front (sanding them down by 1/2 after dried). I applied stain and finished the box with a coat of satin clear coat. I used 12 gauge wire from the terminal to the driver, soldering the wire to the terminal. The box was lightly filled with polyfill before the driver was screwed into place.
Crossover Design:
Externally controlled w/ D.A SA1000 subwoofer amp. P/N 300-811
Conclusion:
I got the look I wanted – although if I had planned better I would not have used the trim. The bass is as expected; clear, deep, tight, and powerful. Using the D.A sub amp gives me all the control I want (and the wife needs!). I am very happy with how this turned out and will be covering my front speakers (also in Denovo knockdowns) with the same materials.
About the Designer:
I have been into stereos for 30 years but am not very technically knowledgeable. I use only my ears to determine if my systems sound good so can't post all the technical stuff everybody seems to like.
Project Parts List: