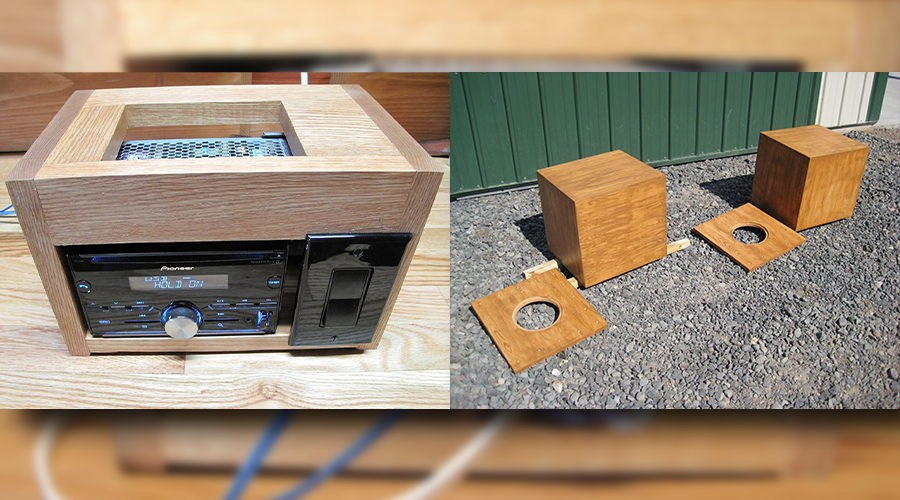 Faux Bois Subwoofers
---
Designer:
Mike
Project Category:
Subwoofers
Project Level:
Beginner
Project Time:
1-8 Hours
Project Cost:
Under $100
Project Description:
I have not seen a project on here where the Faux Bois technique (French for "fake wood") has been used to finish cabinets. I think this is because most people are not aware of this easy and cheap way to make MDF look like real wood. It sure is a lot easier, faster and cheaper than using real wood veneer.
I wanted to add a little more thump to my barn stereo system. I had a couple of 8″ drivers laying around and figured I'd use them. I bought a 4×8 sheet of 3/4″ thick MDF. I decided to play around with a graining tool I bought 30 years ago at a home improvement trade show in Denver and never used. I remember watching the guy at that show paint a metal door to look exactly like oak. I was impressed and bought the tool. They sell these tools at Lowes for $8 now.
The way it works is you paint something a lighter base color and let it dry. You then thin a darker color with clear paint (glaze) and paint it over the base coat. While still wet you run this graining tool through the wet paint, rocking it back and forth to vary the grain. It's very easy to do. Here are before and after pictures and a picture of the graining tool.
I 'm using a Pioneer car stereo to drive my main barn speakers, along with a 300 watt 12-volt AC/DC power supply. I built both into an oak box. It has active crossovers in it for both front and rear channels. Take a look at the pictures of this. I'm using a Dayton APA-150 for the two subwoofers.
Design Goals:
Add a little more thump to the barn.
Driver Selection:
What I had laying around; GRS 8PR-8 8″ Poly Cone Rubber Surround Woofer, Parts Express Part # 292-428
Enclosure Design:
I used the dimensions of the Parts Express 12″ subwoofer kit (2.0 cu.ft.) in case I want to replace the 8″ driver with a real 10 or 12-inch subwoofer from Parts Express later.
Enclosure Assembly:
Just glue and clamps. I have a great Makita belt sander that made flushing up the edges after gluing easy. I cut the driver holes with a trim router and a home-made circle jig made of plexiglass.
Crossover Design:
N/A
Tips & Tricks:
Be sure to sand the MDF perfectly smooth, as scratches will show through the paint. A coat or two of polyurethane on top of the paint helps protect the fake wood grain.
Conclusion:
The cabinets look like real wood. MDF is the perfect material to paint this way.
About the Designer:
I've been building a few speakers for my own needs for 40 years now. Still don't know much so I mostly follow designs developed by the experts. Luckily, sub-woofers are easy with an active crossover.
Project Parts List: