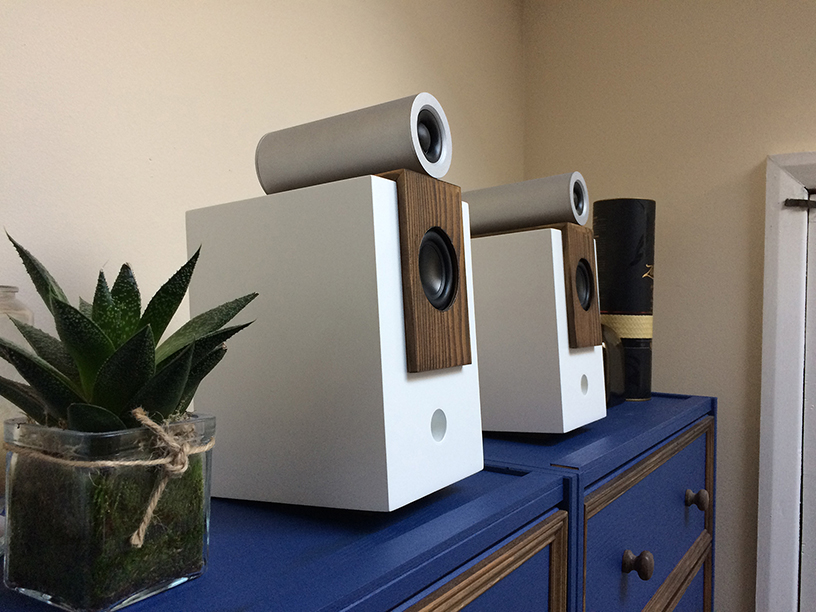 First Build – Bluetooth Bookshelf Speakers
---
Designer:
Lovynash Dookhee
Project Category:
Freestyle Speakers
Project Level:
Beginner
Project Time:
8-20 Hours
Project Cost:
$100 – $500
Project Description:
I decided to replace my desktop 5.1 Creative speakers with a Bluetooth system to free up some space on my desk. Although the quality of the sound was top priority, I wanted to design a set of speakers that would stand out and be part of the interior design too.
Design Goals:
– Decent bass (I'm using a 2-1/2" full range driver so can't expect much low frequencies)
– Clear mids and highs
– Aesthetically pleasing blending in with the current interior design (not a typical driver in a box)
– Overall cost $150
Driver Selection:
– Dayton Audio ND65-4 2-1/2″ FULL RANGE
– Dayton Audio ND20FB-4 Rear-Mount 3/4″ TWEETER
Enclosure Design:
– Vented/Ported box; thank you Parts Express for helping me work out the port dimensions!
– PVC Tube used as a port
Enclosure Assembly:
– Tweeters mounted in aluminium tubes (sand blasted finish)
– Gloss white box with foam on inner walls and filled with poly fill
– European walnut feature to blend the aluminium tube with the box
Crossover Design:
Parts Express assisted me greatly on this as I've never heard of the term "crossover" until I decided to build these speakers – thank you guys!
Conclusion:
I'm over the moon! I never thought they would sound this good. My choice of music is varied, with with lots of background instruments and I could hear everything through those speakers. It was like re-discovering my entire music library; I am now considering adding a sub-woofer to improve the bass.
About the Designer:
I am an industrial designer with an interest in almost anything that can be manufactured.
Project Parts List: