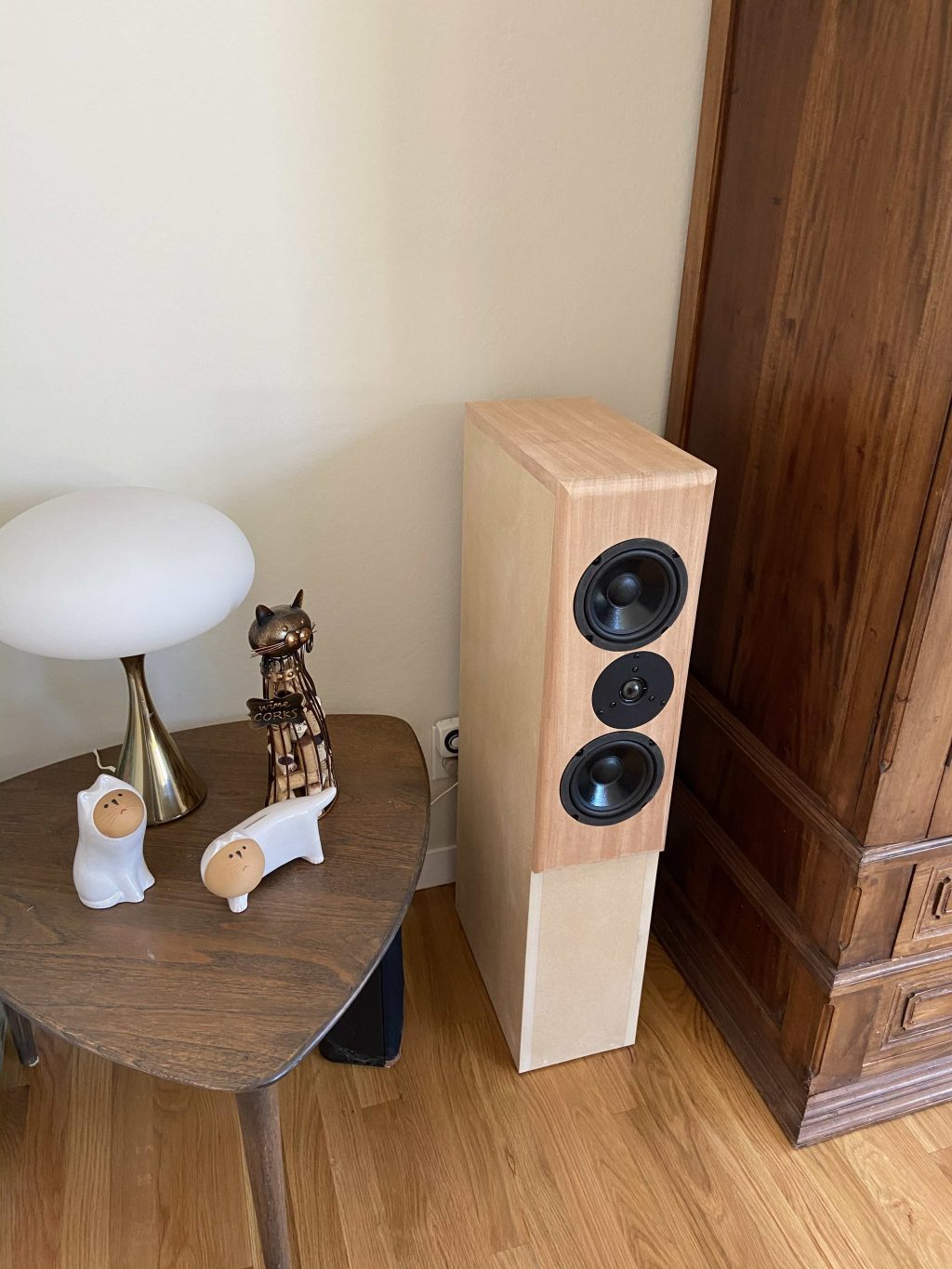 First Speaker Project – TriTrix Tower
---
Designer:
Dave's First Speaker Project
Project Category:
Tower Speakers
Project Level:
Intermediate
Project Time:
20+ Hours
Project Cost:
$100 – $500
Project Description:
I needed a project during Covid lockdown, so I decided to build tower speakers for our living room. The TriTrix kit seemed like a great place to start, so I bought the components without the cabinet. I followed the cabinet design, but built myself using 3/4″ MDF for the enclosure and 3/4″ mahogany for the baffle and top. I used dowels to reinforce the panel attach points, which added work/complexity, but yielded a stronger enclosure.
Design Goals:
I wanted the speakers to blend in with our living room furniture and decor, so I opted for a dark espresso paint and a stained mahogany baffle/top. The speakers are for music only, so I wasn't concerned with low-end needing a separate sub. Mostly striving for clarity and accuracy.
Driver Selection:
I used the TriTrix component kit
Enclosure Design:
I followed the TriTrix MTM tower design
Enclosure Assembly:
3/4 MDF for the enclosure + 3/4 mahogany for the baffle and top (added on top of underlying MDF).
Crossover Design:
Used TriTrix component kit
Conclusion:
Very happy with the results. There was a wealth of information online regarding the TriTrix kit, so it was fairly easy to figure out. Using dowels for the construction was likely overkill, but created a rock-solid enclosure. The 3/4 MDF is easy to work with, but yields a really heavy speaker. Low-end output is good given the driver size, but requires high volume levels. If I had to do over again, I would probably opt for a design with integrated sub.
About the Designer:
Full-time job in tech, but like to tinker in the garage. Hobbyist woodworking skills.
Project Parts List:
| | | |
| --- | --- | --- |
| Part # | Description | Qty |
| 300-700 | TriTrix MTM TL Components Only Speaker Kit Pair | 1 |