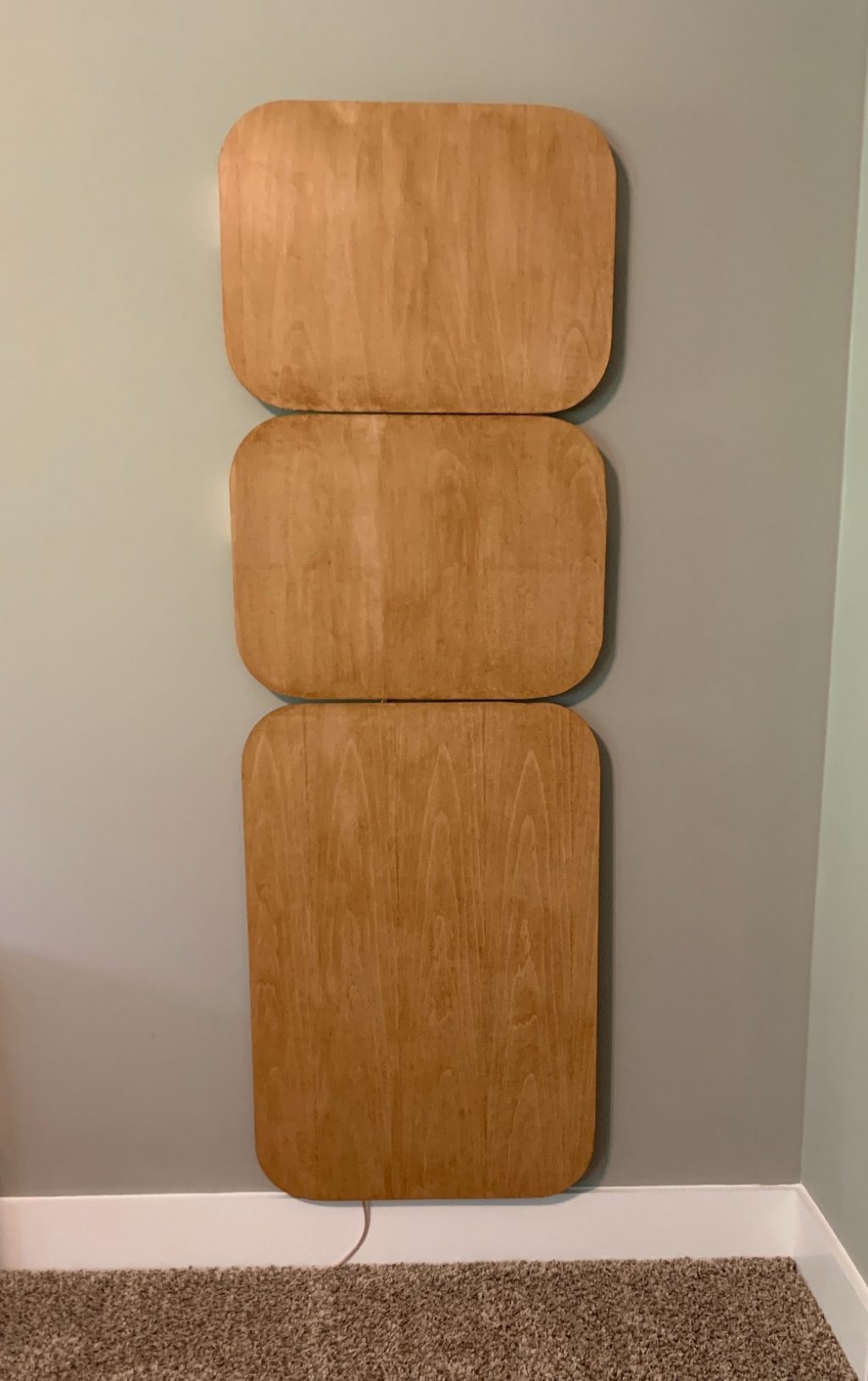 Flat Panel Speakers
---
Designer:
Kirk
Project Category:
Freestyle Speakers
Project Level:
Beginner
Project Time:
1-8 Hours
Project Cost:
$100 – $500
Project Description:
Speakers made form Dayton Audio exciters and plywood.
Design Goals:
Inexpensive speakers that sound good and fill the room with music and don't look too bad.
Driver Selection:
295-230
Enclosure Design:
24×35 sheet of birch plywood from Home Depot
Enclosure Assembly:
Bought 2 panels of Birch plywood for each side. One panel was left in its original size. The other panel I had cut in half.
I rounded the corners on all panels with a Dremel that has a radius attachment.
Stained the panels with a "walnut" color. Need another coat or two probably.
Attached the exciters at 3/5 height and width as many have recommended.
Crossover Design:
Crossover points are 1300Hz and 4500Hz
Tips & Tricks:
These sounded "muddy" before I used the crossover. With the crossover, I send the low to the large panels and the mid to a smaller panel and the high to a smaller panel.
Still not the "Boom" of a subwoofer but nice enough for what I need.
Conclusion:
Nice sounding speakers that look OK on the wall.
Would sound better and produce more sound if the speakers were not mounted to the wall though.
About the Designer:
First ever speaker build. Have no idea what I am doing but just learning as I go.
Project Parts List: