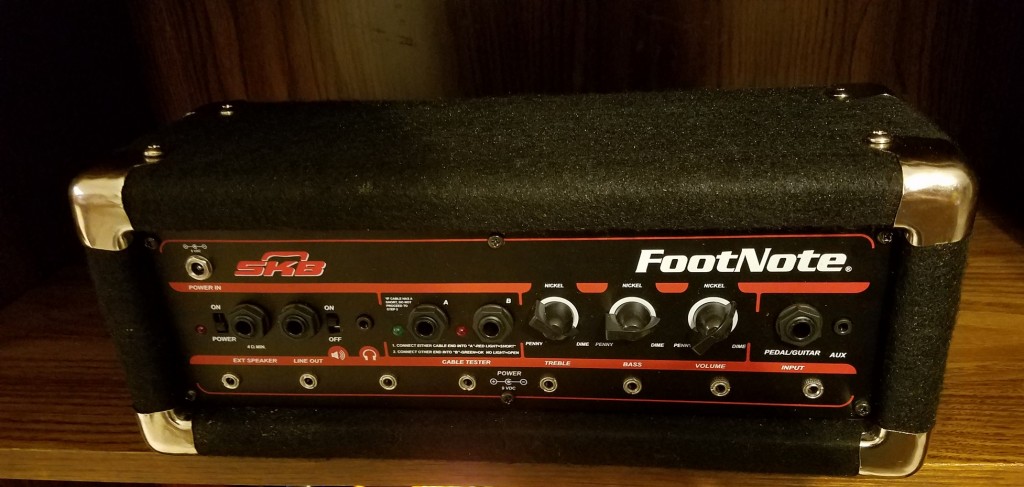 Footnote Amp Cabinet
---
Designer:
DonaldMIDI
Project Category:
Amplifiers
Project Level:
Intermediate
Project Time:
8-20 Hours
Project Cost:
Under $100
Project Description:
Cabinet for Footnote 5-watt amplifier with built in battery case.
Design Goals:
Cabinet to match speaker enclosures already built.
Enclosure Design:
3/4 particle board with routed edges. Covered with speaker cabinet carpet. Corners protected with Peavey style metal corners. Non-skid feet on bottom. Battery case incorporated into rear enclosure accommodates 6 AA batteries.
Enclosure Assembly:
3/4 particle board mostly glued (4 screws applied prior to routing edges). Speaker carpet spray-glued in place. Amplifier mounted to interior mounting points glued to corners.
Conclusion:
I will use this while camping to practice my bass guitar. I can use headphones or a speaker cabinet (already built). I'll be able to use a solid-body bass at campground church services even if power is not available (amazing volume for only 5-watts).
About the Designer:
Built my first speaker cabinet at 15 years old. I've built many, many cabinets in the 53 years since then…infinite baffle, bass reflex, etc. Used mostly 15″ guitar speakers, but several were with 12″ triaxials for stereo systems.
Project Parts List: