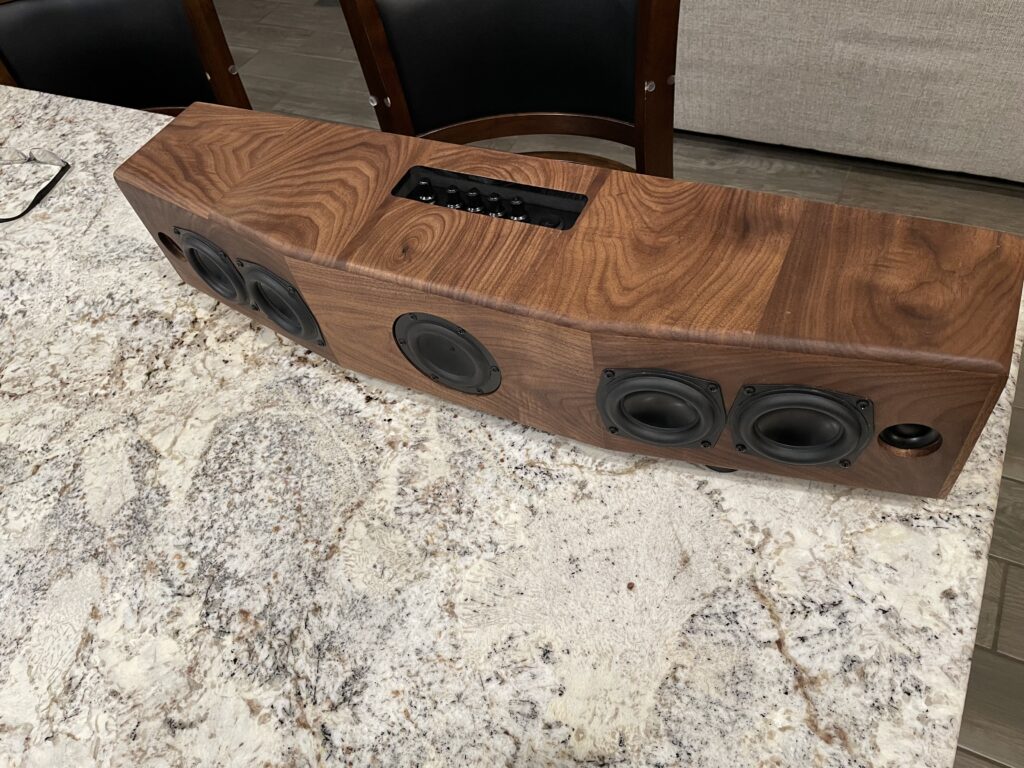 Passively Aggressive
---
Designer:
Jon Anderson



Project Category:
Freestyle Speakers



Project Level:
Advanced



Project Time:
20+ Hours



Project Cost:
$100-$500
Project Description:
Bluetooth table speaker. Using the passive aggressive kit, and adding a 3″ sub with passives.


Design Goals:
To turn the PA kit into something beautiful. Create better horizontal dispersion. Add a bit of bass to a great sounding system. Make it look very high end.
Driver Selection:
*See parts list below
Enclosure Design:
 Single box, 3 chamber horizontal table speaker
Crossover Design:
From passive aggressive kit, and amplifier.
Tips & Tricks:
Be good at woodworking and make sure you have the right tools
Conclusion:
 This speaker is not only beautiful to look at, but really achieved my goal for horizontal dispersion. Adding the bass to an already great sounding speaker really put this speaker in a league of its own. The passive aggressive kit really has a very high level of fidelity , and it really shines with this design.
About the Designer:
Been building speakers for over 20 years, and have probably build almost every kit known in the DIY community. Just a hobbies with a passion for creating new unique stuff.

Project Parts List:
| | | |
| --- | --- | --- |
| Part # | Description | Qty. |
| 264-1594 | Peerless by Tymphany SDS-P830880 5-1/4″ Paper Cone Passive Radiator | 2 |
| 320-635 | TPS3116D2 Class D 2.1 Bluetooth 5.0 Amplifier Board 2 x 50W + 100W with Filter and Volume Controls | 1 |
| 264-909 | Tang Band W3-1876S 3″ Mini Subwoofer | 2 |
| 300-7148 | Passive Aggressive Mini Speaker Kit Pair | 1 |
| 060-776 | Parts Express SPST Automotive Round Rocker Switch Black | 1 |