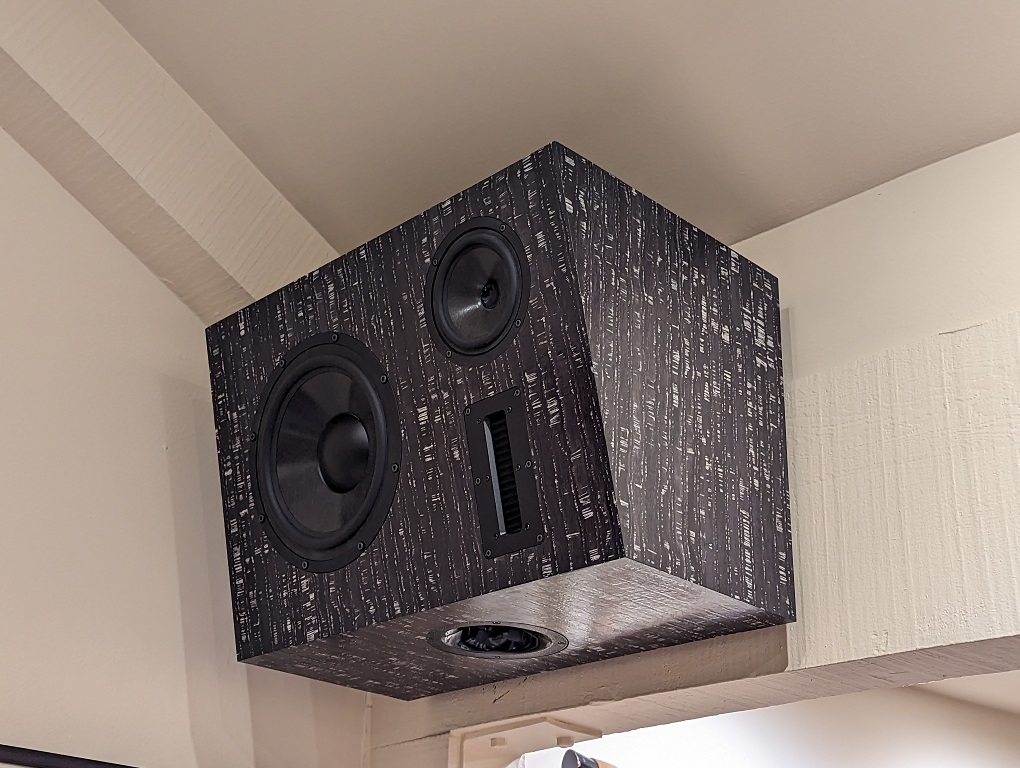 The Four Horseman Of The Earpocalypse
---
Bobby Kinstle
Project Category:
Freestyle Speakers

Project Level

Advanced
Project Time:
20+ Hours

Project Cost:
Over $1,000
Project Description:
Four large cabinets containing a 3 way design of some of the finest drivers available intended to mount high on the walls of a living room for a retiring pair of music enthusiasts.
Design Goals:
The speakers had to faithfully reproduce every detail of the music and sound fantastic for a wide variety of music genres. They needed to last a minimum of 20 years, be mounted near the ceiling on wooden beams high up and out of the way.
Driver Selection:
I used three drivers from Aurum Cantus. Their 10" woofer, 5" midrange, and their famous AST25120 tweeter. All three of these drivers are super responsive and able to deliver clean detailed performances across the entire musical spectrum. Additionally they all have the same sonic character and play nicely with each other. The 2" voice coil on the midrange gives high levels of control and the dinner plate sized magnet of the woofer delivers effortless power on the low end.
Enclosure Design
I made a wedge style enclosure that when mounted high on the wall would angle the drivers downward into the listening area. 58L bass reflex for the woofer, 1L sealed for the midrange, and a 1" deep cavity in the double thick front bezel for the tweeter. Enclosure made of ¾" MDF and wrapped on all sides with a single sheet of black lacewood. 3" flared precision port pointing downward so dust won't get into the speaker, and of course to entertain the grandkids (and big kids) with balloons and bass heavy music.
Each speaker is mounted on a thick French cleat that not only greatly simplifies installation but also because the cleat is 3" in from the edges and painted black, gives the appearance that the speaker is floating an inch away from the wall. Each speaker electrical connections are on top above the woofer to align with the house's exiting in wall wiring.
Crossover Design:
Second order Linkwitz Riley for all drivers. I tried 3rd order on the tweeter but I didn't like the way it sounded and it caused strange phase alignment issues. The midrange has a zoble to stabilize its impedance. Tweeter is -8.5dB and midrange is -2dB both via LPad. Crossover points are 300 and 1500 which gives at least one full octave of stability in both directions of the crossover points for all three drivers.
To design the crossovers I created ZMA and FRD files for each driver installed into the enclosure. Next l used XSIM to create the crossover topology keeping a close eye on impedance. After that I loaded the design into my MiniDSP 4x8HD and connected each driver to it's own high quality amplifier. All this set up in the room they will live allowed me to measure test tones, listen to music, and make design changes on the fly until I was satisfied with the sound. Three way crossover are difficult, but using the DSP greatly reduced the amount of trial and error I had to do. After updating the circuits in XSIM and giving one last impedance check (7.6 to 8.4 ohms) I felt confident to order the crossover components.
For longevity I only used film and foil caps.
Tips & Tricks:
1. When using heat activated PVA veneer glue, apply a few layers to build up a thick base and apply the veneer just before the final coat of glue is 100% dry. This helps it stick a lot better
2. Some veneers have a lot of texture and can't be sanded flat for a piano gloss finish without ruining them and becoming a hit post on r/sandedthroughveneer
3. The beauty of simulation is you are free to experiment with lots of ideas, even crazy ideas that can lead to interesting solutions, or at the very least higher confidence in the final design
4. Use a good DSP and good amplifiers to simulate crossover design. It really does take the results to the next level for those of us without a giant wall of crossover component bins to pull from and try out.
5. Crossover coils can be much heavier than they appear in the picture. When I picked up the box I though parts express mailed me a brick.
6. French cleats are super strong and make it really easy to mount heavy things over your head.
7. You don't have to use all premium grade components to get great sound but when you are lucky enough to play with premium components, wow!
Conclusion:
This is the finest speaker I have made to date. The AST25120 tweeter has a well earned legendary status in audio circles. Friends asked me if they could come to my house and touch the tweeters curing the construction phase. The tweeter seamlessly transitions without audible differenced between 1 and 3KHz and with zero sibilance. I'm not sure it's possible to play a harsh sound above 1KHz on this tweeter. Male vocals are rich and full on the 10" woofer, female vocals are clear and perfect on the 5" midrange balanced perfectly with the guys. Bass hits with authority but is never ever boomy. Kick drums kick so hard you feel it and cellos are thick and meaty. Violins are delectable and horns are wonderfully warm.
Since there are four of them I included a 4 channel 100W amp from Emotiva. These can handle a lot more than 100W each but four of them at 90dB sensitivity, its enough to play distortion free well beyond rock concert levels. The clean signal path really pays off.
Frequency response is 32-30Khz and usable bass to 23hz at -10db.
About the Designer:
I grew up in the Mojave Desert in a small community of scientists, craftsmen, and engineers. We were the kind of people who didn't accept "it's impossible" or "you can't do that". If I want something that doesn't exist, I'll just make one. Now I'm a thermal engineer in the hyperscale server industry and I currently hold 17 patents worldwide.
Project Parts List
| | | |
| --- | --- | --- |
| Part# | Description | Qty. |
| 296-454 | Aurum Cantus AC250/75C2C 10″ Woofer | 4 |
| 296-442 | Aurum Cantus AC130/50CK 5-1/4″ Midwoofer | 4 |
| 276-446 | Aurum Cantus AST25120 Aero Striction Tweeter 8 Ohm | 4 |
| 268-350 | Precision Port 3″ Flared Speaker Cabinet Port Tube Kit | 4 |
| 091-634 | Dayton Audio BPWK-G Winged Knob Insulated Binding Post Banana Jack Pair Gold | 4 |
| 255-949 | Jantzen Audio 4.70 Ohm 10 Watt Audio-Grade Superes Resistor | 4 |
| 006-5.1 | Dayton Audio DPR10-5.1 5.1 Ohm 10 Watt Precision 1% Audio Grade Resistor | 4 |
| 004-9.1 | Dayton Audio DNR-9.1 9.1 Ohm 10W Precision Audio Grade Resistor | 4 |
| 006-1.5 | Dayton Audio DPR10-1.5 1.5 Ohm 10 Watt Precision 1% Audio Grade Resistor | 4 |
| 006-30 | Dayton Audio DPR10-30.0 30 Ohm 10 Watt Precision 1% Audio Grade Resistor | 4 |
| 027-116 | Audyn Cap Q4 6.8uF 400V MKP Metalized Polypropylene Foil Crossover Capacitor | 8 |
| 001-0278 | Jantzen Audio 33uF 400V Crosscap Capacitor | 8 |
| 027-566 | Solen 9.1uF 400V Poylpropylene Capacitor | 4 |
| 255-264 | Jantzen Audio 1.8mH 18 AWG Air Core Inductor Crossover Coil | 8 |
| 257-856 | Dayton Audio 9.0mH 18 AWG Perfect Layer Inductor Crossover Coil | 8 |