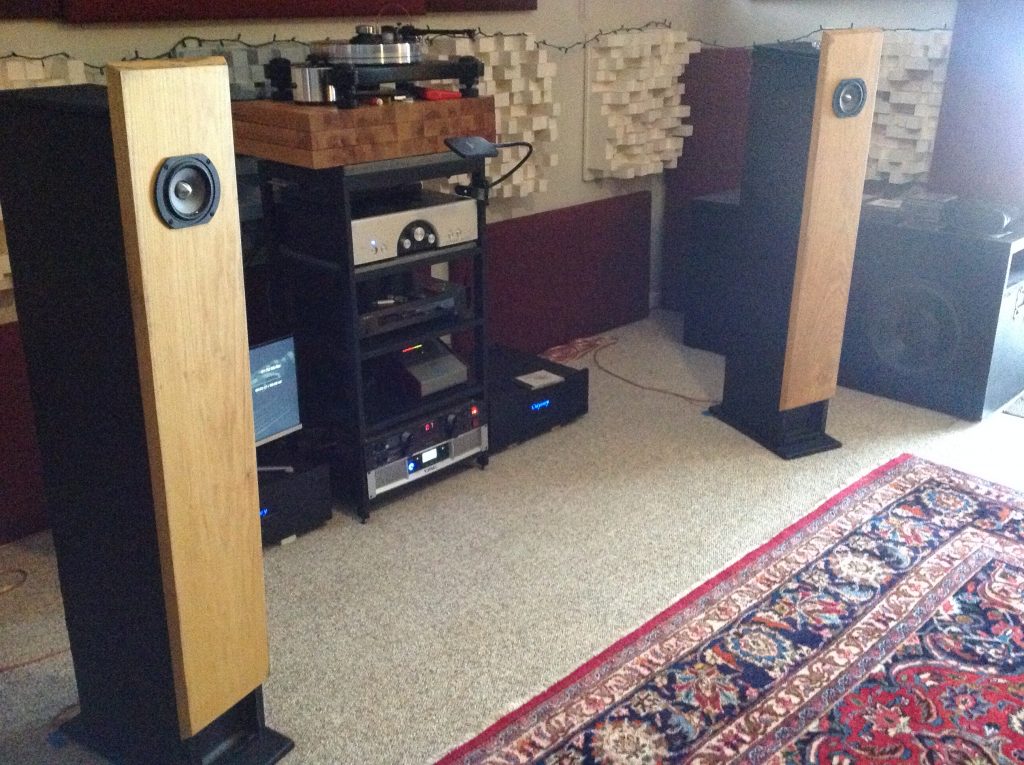 FullRange TL
---
Designer:
Adam R.
Project Category:
Tower Speakers
Project Level:
Advanced
Project Time:
20+ Hours
Project Cost:
$500 – $1,000
Project Description:
The TB bamboo cone driver is a longtime favorite and this TL floor stander is my 3rd and most ambitious effort. A rear ring radiator tweeter adds some air and opens up the stage. This tapered and progressively damped line allows this driver to shine, giving clarity and resolution that competes with electrostats (I was a MartinLogan owner for 12 years) but with no crossover or transformers in the way. My Odyssey mono blocks love them.
Design Goals:
Maximum LF definition and clarity in a domestically tolerable form factor.
Driver Selection:
Tang Band 4-inch Bamboo Cone (ferrite version)
Vifa Ring Radiator Tweeter (rear)
Dayton 5K HP filter
Enclosure Design:
Tapered and progressively damped 12-foot transmission line.
Enclosure Assembly:
Poplar baffle sandwiched to MDF with MDF internal baffles
Conclusion:
In my big listening room these guys get subwoofer help but in a 9×12 room with corner loading they're stunning.
About the Designer:
Age 60, 50-year speaker tweaker and music/audio lover.
Project Parts List:
| | | |
| --- | --- | --- |
| Part # | Description | Qty |
| 264-847 | Tang Band W4-1320SJ 4″ Bamboo Cone Driver | 1 |
| 260-1922 | Dayton Audio 5k-HPF-4 High Pass Speaker Crossover 5,000 Hz 12 dB/Octave | 1 |