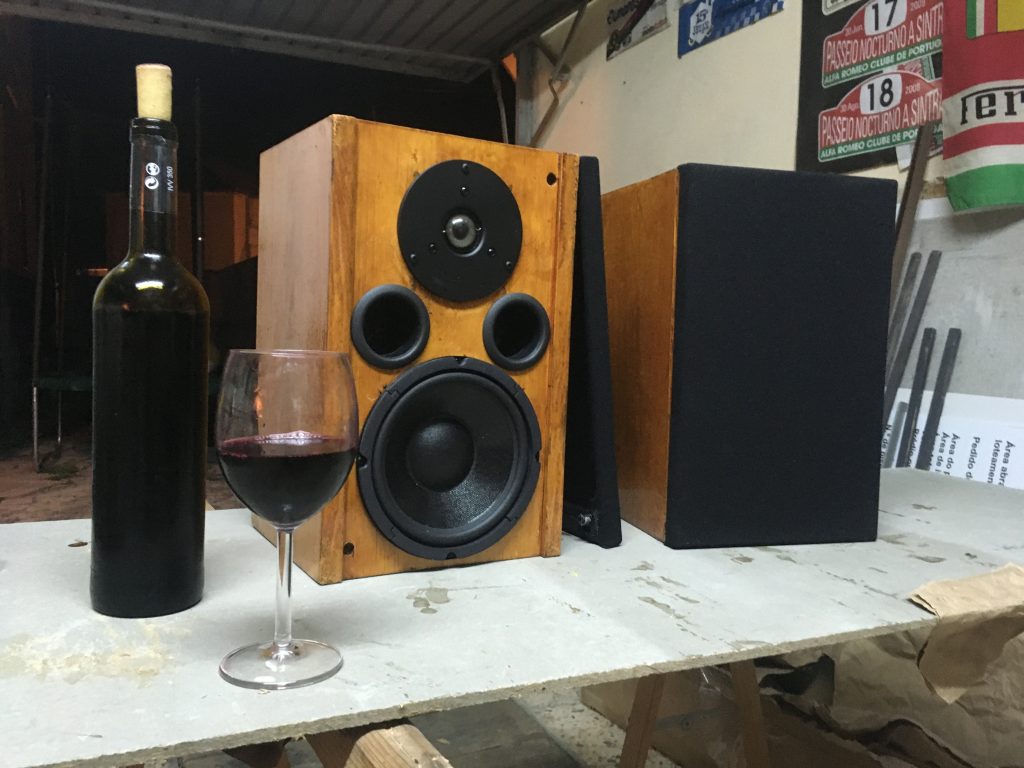 FVMKII
---
Designer:
Fernando Valente
Project Category:
Bookshelf Speakers
Project Level:
Beginner
Project Time:
8-20 Hours
Project Cost:
$100 – $500
Project Description:
When I was 16 years old, I made a pair off speakers with my father. We build the Cabinet´s and used drives from a used car. They sounded good all these years, and even spent some years with a friend. About 5 years ago, my friend returned the speakers and I mounted them in my backyard. This summer, tragedy, some assiatic wasps attack them, and the city hall took the speakers to kill the wasps, but they were very kind to return the cabinets. I decided to rebuild them with express parts. I study the sizes of the drivers and search for a sound with more bass, but still controlled. I think they sound amazing and the look is very good to
Design Goals:
Renew the speakers, introduce a crossover and improve the bass.
Driver Selection:
275-075 – Dayton Audio DC28FS-8 1-1/8″ Silk Dome Shielded Tweeter
295-309 – Dayton Audio DC160-4 6-1/2″ Classic Woofer Speaker
Enclosure Design:
Inspired by Monitor Audio studio 6 speakers.
Enclosure Assembly:
Wood.
Crossover Design:
260-140 – Dayton Audio XO2W-2K 2-Way Speaker Crossover 2,000 Hz
260-140
Tips & Tricks:
I loved doing the project, calmly and always with great attention to symmetry, so that the pair of speakers had the same length of cable, and loudspeakers placed in the same way.
Conclusion:
I was really pleased with the result, the speakers play like they've never played before. I changed the design a little, making the port tube bigger, improved the connections and plugs.
About the Designer:
I was born in 1977 in Lisbon, Portugal. I've always enjoyed listening to all kinds of music. During these years I have had and have several systems, stereo, cinema, with speakers from various brands and countries, JBL L46, Tannoy, Vienna acoustics, REL etc. I really enjoy improving systems, experimenting with cables, speaker placement, etc. I've been thinking about building a few more speakers for a long time and now that this second time went so well I'm thinking about the next project!
Project Parts List:
| | | |
| --- | --- | --- |
| Part # | Description | Qty |
| 275-075 | Dayton Audio DC28FS-8 1-1/8″ Silk Dome Shielded Tweeter | 1 |
| 295-309 | Dayton Audio DC160-4 6-1/2″ Classic Woofer Speaker | 1 |
| 260-303 | Parts Express Recessed Binding Post Banana Jack 5-Way Speaker Wire Terminal | 1 |
| 260-406 | Speaker Cabinet Port Tube 1-3/4″ ID x 2-1/4″ L | 1 |
| 260-346 | Parts Express Speaker Grill Frame Kit | 1 |
| 260-332 | Acousta-Stuf Polyfill 1 lb. Bag Speaker Cabinet Sound Damping Material | 1 |