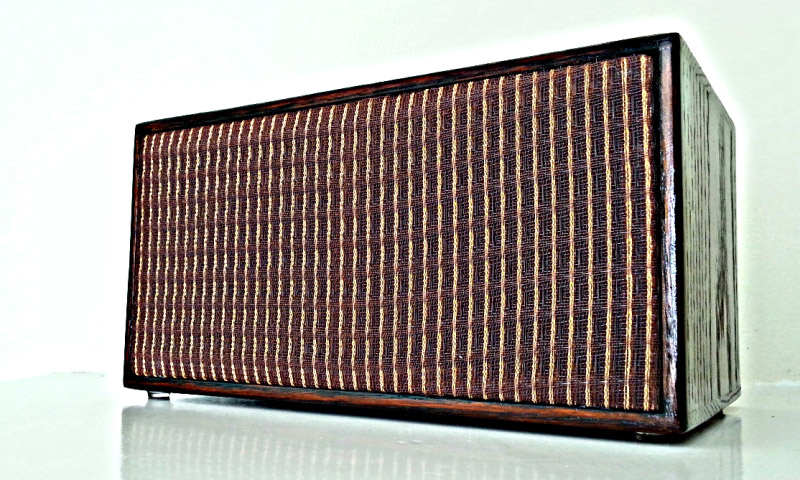 G4
---
Designer: Kev

Project Time: 1-8 hours
Project Complexity: Intermediate
Project Cost: $100-$500
Project Description
Medium Sized Portable Bluetooth Speaker
Design Goals
Design a medium sized portable Bluetooth speaker with good battery life, classic styling and decently flat frequency response.
Driver Selection
1 Pioneer TS-A878 3-1/2 and 1 Dayton Audio ND-91
Enclosure Design
1.24ft3 ¼" Oak. Torched to bring out wood grain and finished with American Walnut stain. Interior walls are lined with some leftover hardwood floor underlayment. Dimensions: 10″ X 5″ X 5 1/2″
Enclosure Assembly
Cutout 3″ holes for both speakers, 1″ hole for port and 2 1/2″ x 4″ cutout for connector dish.

The connector dish will need cutouts for the on/off switch, amp and DC charger. Tape up the dish with some painters tape so it does not get scratched in the process.

The unit will be powered by a 12V lithium Ion CCTV battery. I have used the PAM8403, DTA2 as well as some Chinese models. I didn't have a preference in regards to the amp. Just make sure the one used can handle up to 13V. When the battery is fully charged it is around 12.6V. Use quick disconnect connectors where possible. Done the line if a component goes it can be easily swapped out and replaced.

The Bluetooth module is the BT1-A. I used an isolated 5V regulator as opposed to the standard 5V regulator. The isolated regulator seems to help with the ground loop issues. To turn everything on I used a 12V blue illumination switch.
Conclusion
The person I made this for will be listen to mostly classic rock which should work out really well. The bass isn't overly obnoxious and the frequency response seems pretty flat based on a 20-20K sweep using Audio Tools app and IMM6 Mic.
About the Designer
Been wood working and messing with electronics since a kid.