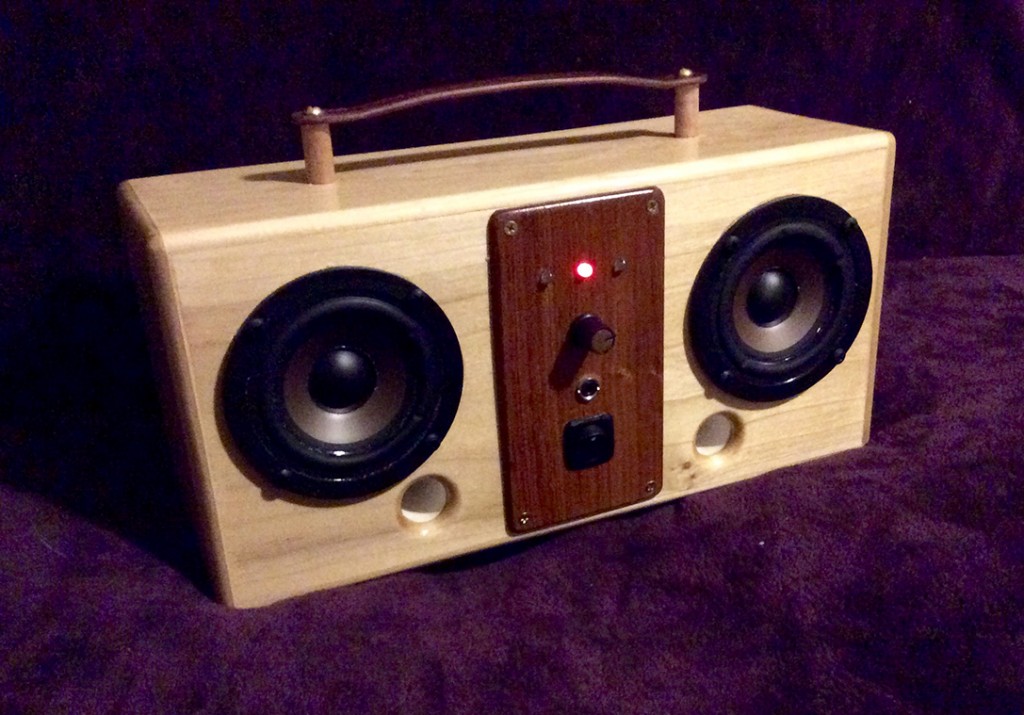 Gone Natural
---
Designer:
Barracoustic
Project Category:
Portable Speakers
Project Level:
Intermediate
Project Time:
8-20 Hours
Project Cost:
$100 – $500
Project Description:
Portable Bluetooth sound system
Design Goals:
A system that can provide background music for weddings, camping trips, and other outings.
Driver Selection:
Tang Band W3-881SJF 3″ Full Range Speaker
Enclosure Design:
Ported design, .05 cu ft., tuned to 95 hz
Cabinet is constructed with 1/4″ and 1/2″ poplar. Front control panel is Honduran rosewood. Rear access panel allows access to amp and battery components.
Enclosure Assembly:
Panels glued and clamped.
Crossover Design:
Single driver
Tips & Tricks:
Pay attention to powering up the amp with the batteries for the first time. I suggest purchase of the 19 v AC adapter to "initialize" the amp and battery card. Parts Express will answer any technical questions you about this procedure.
Conclusion:
Very pleased with the outcome. Very smooth sound across the frequency range. All parts were purchased from Parts Express, with th exception of wood for the cabinet.
About the Designer:
IT professional by trade, however I love these types of projects, am an audiophile at heart. Have built many speakers, over the last 45 years.
Project Parts List: