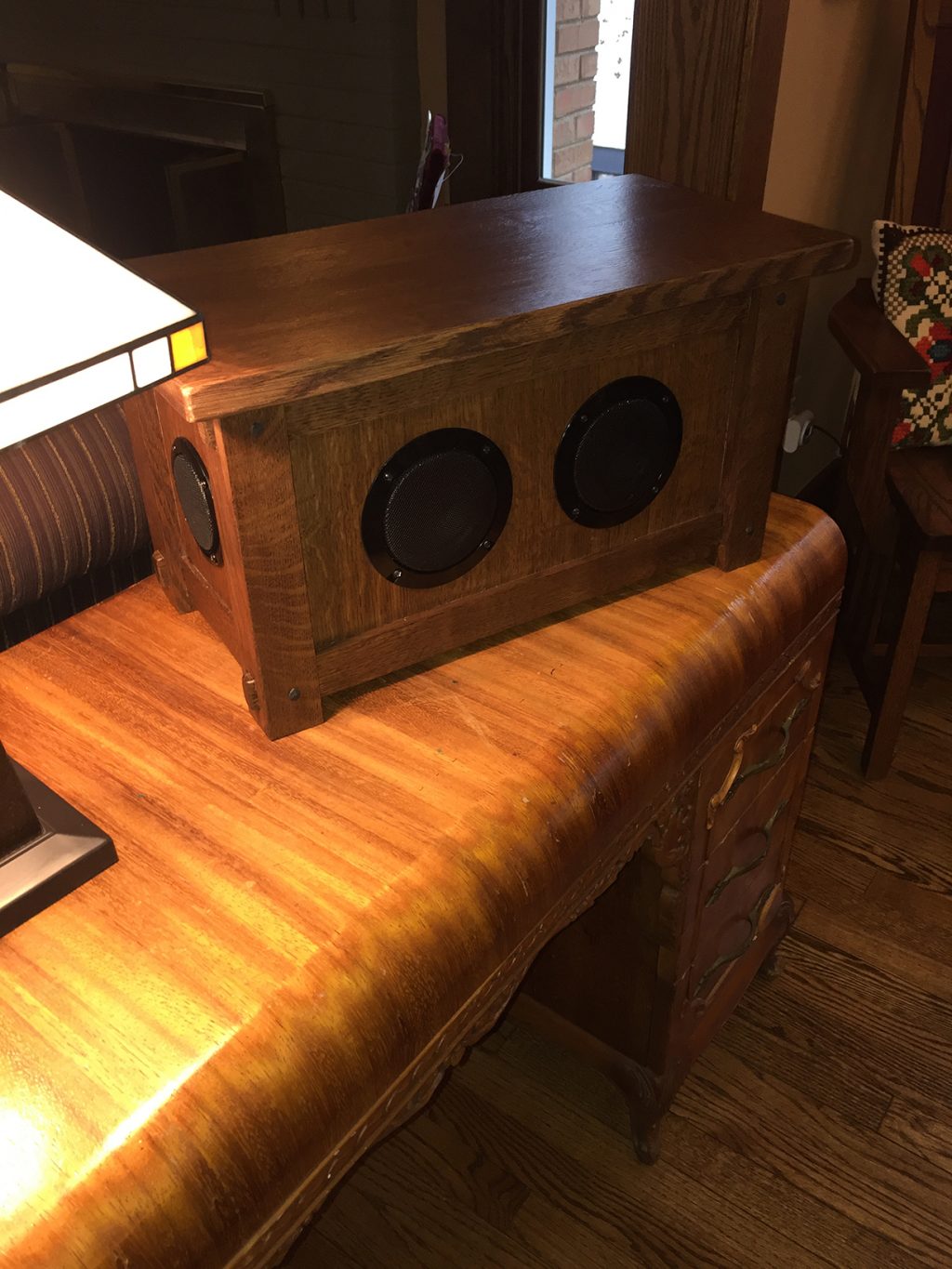 Grandma's Boom Box
---
Designer:
Jim Rogers
Project Category:
Subwoofers
Project Level:
Beginner
Project Time:
20+ Hours
Project Cost:
$100 – $500
Project Description:
I wanted to build a speaker for our living room that is decorated in the Arts and Crafts style – this thing looks like the Bluetooth speaker my Great Grandma used to listen to Zeppelin on.
The pre-built kit wasn't available when I ordered this so I ordered it piecemeal. What I didn't know was that you needed to build crossovers. This added additional cost but what was once something I knew absolutely nothing about – now I know a little bit about.
Design Goals:
I wanted to build something that would have fit into our Arts and Crafts decorated living room, but could also melt some faces.
This piece is made of quarter-sawn white oak, with mortise and tenon joinery. Plus- I aged the wood using ammonia fuming. It ages the wood so it looks like it's been on your Gramma's mantle for decades. First discovered by someone who noticed wood stored in a horse barn was prematurely aged – from ammonia from horse urine. True story.
I used tongue and groove joinery – the only nails are cosmetic – I found some antique ones.
Driver Selection:
Dayton Audio TCP115-4 4″ Treated Paper Cone Midbass Woofer are incredible – $12??!!
Enclosure Design:
Since it is a box I had to put tweeters on the side – but the sound range is fantastic.
Crossover Design:
Conclusion:
Maybe I could have bought a system for less that sounds the same but I love that this is exactly how I wanted it to look. I learned something new and kept busy during the Coved19 quarantine.
About the Designer:
30-year woodworker with time off for raising kids. Failed calculus twice before I passed them with D's in college. This crossover stuff is a challenge but if I could figure this out, so could anyone. Nothing better than getting super-focused in my workroom putting together clever projects.
Project Parts List: