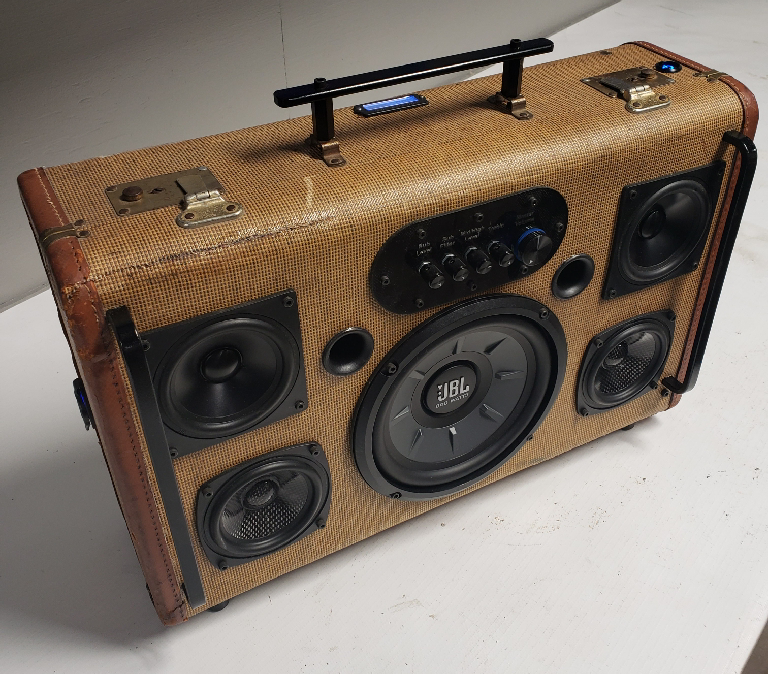 Grandpop's Suitcase
---
Designer:
Ryan Metz
Project Category:
Portable Speakers
Project Level:
Beginner
Project Time:
8-20 Hours
Project Cost:
$100 – $500
Project Description:
Life for this bluetooth speaker started out as a 1950's vintage suitcase measuring 21″ wide x 14″ tall and 7″ deep. My grandfather was an avid opera fan and bought his first battery powered "Silvertone 700" transistor radio back in 1960 so he had music while working around the farm. This suitcase was his and the project pays homage to his love for music and always being on-the-go.
Design Goals:
Overall, the idea of this project was to build a "high" wattage, portable, bluetooth speaker loud enough for outdoor gatherings where a commercially available bluetooth speaker would otherwise be drowned out. More importantly, the batteries had to last 8hrs at medium volume, and it had to be rechargeable anywhere without the need for carrying along a power supply to charge it. This was accomplished using two M18 (20v) Milwaukee power tool batteries wired in parallel for a total of 8ah. The charging is supplied by a disassembled Milwaukee battery charger wired to the battery bank. The 120v supply for the charger was wired to a panel-mount male 2-prong NEMA outlet that is accessible from the back of the enclosure. This makes it able to be recharged with any common household extension cord.
Driver Selection:
The choice of the 4 Dayton full range speakers eliminated the need for additional crossovers and cover the frequency band up to 20kHz. At 65w RMS handling per pair, they can also handle more than the amplifier is capable of putting out. Due to them being leftover speakers I had, they are both 4 ohm and had to be wired in series for the amp to drive them at 8 ohms.
The JBL subwoofer was also leftover from a car audio project but fit the bill for the design with its 8″ overall diameter, high wattage handling, and 4 ohm impedance.
Enclosure Design:
The suitcase was lined on the inner front and back walls with 1/2 plywood to add rigidity and a stable mounting surface for the speakers and accessories. The enclosure features dual usb charging ports powered by a DC buck convertor, 3.5mm line in port, battery meter, custom carry handle, LED back-lit main power switch, beer bottle opener, rubber feet, aluminum amp potentiometer knobs, and 10″ cabinet pulls mounted to the front to protect the speakers and amp controls in the event of falling on the front face.
The enclosure is vented with 2x 1″ port tubes and the seam of the suitcase has cork gasket around it to provide a tighter seal and eliminate latch rattling.
Enclosure Assembly:
The plywood walls are secured to the suitcase using 4 10-32 cap head screws for each board. The speakers are mounted with 8-32 cap head screws, and the amp board mounting panel uses 6-32 cap heads. The DC buck board and Milwaukee charger board are mounted to the rear wall using custom stand-offs. The batteries are secured with custom brackets and the wiring harness is quick disconnect allowing them to be replaced, should the need arise.
There are also two elastic net holders on the back for storing spare charging cables and/or a small extension cord.
Crossover Design:
No additional crossovers were used because of the integrated sub low pass and stereo high pass on the amplifier board.
Tips & Tricks:
The M18 battery platform is one of easiest battery solutions I have found for these types of projects. Used chargers can be picked up for cheap on eBay and although batteries are expensive, you can either find ones for cheaper with damaged enclosures or use cheaper off-brand ones from online retailers that are available with up to 9ah in a single battery.
Conclusion:
Overall the speaker was tremendously fun to design and build, especially with its nostalgic value. Even at less-than-ideal voltage (wattage output) and the stereo channels at 8ohms, the speaker has no problem playing at levels that are uncomfortable indoors. Although the 8″ subwoofer is underpowered, it put out ample bass that shakes anything the suitcase is set on. This project has been especially satisfying seeing the reactions from people simply seeing the suitcase, let alone when they hear hear it! I wouldn't call it audiophile-grade, as no real design went into the enclosure sound-wise, but the superb quality Dayton speakers are clearer than any other bluetooth or boombox I've heard.
About the Designer:
I've been a tinkerer all my life and my profession is electrical/mechanical maintenance in heavy industry and manufacturing. Audio has always interested me but high-end audio equipment has always been so cost-prohibitive, never truly allowing me to explore it as a hobby…that is until I found Parts-Express!
Project Parts List:
Other Items Used:
– JBL Stage 810 8″ subwoofer
– mxuteuk Black Aluminum Alloy + Blue rubber ring Potentiometer Control Knob
– Quentacy 19mm 3/4″ Metal Latching Pushbutton Switch 12V Power
– Mecion 10 Inch Aluminum Cabinet Handle Pull
– Taiss/ 4pcs Black Aluminum Rotary Electronic Control Potentiometer Knob for 6 mm Diameter Shaft
– 4 Medium Extra Tall Round Rubber Feet Bumpers – .625 Inch H X .932 Inch D – Made in USA
– Woodhead 1404MB Safeway Inlet – 2 Pole/2 Wire White Flanged Inlet with NEMA 1-15 Configuration, Straight Blade, 15A/125V
– Belva 3.5mm Male to RCA Car Truck Dashboard Waterproof Flush Mount