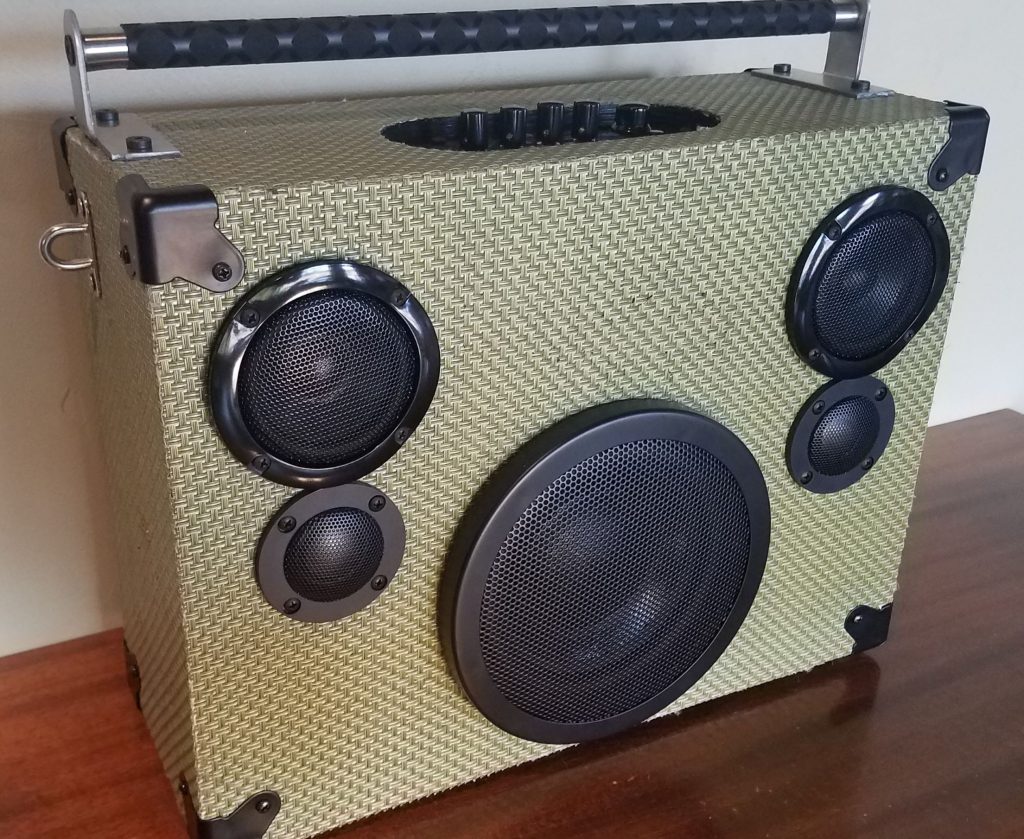 Green Machine Blast Box
---
Designer:
JKM
Project Category:
Portable Speakers
Project Level:
Beginner
Project Time:
8-20 Hours
Project Cost:
$100 – $500
Project Description:
Blast box kit with upgraded battery board and custom finish. Many borrowed ideas from Project Gallery.
Design Goals:
The definitive hifi pool party sound accessory, like if Mr. Howell in charge of the radio on Gilligan's Island. Initial plan was beach-theme woven reeds and bamboo, but veered towards a refined vintage picnic basket look with industrial bits.
Driver Selection:
Blast box kit
Tips & Tricks:
Assembly sequence tricky, as enclosure glue-up best achieved all at once, while fitting and wiring tricky once closed up.
Upgraded battery board mounted upright on side (behind left speakers). Take care with wire routing, lengths, and secure carefully with wire ties to avoid rubs.
LED kit was fiddly – a bit delicate and unplug from metal sockets easily. Acrylic panels drilled with standard bits SLOWLY in drill press. Borrowed others plans for LED/aux locations and like the result.
Wire rub and sealing enclosure, especially the power port, yielded huge sound improvements. Used gorilla patch and seal tape to help seal and deaden some panels. Had to re-open enclosure several times for this.
Wanted wire grills for protection, but final fit/finish of ones I chose just so-so.
Applying contact cement can be a mess. Had 'squish-through' when applied to porous place mat material – next time "roll out" the glue before applying to fabric. Gorilla patch and seal tape also messy.
Conclusion:
Fun project with excellent sound quality once wire rubs and sealing issues handled. Many positive comments on final appearance.
About the Designer:
Desk worker need hands-on projects to keep sane – vintage audio, woodworking, welding, old cars, etc.
Project Parts List:
| | | |
| --- | --- | --- |
| Part # | Description | Qty |
| 300-7162 | Blast Box 200 Watt Portable Bluetooth Speaker Kit | 1 |
| 325-133 | Dayton Audio LBB-5 5 x 26650 Lithium Battery Charger Board / Module | 1 |
| 325-142 | Dayton Audio LBB-5CL DC Charging Power Cables and LED Light Kit for LBB-3v2 / LBB-5 / LBB-5S Battery Board | 1 |
| 240-2212 | Small Phenolic Guitar / Amplifier Knob 0.5″ – Black | 4 |
| 262-836 | Metal 2-Leg Cabinet Corner Black 16 Pcs. | 1 |
| 249-209 | Penn-Elcom Z408608 Basic Amplifier Knob 3/4″ – Black with Line and Dot Indicator | 1 |
| 093-406 | Switchcraft EH35MM2PKG Stereo 3.5mm Feedthru Jack Connector Nickel with 4-40 Screws | 1 |
| 262-860 | Heavy Duty 8″ Waffle Style Black Steel Speaker Grill with Rubber Edge | 1 |
| 240-1028 | 3.5mm Stereo Male to Male Audio Cable Dual Shielded with Gold Plated Connectors 1 ft. | 1 |
| 260-352 | Penn-Elcom G0780KIT Large Speaker Grill Clamp Kit | 1 |
| 260-7706 | Penn-Elcom 9120 Rubber Cabinet Foot 0.88″ Dia. x 0.31″ H | 4 |
| 260-186 | Black Perforated Large Hole Crossover Board Pair 3.5″ x 5″ | 1 |
| 260-422 | Parts Express Steel Mesh 2-Piece Grill for 6-1/2″ Speaker Black | 1 |