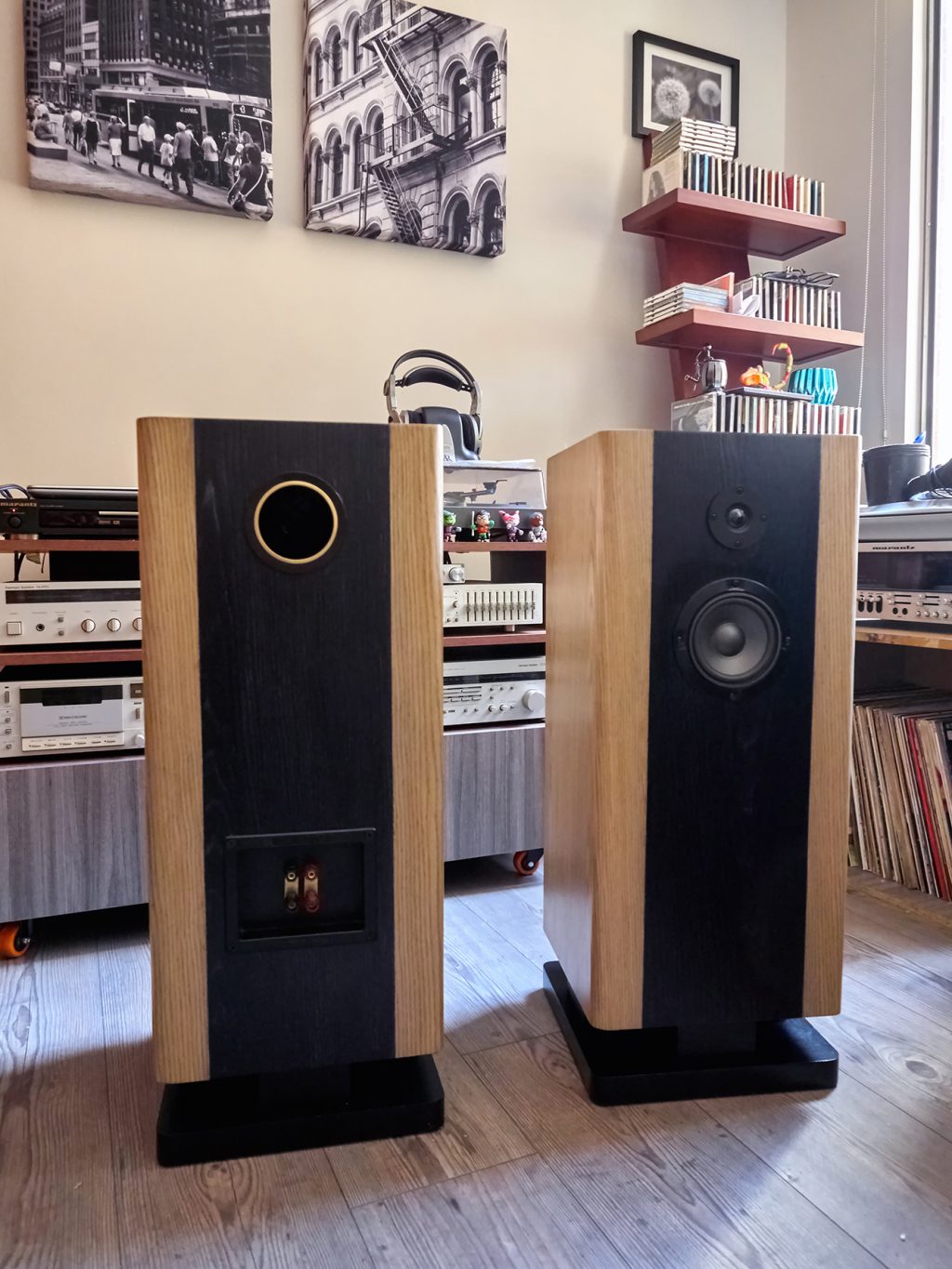 HD-003
---
Designer:
Heldesign
Project Category:
Tower Speakers
Project Level:
Beginner
Project Time:
20+ Hours
Project Cost:
$100 – $500
Project Description:
Towers with downfire woofer design based on the Infinity Crescendo CS3006 crossover
Design Goals:
My goal is to achieve a clean reflex design with a tweeter and midrange on the front face and a hidden woofer on the bottom to remove visual weight and give a more modern appearance.
Driver Selection:
Tweeter: Dayton Audio TD20F-4 3/4″ Soft Dome Neodymium Tweeter 4 Ohm
Midrange: Goldwood GM-85/4 Heavy Duty 5″ Sealed Back Midrange 4 Ohm
Woofer: Goldwood GW-208/4 8″ OEM Woofer 4 Ohm
Enclosure Design:
I based on the measurements of the original Infinity Crescendo CS-3006 box from which I took the crossover, changing the location of the woofer towards the bottom and leaving a free space of 5 cm between the box and the base to allow the operation of the driver.
Enclosure Assembly:
I made the enclosure in phenolic chipboard with double wall to leave the thickness of 3 cm with acoustic foam inside, with a reflex port on the top back side. The finishes were given with Oak veneer and catalyzed semi-matt lacquer and on the front and back with black ink to achieve the contrasting stripes.
Crossover Design:
Para el proyecto utilicé algunos crossovers Infinity Crescendo CS 3006 que tenía pensando en hacer este trabajo.
Conclusion:
The set has a very balanced sound, the bass is deep although the placement of the speakers is important not to make the bass booming, the mid-range is very rich and the voices are clear, and the small tweeter has a clear sound without distortions. that does not tire the ear. I haven't heard an original Infinity Crescendo CS 3006 speakers, I do not expect them to sound the same or better, but I liked the result a lot and the best thing was the whole process to make them … it is very gratifying!
About the Designer:
I'm an Industrial Designer who likes working with wood, but especially good sound and vintage equipment.
Project Parts List:
| | | |
| --- | --- | --- |
| Part # | Description | Qty |
| 275-020 | Dayton Audio TD20F-4 3/4″ Soft Dome Neodymium Tweeter 4 Ohm | 2 |
| 280-110 | Goldwood GM-85/4 Heavy Duty 5″ Sealed Back Midrange 4 Ohm | 2 |
| 290-310 | Goldwood GW-208/4 8″ OEM Woofer 4 Ohm | 2 |
| 269-2108 | Speaker Cabinet Port Tube with Gold Trim 2-3/4″ ID x 5-1/4″ L Screened | 2 |
| 260-542 | Parts Express Speaker Gasketing Tape 1/8″ x 1/2″ x 50 ft. Roll | 1 |