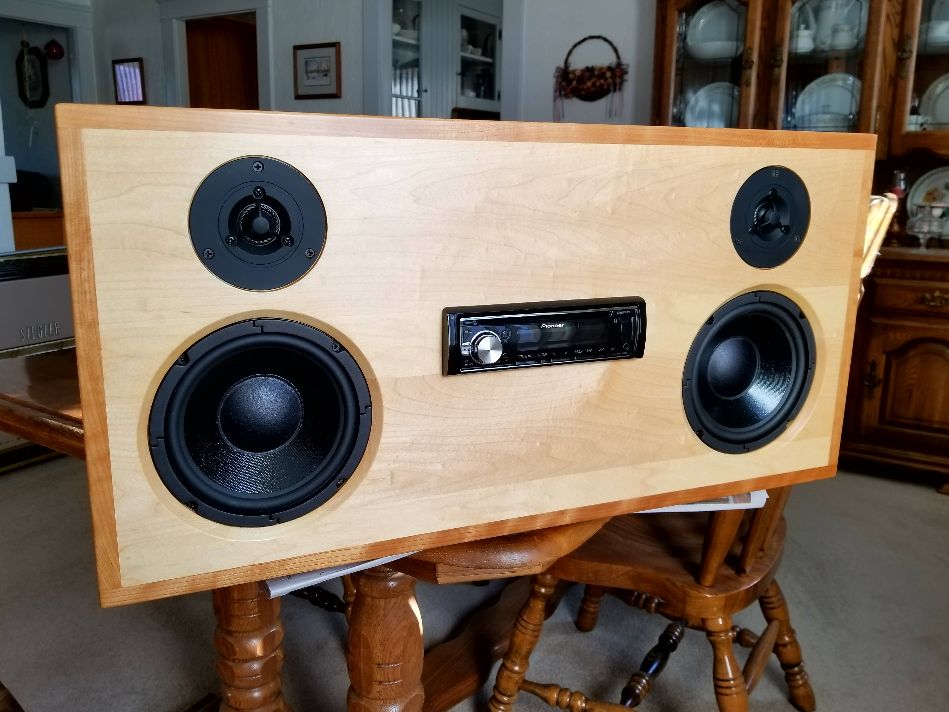 High End Boombox
---
Designer:
MT Woodworking
Project Category:
Freestyle Speakers
Project Level:
Beginner
Project Time:
8-20 Hours
Project Cost:
$100 – $500
Project Description:
The exterior (top and sides) is made of American cherry and the baffle board is made of maple. All construction was done with cabinet wood screws. A router was used to chamfer the speaker hole and tweeter cut outs. Additional features include Bluetooth and a USB outlet.
Design Goals:
The idea for this project was to create a better sounding boombox for a workshop rather than purchase a cheap plastic constructed one that would not produce quality sound. I wanted to be able to hear music over machinery.
Driver Selection:
Quantity: 2 Item: 292-554
Quantity: 2 Item: 027-340
Quantity: 2 Item: 295-309
Enclosure Design:
A sealed boxed speaker
Enclosure Assembly:
The unit consists of 2 Dayton Audio DC160-4 6 1/2″ mid bass and 2 Visaton DT94-4 polycarbonate tweeters. This is powered by a Pioneer car stereo and that is powered by a radio Shack 13 volt power supply.
Crossover Design:
This is a two-way design with a simple a 10 uF 100V non-polarized capacitors.
Conclusion:
The final product is a high quality sounding boombox with an appearance that fits in nicely in a carpentry workshop.
About the Designer:
Hobbyist interested in various woodworking projects. This is my first audio project and I plan to do more. My next project will consist of higher quality speakers with more woodworking details.
Project Parts List: