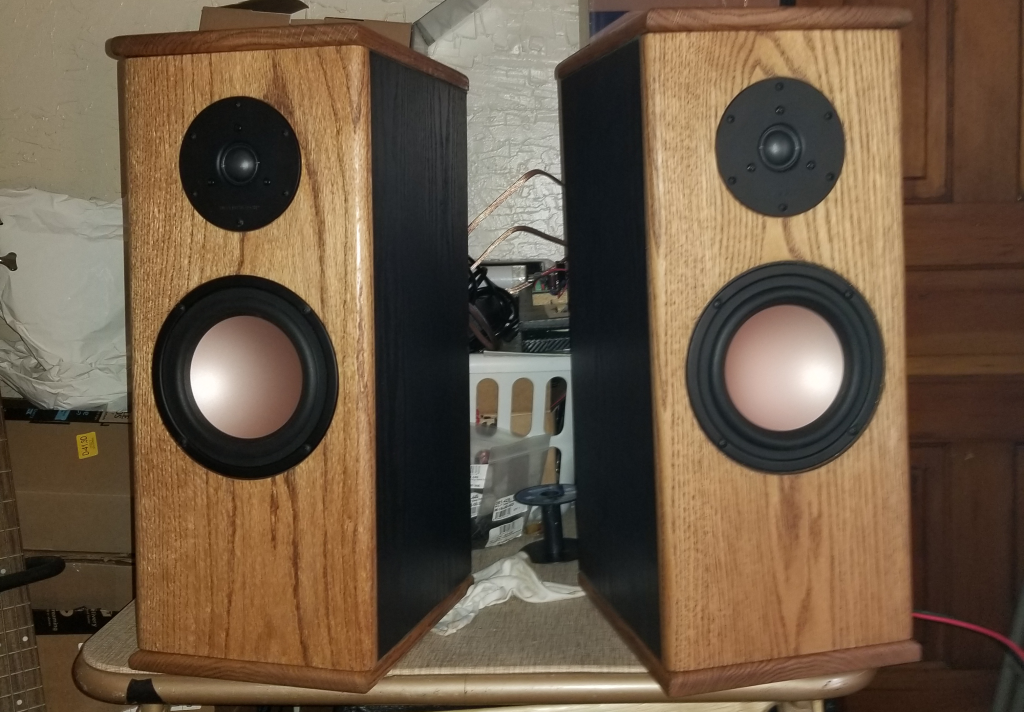 HIVI MONITORS
---
Designer:
JimmyJams
Project Category:
Bookshelf Speakers
Project Level:
Beginner
Project Time:
8-20 Hours
Project Cost:
$100 – $500
Project Description:
Ok, these are larger bookshelf speakers. 22.5 tall, 11 deep, 9 wide.
I built these specifically for a 70 watt tube amp in my bedroom.
Design Goals:
My goal was to create a set of speakers for my bedroom that sounded big. They have more than met my expectations. They ROCK!
Driver Selection:
For the drivers I selected 6 inch Hivi M6N'S Paired with Hivi 1 1/8 textile dome tweeters in a 2 way configuration.
Enclosure Design:
The enclosers are simple. The woofers are in their own compartment at .60 cubic ft.. with the tweeters all by themselves in their own. Cabinets are 5/8 MDF sides and back, with the top, bottom, and front solid red oak 3/4 thick.i used 2 inch flared port tubes at 6 3/4 long for an F3 of 42.5 Hz according to my box tune app. And also some help with design from Partsexpress tech Troy. Many thanks to Troy.
Enclosure Assembly:
Enclosures are glued and screwed together with some vertical bracing front and back. Sides and back are covered with black ash vinyl wrap. front,top and bottom are screwed on from the inside with gaskets in between the oak and MDF. All sees on the inside are also caulked with quad clear siding caulk to make them air tight.
Crossover Design:
They are crooked over at 3500Hz with pre assembled 2 way crossovers from Electro Mavin. By the way Electro Mavin has nothing but good things to say about Partsexpress.
Tips & Tricks:
Do your homework first. Talk to the techs at Partsexpress, they are great guys are are always there to help.
Again thanks to Troy at Partsexpress for all your help.
Conclusion:
I am very pleased with these speakers. They have far exceeded my expectations. I have measured them down to 35hz playing Pink Floyd. They are smooth and pleasant and very clear.
About the Designer:
52 year old, old school rocker with the speaker building bug. So addicting it is!!
Project Parts List: