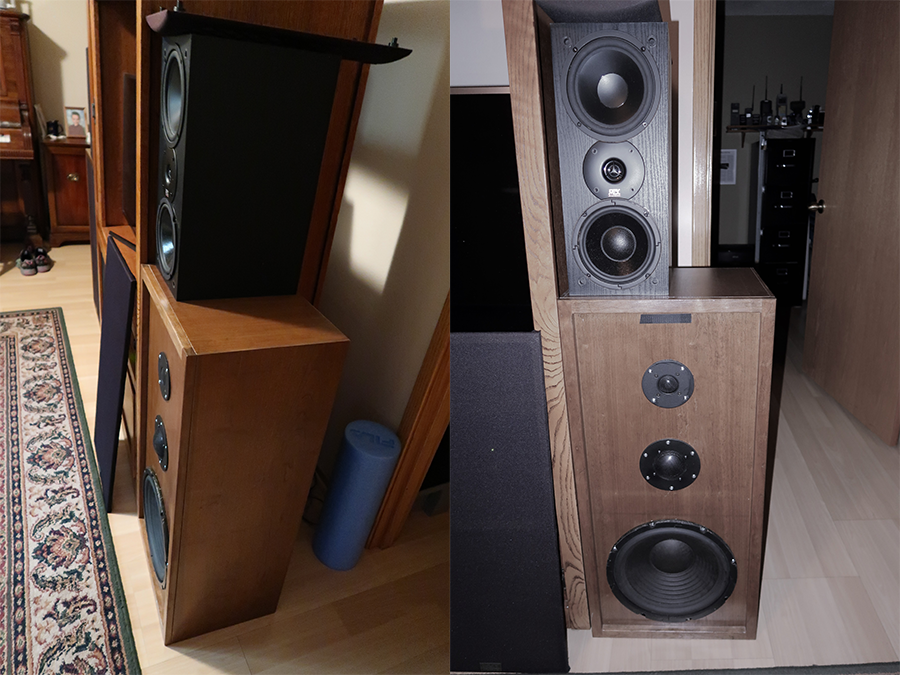 home and vacation condo speakers
---
Designer:
mount brice
Project Category:
Tower Speakers
Project Level:
Intermediate
Project Time:
20+ Hours
Project Cost:
$500 – $1,000
Project Description:
!1Build a large main speaker for living room , #2 small tower speakers for vacation home. #3 surround speakers
Design Goals:
Use best speakers available from Parts Express. Add electronic updates as needed to make as good as I can.
Driver Selection:
15 inch woofer part # 290-184 with mid range #287-020 , tweeter #277-060 #2 speaker has woofer 295-305 plus woofer #296-410 , tweeter #275-076
Enclosure Design:
3/4 inch ask plywood enclosure size 37 in Hight x18w x17 d #2 make use of the cabinet of speaker B652 #300-652 with all parts inside taken out to giving you a cabinet you will not need to build.
Enclosure Assembly:
#1 used a cabinet shop to build using a center brace and a screw in back panel. volume controls for mid range and tweeter were put in rear of cabinet #2 needed a little filing and cutting to open speaker opening to fit parts
Crossover Design:
#1 used a 3 way cross over part #260-230 with 8 uf capacitor across woofer terminals and with volume controls for med-range and tweeter. A zobel circuit also used on woofer with 22uf capacitor and 8 ohm resister #2 used 260-140 set at 4ohm woofers tied together.zobel used 47uf 8 ohm/8uf/8ohm datonand aurum woofers
Tips & Tricks:
had foam insulation inside speaker 1 and works batting in speaker #2
Conclusion:
very happy with speaker #1s full great bass and clarity of speakers number 2
About the Designer:
Retired from work with an electric utility for 33 years working with electric meters. Once I retired I started building and rebuiling speakers.
Project Parts List:
| | | |
| --- | --- | --- |
| Part # | Description | Qty |
| 290-184 | Replacement Woofer for 15″ Realistic Mach One 8 Ohm | 1 |
| 287-020 | Morel MDM 55 2-1/8″ Soft Dome Midrange | 1 |
| 277-060 | Morel MDT 12 1-1/8″ Neodymium Tweeter | 1 |
| 295-305 | Dayton Audio DC160-8 6-1/2″ Classic Woofer | 1 |
| 296-410 | Aurum Cantus AC-165 6-1/2″ Carbon Fiber/Kevlar Woofer | 1 |
| 275-076 | Dayton Audio DC28FT-8 1-1/8″ Silk Dome Truncated Tweeter | 1 |
| 300-652 | Dayton Audio B652 6-1/2″ 2-Way Bookshelf Speaker Pair | 1 |
| 260-230 | Speaker Crossover 3-Way 8 Ohm 800/4,500 Hz 200W | 1 |
| 260-140 | Dayton Audio XO2W-2K 2-Way Speaker Crossover 2,000 Hz | 1 |