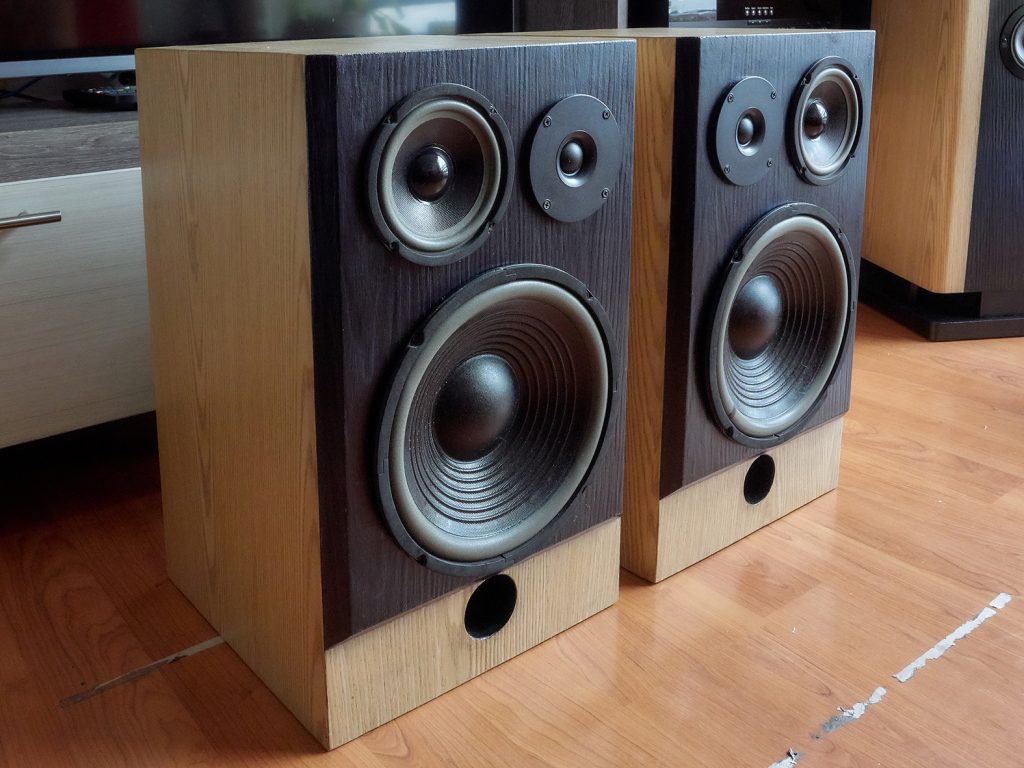 Hugo Lazarte Cuervo
---
Designer:
Heldesign
Project Category:
Freestyle Speakers
Project Level:
Beginner
Project Time:
20+ Hours
Project Cost:
$100 – $500
Project Description:
3-Way HiFi Floor Speaker
Design Goals:
Compact size, great power, good looks and good sound.
Driver Selection:
I chose GRS drivers for good performance with good power:
– 1 inch Textile Dome Tweeter Part #292-462
– Sealed 5 1/4 inch midrange Part #292-431
– 10 inch Woofer Part #292-410
which worked well with the crossover I had available .
Enclosure Design:
Compact design made with phenolic chipboard, the walls are 3 cm thick and filled with acoustic foam. Reflex box design.
Enclosure Assembly:
I made the enclosure in phenolic chipboard with double wall to leave the thickness of 3 cm with acoustic foam inside, with a reflex port on the front side. The finishes were given with Oak veneer and catalyzed semi-matt lacquer and black ink for the front.
Crossover Design:
I used a vintage crossover from late 70's speakers with very good quality components. Use a Dayton L-pad to tune the midrange more precisely.
Conclusion:
The work was fun and I got a warm, powerful and detailed sound, I really liked the appearance of the boxes and the quality of the sound left me surprised.
About the Designer:
I'm an Industrial Designer who likes working with wood, but especially good sound and vintage equipment.
Project Parts List:
| | | |
| --- | --- | --- |
| Part # | Description | Qty |
| 292-410 | GRS 10PF-8 10″ Paper Cone Foam Surround Woofer | 1 |
| 292-431 | GRS 5SBM1-8 5-1/4″ Sealed Back Midrange with 1″ Voice Coil 8 Ohm | 1 |
| 292-462 | GRS 1TD1-8 1″ Dome Tweeter 8 Ohm | 1 |
| 260-276 | Parts Express Round Speaker Wire Terminal Cup 2-15/16″ Gold Spring-Loaded | 1 |
| 260-542 | Parts Express Speaker Gasketing Tape 1/8″ x 1/2″ x 50 ft. Roll | 1 |
| 260-265 | Speaker L-Pad Attenuator 100W Mono 1″ Shaft 8 Ohm | 1 |