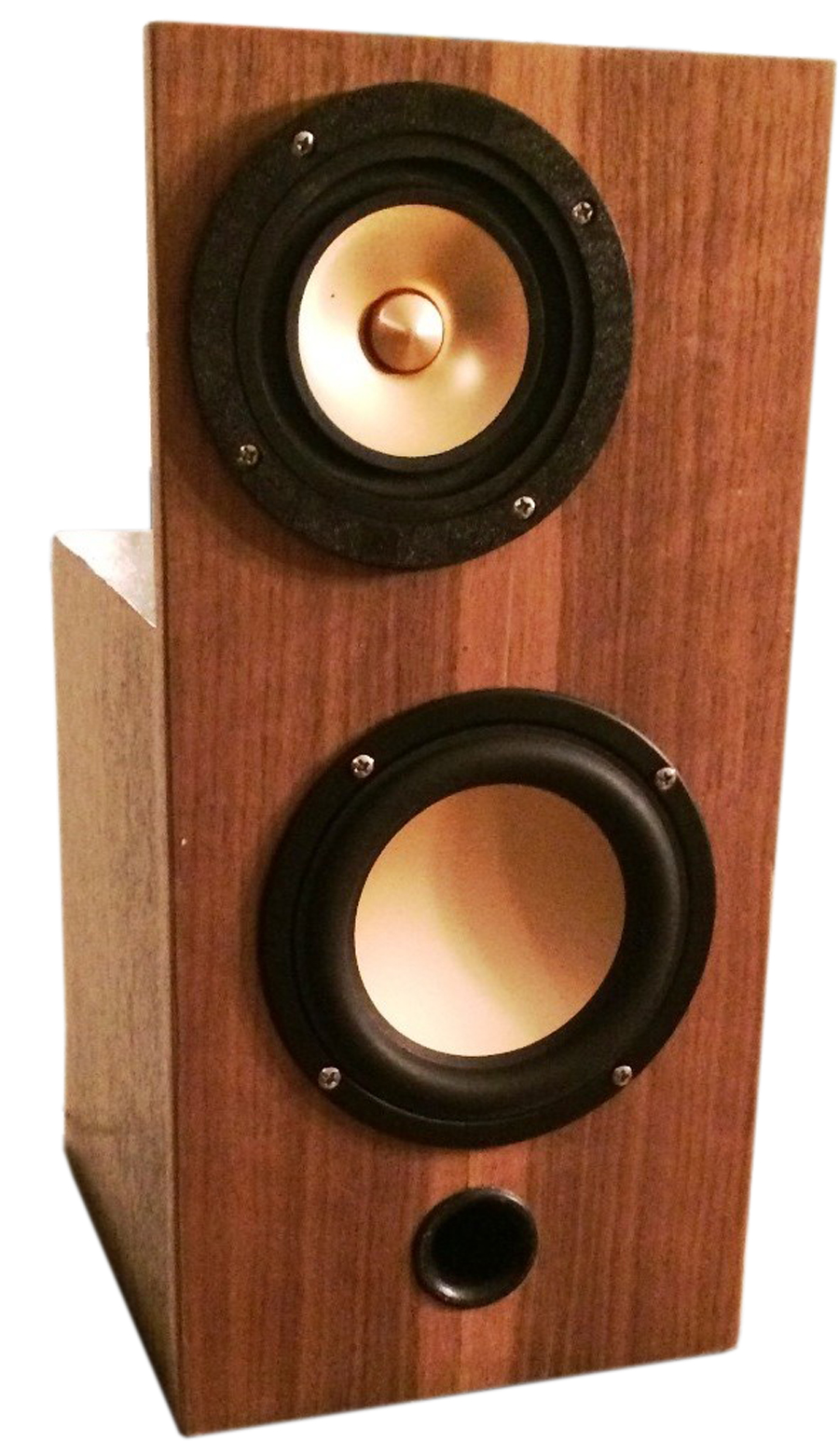 Hybrid Open Baffle Bookshelf
---
Designer: PR Audio
Project Category
Bookshelf Speakers
Project Level
Beginner
Project Time
1-8 Hours
Project Cost
$100 – $500
Project Description
Since I built a pair of Lampizator P-21 Open Baffle speakers I have been amazed at how good an Open Baffle (OB) speaker sounds. The speakers disappear like no other I have heard, and the sound just seems to float, plus it is very realistic. But, due to lack of space and large OB aesthetics (WAF) I wanted to have a pair of speakers that could sound as good as an OB and at the same time be compact enough to use in a small listening room. Inspired by Tekton's Hybrid Bookshelf OB I decided to design and build one of my own design.
Design Goals
Since the speakers were going to be placed in the living room, the speakers had to be approved by my wife, so WAF was a major consideration. Also, the speaker couldn't be bigger than the PSB B25's I was using previously, had to be about the same height as to use the same speaker stands, and the sound had to be what I expected from an OB, though I was aware that due to the size of the speaker it would have its limitations as far a bass extension.
Driver Selection
I already own a few DIY speakers that use a full range single driver, and I have always enjoyed how they sound, especially in the mids. The problem with full range drivers is that they either sound very good from the bass frequencies to the mid-highs or they sound very good from the upper lows to the highs, but very difficult or expensive to find a full range driver that was very good from the low end all the way to 18k-20k Hz. Another important aspect was the fact that both drivers have to look coherent, not black and purple or white and gold, etc. I had read many good things about Mark Audio full range drivers, also about the capabilities of HiVi MXN mid-woofers. Upon researching more I was convinced that Mark Audio's CHR-70A.3 had the correct size, specs, and color for my project, plus it complemented the gold color of the HiVi, which I wanted to try in a project. Sensitivity for both was almost identical, and the modeled bass extensio n of the HiVi in a vented enclosure had an F3 of 52 Hz, which is very respectable for a 5″ mid-woofer in a small enclosure. Both drivers have a very smooth frequency curve. Though Mark Audio is not available from PE, in this project you could successfully use Tang Band's W3-881SJ.
HiVi M5N: PE P/N 297-436
Tang Band W3-881SJ: PE P/N 264-812
Enclosure Design
Though I have built a few DIY speakers, they have been speakers that had already been designed by someone else, and were easy to build. This time, I decided to take a stab at it for the first time, so I read a lot regarding speaker design. In order to determine the enclosure volume and vent size I used www.diyaudioandvideo.com calculator, and confirmed with WinISD. The resulting enclosure for the woofer has a volume of 0.25 Cu.Ft., which I adjusted dims as to fit my criteria. A 1″Dia. x 2″L vent was suggested by the design program. I knew that I wanted the same height as my PSB B25, which is 16″. In order to allow space for the full range driver I decided that the OB part of the baffle would be 6″ high, so I gave the woofer enclosure a height of 10″ and adjusted W and L accordingly to get 0.25 Cu.Ft. inside volume. After modeling the full range drivers response the best position was in the baffle was doing a mirror ima ge. As to be able to control better the speakers using a MiniDSP or active crossover bi-amp banana jacks were used.
Enclosure Assembly
Cutting the wood and assembling the enclosures was straight forward, after all it is a rectangular box. For this build I used 1/2″ MDF, but i recommend using 3/4″, at least for the baffle. Again I used www.diyaudioandvideo, as to determine the size of the panels needed. All panels were glued, and the enclosure veneered with walnut. As to decrease resonance and standing waves a 3/8″ thk. wool felt was glued to the back inside panel of the enclosure.
Crossover Design
I had done many simulations, and knew that around 600 Hz would be the best crossover frequency. So I designed a 2nd Order LR passive crossover. Since crossover design is both an art and a science, which I don't dominate yet, I decided to go ahead with purchasing a 2-Way Behringer CX-2310 active crossover (PE P/N 248-664), as to confirm my findings. Using two identical amps with the same wattage, I was able to confirm that a crossover frequency of 600 Hz was very good, but 520 Hz was the best. With those findings I will build the passive crossover using high quality MKP caps.
Conclusion
The speaker is much more than I expected, it is very detailed, open, airy, controlled, and coherent. Soundstage is something you have to experience, as it is very real, like if you were standing in front of a stage. As for image the speakers simply disappear. This speakers come extremely close to the OB sound I like so much.
Tips & Tricks
* 3/8″ Thk. upholstery wool felt to line the inside wall is very good.
* Though I didn't do it, use 3/4″ wood, at least for the baffle as to be able to flush mount the drivers.
* Experiment with poly-stuffing.
About the Designer
I started into audio DIY projects about 3 yrs. ago. Not an expert, but have read and auditioned plenty of speakers as to recognize this is an excellent speaker. Love to learn about tech trades, and I'm an avid sailor. When not hearing music or building an audio component, you can find me competing in sailing regattas all over the Caribbean.
Project Parts List