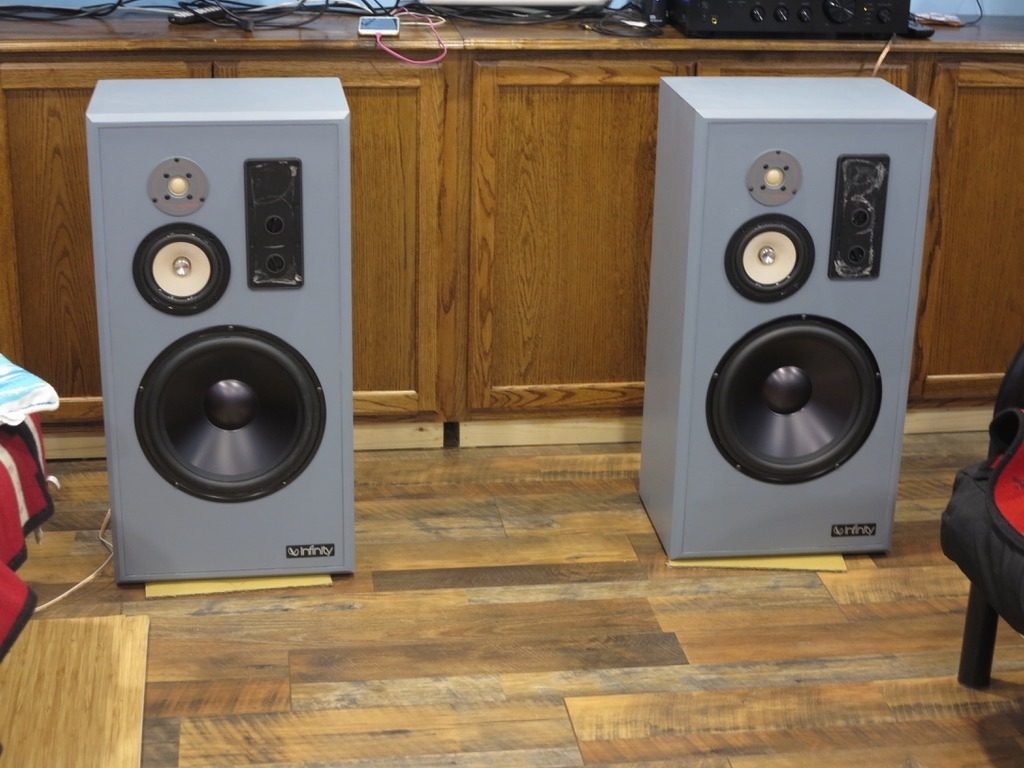 Infinity SM 120 Rebuild
---
Designer:
Stephen
Project Category:
Tower Speakers
Project Level:
Intermediate
Project Time:
20+ Hours
Project Cost:
$500 – $1,000
Project Description:
Rummaging through a junk shop and spied this pair of Infinity SM120s up in the loft. I said I'd think about it. The fella shrugged and suggested "ten bucks?" I thought this might be fun and a deal was struck. They were bigger than I thought and I'm still not sure where they'll fit. But they sound good!
Design Goals:
I wanted primarily to build a good sounding set of speakers appropriate for the kind of music I really like, i.e. mostly 70s rock but still competent on other things. I still use amps that can adjust the sound as well as processors in Audirvana if it needs a lot of work. Often though I'm using Volumio on a Hi-Fi-Pi with an Allo top hat through a Topping DAC and into a either a newish Pioneer D-class or a vintage HK with 300 watts of grunt. I'm not seeking "purity" but something that I like the sound of.
Driver Selection:
The photos show how NOT to do a refoam job on a woofer. The mid-range had been replaced with car speakers, and the tweeters – one original but shot and another shoehorned into the opening with a drill and a screwdriver. Obtained original PolyCell tweeters but used a full-range driver as the mid and a Dayton aluminium cone 12″ woofer. Selection was largely what would fit and not what was on the spec sheet. About the only consideration was whether the crossover points were adequately covered. The full-range driver might not be the best choice as a mid but, actually, it's good.
Enclosure Design:
The enclosure is an Infinity SM-120 with no baffles, braces, or sound dampening provisions. No enclosure around the mid-range. It was veneered in vinyl which was removed over several tedious hours with a heat gun and a stiff putty knife. Reviews vary, as they always do, but armchair experts aside, most speaker makers knew what they were doing. Whether the result pleased buyers is another story. Most commonly these were party pleasers.
Enclosure Assembly:
Assembly of a new speaker might have been easier and as the finishing went along it became apparent that applying a new veneer would be futile and look silly. I sanded it clean, making sure all adhesive was gone. I did have to design a mounting system for one of the tweeters and it worked out fine. I chose not to add bracing or baffles or enclosures. More about laziness and thinking "they designed it this way so let's see how it sounds." I did add an inch of poly. The finish turned out remarkably well — BIN shellac based primer, a couple of coats with a gentle sanding, followed by Lowes best quality trim paint to match my home interior. Just careful rolling and about three coats. It's a good result actually.
Crossover Design:
I replaced the caps on the original crossovers with high quality ones from PE but when I tested the speakers one of them was tripping the overload on the amp. The other one sounded great. I shrugged my shoulders (a lot of that in this project) and ordered new 3-ways from PE. Turns out I had misread my diagram and wired one wrong. It was probably fine. I'll use the L-pads with the Dayton 3-way.
Tips & Tricks:
Put aside all the audiophile debates and advice on forums and YouTube. In seeking perfection that last 20% is expensive and time-consuming and even after you've done it, you'll likely spend your time listening for faults rather than enjoying music.
Spend good money on drivers and try to match them fairly closely to your box.
You're not making a piece of furniture. Make a speaker instead.
Preparation is the key to getting a good finish, no matter what finish you choose. I was dubious but latex trim paint worked well and looks nice. BIN shellac primer on MDF is the only way to go to seal MDF.
On a rebuild, try not to reinvent the wheel. Go with what you've got and if you can improve it without too much trouble give it a go.
Conclusion:
Last night a group of us from the 70s listened to Styx, Kansas, James Taylor, and others with great satisfaction. The bass is strong and clean (yes — size matters), the midrange is precise, and overall these are very musical for the purpose intended. They are huge. 34 inches high and 16 inches wide with a heft to match. In rebuilding speakers remember that someone who knew what they were doing — at least on mainstream companies — and that the rules for much of speaker design hasn't changed although materials have improved. Although I was beginning to doubt how they would turn out — the result is spectacularly good.
About the Designer:
I built my first speakers in 1974 using a book from Radio Shack. I still have it. It works. Now 63 with an upper range of hearing around 14khz and, yes, this influences my driver choices! Did a decade as a nuc in the navy. More in computers. And now sort of retired. No audio expertise — this is a plus, in my opinion.
Project Parts List:
| | | |
| --- | --- | --- |
| Part # | Description | Qty |
| 260-311 | Gold Banana 5-Way Binding Post Banana Jack Round Recessed Speaker Terminal Cup | 1 |
| 264-958 | Tang Band W5-2143 5″ Paper Cone Full Range Driver 8 Ohm | 1 |
| 295-534 | Dayton Audio DSA315-8 12″ Designer Series Aluminum Cone Woofer | 1 |
| 260-154 | Dayton Audio XO3W-625/5K 3-Way Speaker Crossover 625/5,000 Hz | 1 |