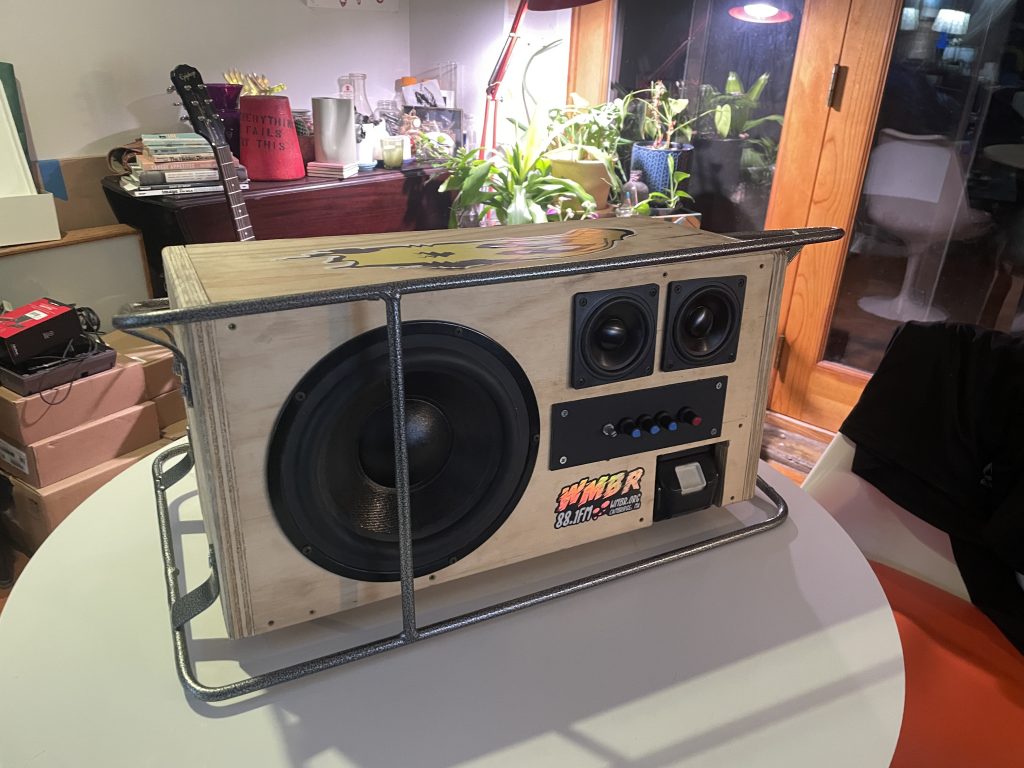 iSpkr Mk 22
---
Designer:
jon
Project Category:
Portable Speakers
Project Level:
Beginner
Project Time:
1-8 Hours
Project Cost:
$100 – $500
Project Description:
drill battery boombox
Design Goals:
create a bluetooth boombox that would be powered by the Makita 18v batteries I have already.
Driver Selection:
2 x 295-586
1 x 295-484
2 x 295-492
+
Enclosure Design:
sealed enclosures for each full range driver, and for the woofer + radiators. the enclosure for the amp board is open to the battery compartment for at least a little bit of cooling.
Enclosure Assembly:
Quick and dirty. 3/4″ ply held together with cabinet screws and sealed with construction adhesive. Quick faceplate for the amp module made out of some Kydex that was lying around. The box is protected by an eco-cage / handle of sorts that I powder coated.
Crossover Design:
Built in to the TPS3116D2 Class D 2.1 Bluetooth 5.0 Amplifier Board. Printed out the instructions for EQ and taped it to the top of the boombox.
Conclusion:
Super fun! The Dayton full range drives give a nice wide listening angle, and with the 8″ woofer + passive radiators it fills out the bass better than any big box store bluetooth rig.
Does it have the soundstage and separation of my home stereo? Of course not. Does it get loud enough for a block party and play for 8 hours on one drill battery? Oh hell yeah.
About the Designer:
Long time listener first time caller.
built a home theatre subwoofer with parts express parts about 15 years ago, now jumping back in!
Project Parts List:
| | | |
| --- | --- | --- |
| Part # | Description | Qty |
| 295-586 | https://www.parts-express.com/Dayton-Audio-DMA80-4-3-Dual-Magnet-Aluminum-Cone-Full-Range-Driver-4-Ohm-295-586 | 2 |
| 295-484 | https://www.parts-express.com/Dayton-Audio-SD215A-88-8-DVC-Subwoofer-295-484 | 1 |
| 295-492 | https://www.parts-express.com/Dayton-Audio-DS215-PR-8-Designer-Series-Passive-Radiator-295-492 | 1 |
| 320-635 | https://www.parts-express.com/TPS3116D2-Class-D-2.1-Bluetooth-5.0-Amplifier-Board-2-x-50W-100W-with-Filter-and-Volume-Co-320-635 | 1 |