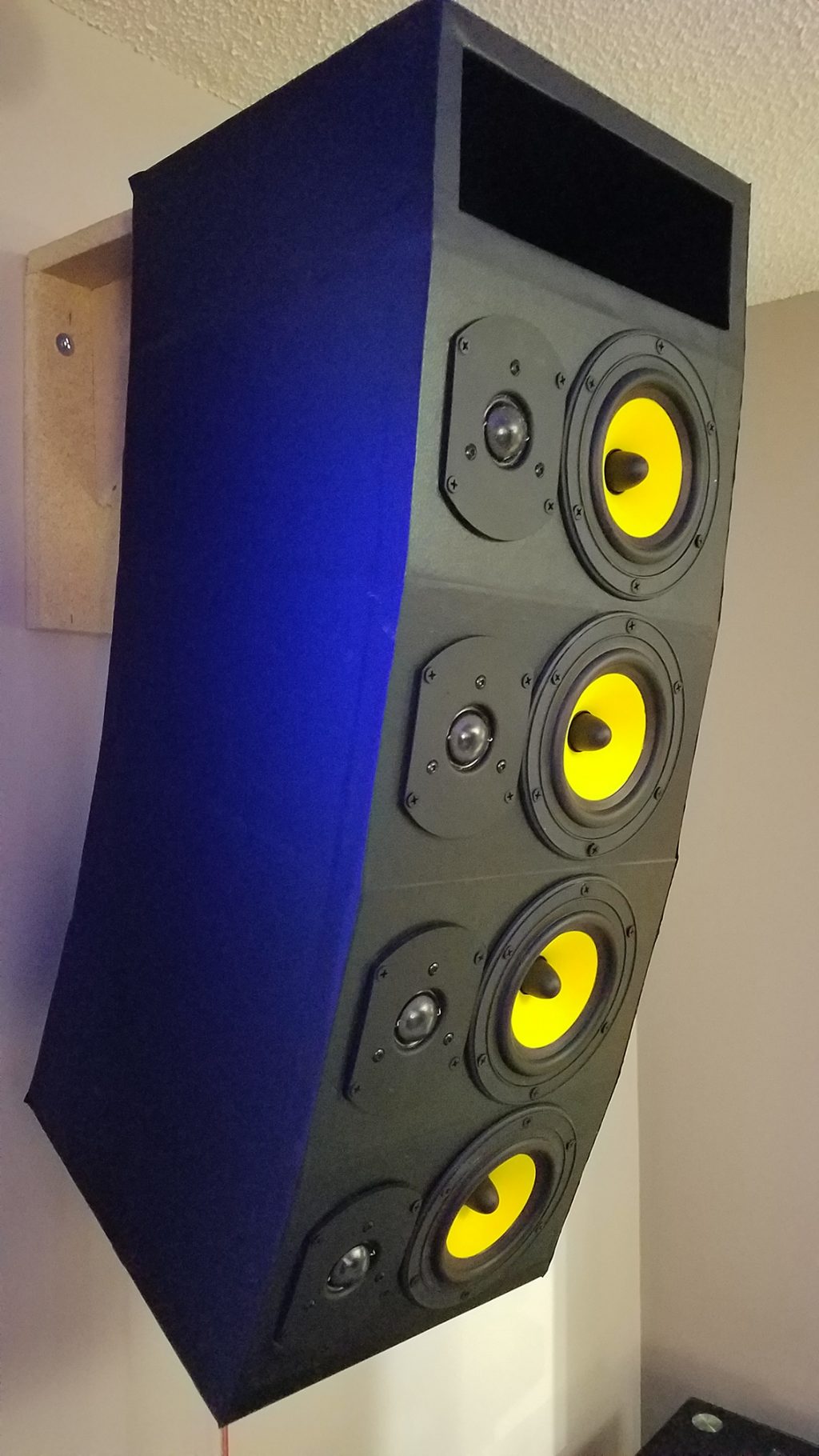 J8
---
Designer:
Gary J.
Project Category:
Loudspeakers/Cabinets
Project Level:
Intermediate
Project Time:
8-20 Hours
Project Cost:
$100 – $500
Project Description:
Home concert theater speakers
Design Goals:
The design was based on the curved speaker arrays used for live concerts. I wanted to make them modular so I could add them in pairs if I needed to. The only thing that would change is the port size and length. And of course the wiring.
Driver Selection:
I chose the hi-vi f5 drivers for this build. Part # 297-435.
Dayton Audio DC28FT-8 1-1/8″ Silk Dome Truncated Tweeter Part # 275-076
Enclosure Design:
The enclose is designed to change the angle of 5 degrees from one speaker face to the next. Creating a curve and essentially adding more of a sweet spot whether sitting or standind.
Enclosure Assembly:
The assembly is pretty straight forward. There is no top or bottom to the modular units. It is 3/4″ particle board. A cutting template was made to insure some consistency. After the units were assembled and glued they were assembled to each other. A top and the bottom port was attached.
Crossover Design:
Dayton Audio XO2W-2.5K 2-Way Speaker Crossover 2,500 Hz
Zobel network was also used.
1.5 mh inductee was also used to bring down the spike in the mid/bass frequency around 1200 hz.
Tips & Tricks:
To insure 8 ohms the speakers have to be wired 2 sets in parallel and those two parallel sets in series.
Conclusion:
I'm very impressed with the clarity and the overall punch these have added to my system. They are the "B" speakers. I bought L-pads to control the volume of the tweeters but used them to control the volume of the mid/bass drivers instead. They are very loud.
About the Designer:
I've been building speakers (and hydroplanes) for more than 40 years. I love good clean immersive sound. A machinist by trade.
Project Parts List: