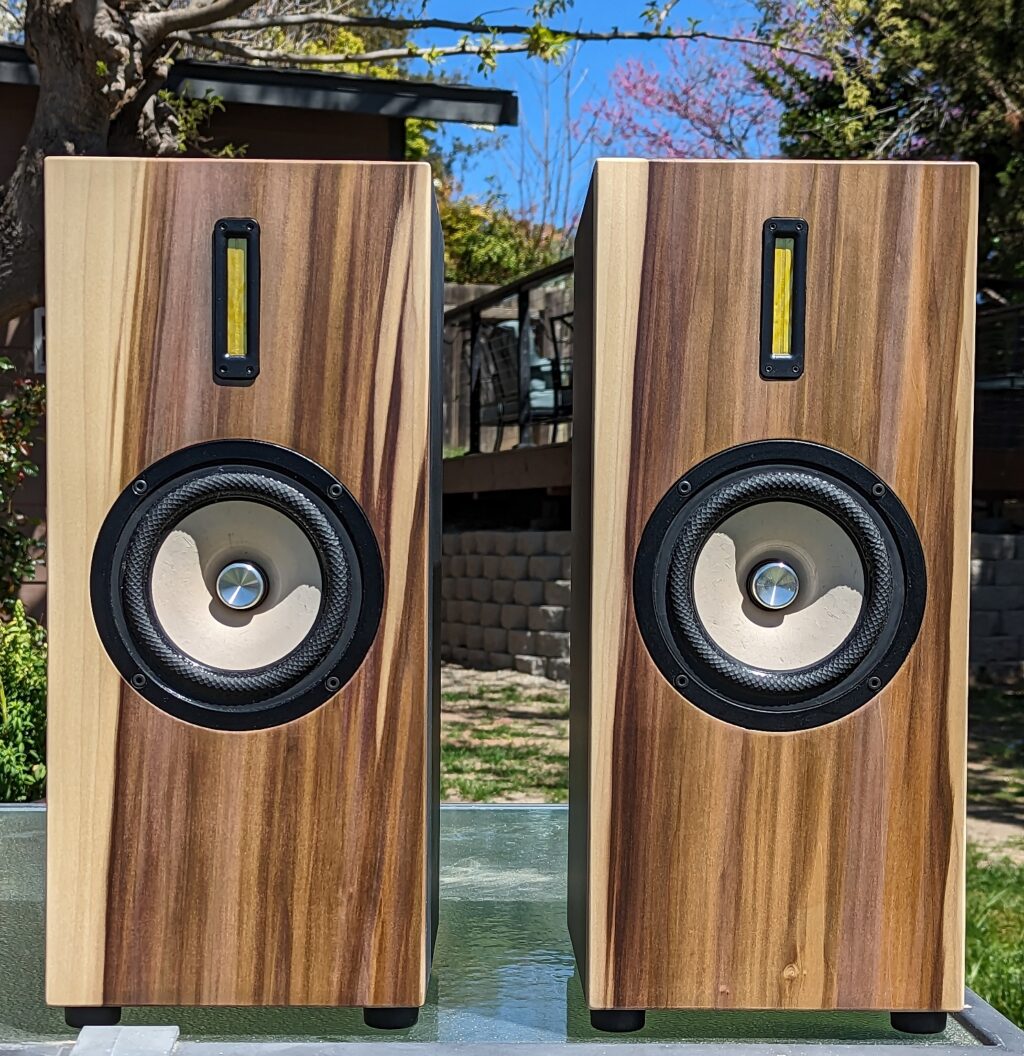 Jazzercise
---
Designer: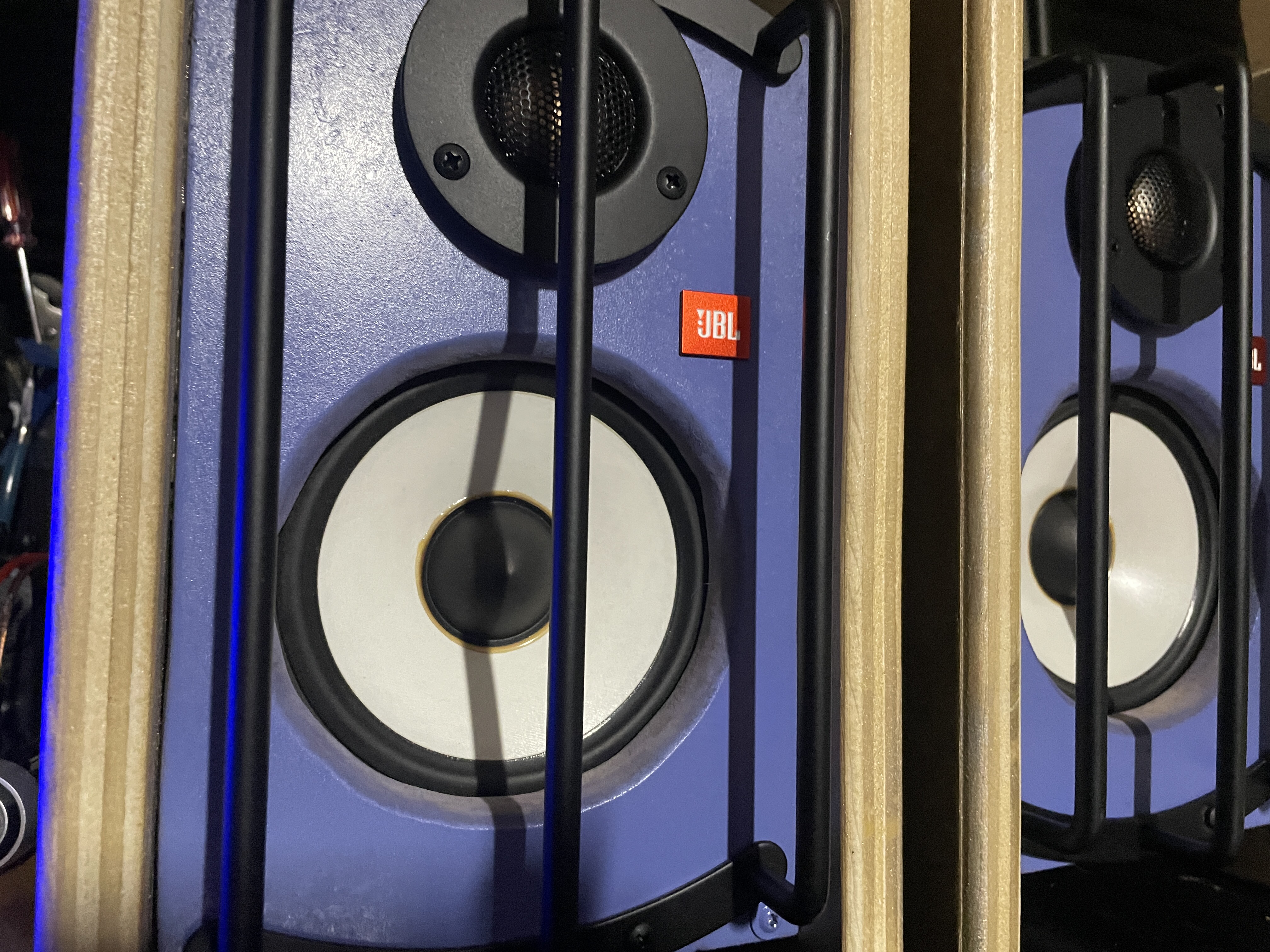 Bobby Kinstle



Project Category:
Bookshelf Speakers



Project Level:
Beginner



Project Time:
8-20 Hours



Project Cost:
$100-$500
Project Description:
 A bookshelf speaker to play relaxing jazzy music and look great.


Design Goals:
The project should be compact, have good full range sound without a need for a subwoofer, display natural wood and play around with a low cost ribbon tweeter
Driver Selection:
 I chose the TangBand W5-2143 because of the warm and smooth character for midrange. While it could play full range, beaming was a major issue so I also added a Dayton PTMini-6 to disperse the highs and give them a little sizzle. These drivers have the same output (thanks PE for listing the 2.83V ratings) and we're a pretty good match for each other.
Enclosure Design:
The enclosure was made from ½" MDF except for the front which was made from solid rainbow poplar. This is an under-appreciated medium hardwood that can have lots of beautiful grain figure. The right speaker has a cut out for a plate amp. Arylic did a great job sealing off all the ports so it didn't need to be mounted in a sub enclosure. The left speaker has a set of regular binding posts.
Crossover Design:
Standard 2nd order Linkwitz Riley design with a zobel to stabilize the impedance of the woofer as it was rising fast at 5KHz. I think a lower crossover point would have been better for the sound but the tweeter I used can't really handle much below 5khz. The ribbon tweeter has extremely stable impedance and is super easy to crossover.
Tips & Tricks:
1. Always verify paint and clear coats are compatible no matter what the person at the hardware confidently tells you
2. Always let paint or finish FULLY cure as indicated on the label before coating with another finish type
3. Applying sanding sealer to raw MDF and then sanding with 320 grit gives a super smooth finish that takes paint really well without needing a primer.
4. Start with about 20% fill on stuffing and then add more through the port until the midrange harshness goes away. Open the enclosure and spread the poly fill around more evenly.
Conclusion:
I'm pretty happy with how these turned out. The sound character is warm and smooth. Relaxing to listen to but no shortage of the crisp details like the pick slipping off the string or the singer taking a breath. There is still a problem with beaming at 5KHz and if I were to do this again I'd go with a lower crossover frequency but from more than 10 feet away they sound great even off axis. They sound good at high and low volume levels.
About the Designer:
I grew up in the Mojave Desert in a small community of scientists, craftsmen, and engineers. We were the kind of people who didn't accept "it's impossible" or "you can't do that". If I want something that doesn't exist, I'll make one. Now I'm a thermal engineer in the server industry and I currently hold 17 patents worldwide.

Project Parts List:
| | | |
| --- | --- | --- |
| Part # | Description | Qty. |
| N/A | Up2Stream Plate Amp – Multiroom Wireless Plate Amp | 1 |
| 264-958 | Tang Band W5-2143 5″ Paper Cone Full Range Driver 8 Ohm | 2 |
| 275-083 | Dayton Audio PTMini-6 Planar Tweeter 6 Ohm | 2 |
| 260-186 | Black Perforated Large Hole Crossover Board Pair 3.5″ x 5″ | 1 |
| 004-10 | Dayton Audio DNR-10 10 Ohm 10W Precision Audio Grade Resistor | 2 |
| 257-030 | Dayton Audio 0.35mH 20 AWG Air Core Inductor Crossover Coil | 2 |
| 257-038 | Dayton Audio 0.55mH 20 AWG Air Core Inductor Crossover Coil | 2 |
| 027-402 | Dayton Audio DMPC-0.22 0.22uF 250V Polypropylene Capacitor | 2 |
| 027-416 | Dayton Audio DMPC-2.7 2.7uF 250V Polypropylene Capacitor | 2 |
| 027-414 | Dayton Audio DMPC-2.0 2.0uF 250V Polypropylene Capacitor | 2 |
| 260-387 | Speaker Cabinet Port Tube 2″ ID Adjustable | 2 |
| 091-1245 | Dayton Audio BPA-38G HD Binding Post Banana Jack Pair Gold | 2 |
| 260-7500 | 4-Pack Rubber Cabinet Feet 1.57″ Dia. x 0.61″ H | 2 |