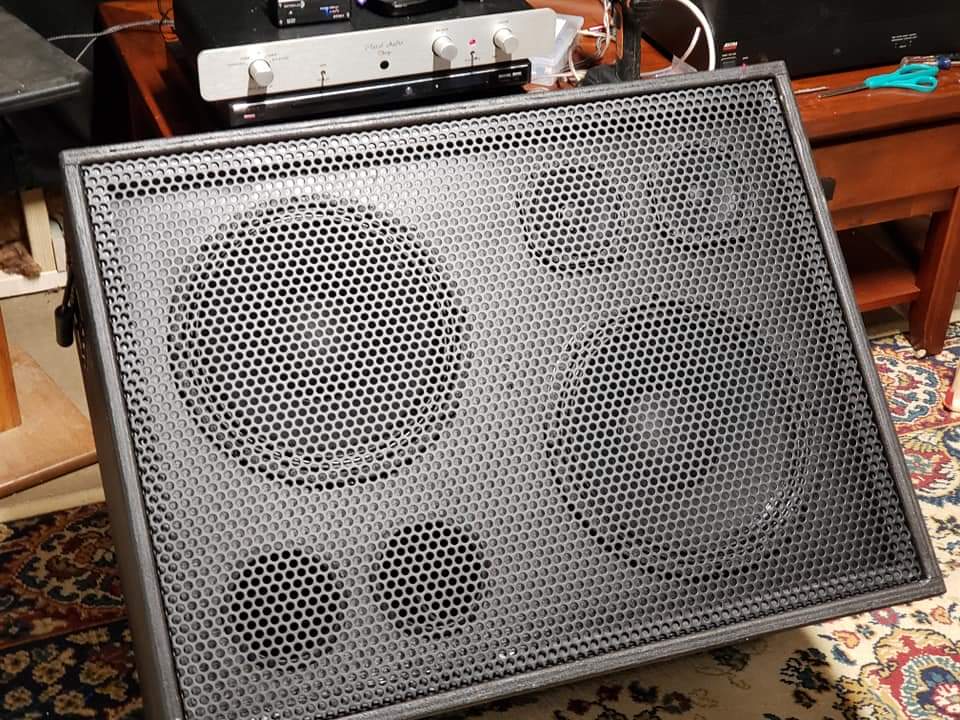 JBass 212×5
---
Designer:
JBass 212×5
Project Category:
Guitar and Bass Speakers
Project Level:
Intermediate
Project Time:
8-20 Hours
Project Cost:
$100 – $500
Project Description:
The JBass 212×5 is a 2way bass guitar cabinet using dual 12″ woofers and 5″ midrange intended for power levels up to 400w.
Design Goals:
A better alternative to commercial offerings that do not account for cone breakup and distortion of larger drivers and cannot accurately reproduce the range of a bass guitar
Driver Selection:
Eminence S2012 woofers and PRO5MRN-8 midrange
Enclosure Design:
Ported enclosure, 6 cu ft ported via twin 4″ ports for an Fb of 40hz and f3 of 50
Enclosure Assembly:
Butt joint construction, braced between baffle and rear wall. Baffle is inset 1.25″ to account for the PE preformed mesh grill. Enclosure measures 31.5w 24h 17.75d.
Crossover Design:
The crossover uses 2nd order electrical filters on each side with the woofer using a damped circuit. Resulting crossover point is 2khz.
Tips & Tricks:
To inset the baffle, I mounted strips of hardwood on the inside perimeter. This allowed for additional glue surface. Additional strips were applied to the baffle with 1/8″ clearance to capture the preformed grill for a pressure fit.
Conclusion:
The project is a definite success. The response transitions wonderfully between the drivers and gives a very clean presentation. In testing, I used an Adcom GFA555 (350W@4) and had no problems driving this to the amps limit. Punchy, smooth, with great sensitivity.
About the Designer:
I am an advanced designer of 10+ years.
Project Parts List:
| | | |
| --- | --- | --- |
| Part # | Description | Qty |
| 290-518 | Eminence Basslite S2012 Neo 12″ Bass Guitar Speaker 150W 8 Ohm | 1 |
| 092-339 | Neutrik NLT4MP speakON STX 4 Pole Male Chassis Connector Metal Housing | 1 |
| 262-886 | Formed Metal Grill Pair with 8mm Round Holes – 22.5″ x 30″ x 1″ | 1 |
| 255-422 | Jantzen Audio 1.0mH 15 AWG Air Core Inductor Crossover Coil | 1 |
| 255-218 | Jantzen Audio 0.30mH 18 AWG Air Core Inductor Crossover Coil | 1 |
| 027-932 | Jantzen Audio 10uF 400V Crosscap Capacitor | 4 |
| 255-946 | Jantzen Audio 2.20 Ohm 10 Watt Audio-Grade Superes Resistor | 4 |