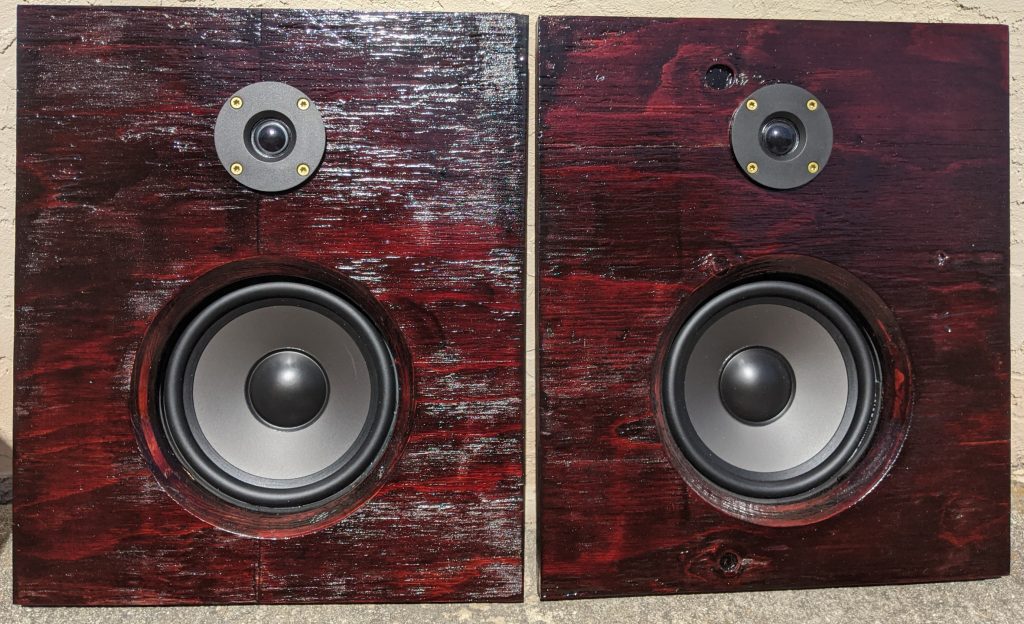 Jiffy Pop Garage Ceiling Speakers
---
Designer:
Bobby Kinstle
Project Category:
Freestyle Speakers
Project Level:
Beginner
Project Time:
1-8 Hours
Project Cost:
Under $100
Project Description:
Create an ultra cheap garage sound system to kill time while we are all stuck at home on quarantine using only materials I had laying around. At some point it became a game to be as cheap as possible and somewhere this turned into a parody of itself.
Design Goals:
I needed a speaker that would not be in the way of my work spaces, require minimal effort
Driver Selection:
I used a pair of the famous Parts Express $6 6.5″ woofers (299-609) that I always keep a pair of handy and paired it with a Dayton 3/4″ tweeter (275-020) to supplement the high end.
Enclosure Design:
I found a sheet of 5/8″ plywood in my attic and cut it to fit across a couple of the rafters above my work space. When I want to impress my friends I tell them its "Infinite Baffle". I also put a thick layer of foil backed fiberglass insulation on top to damped the sound coming off the back of the woofer and also to act as a radiant barrier so the IR radiating off my uninsulated garage roof doesn't cook them.
Enclosure Assembly:
I cut and beveled some sloppy holes for the woofers with my router using my sloppy adjustable circle jig and drilled a hole for the tweeters. Next I coated them with some Minwax Polyshades finish to protect the wood and cut down on the number of splinters I was accumulating. After bolting down the drivers I mounted the high pass filter on the back. The enclosure was then screwed on top of the rafter beams with some automotive sound dampening material in between to minimize transfer vibrations. Lastly the I stapled the insulation on top.
Crossover Design:
Since the $6 woofer rolls off on it's own, I didn't filter it at all. I added a 12dB high pass filter before the tweeter at 4.5Khz which blends pretty well with that woofer.
Tips & Tricks:
Always use a tight fitting, high quality circle jig. Even if it means buying a new router to fit it. Adjustable jigs just wiggle too much.
Never use stain mixed with finish. That stuff is rubbish. Just no.
Conclusion:
Vocals sound great and highs are crisp. Those little tweeters are highly directional. Being down firing, I can play them pretty loud and I hardly hear anything by the sidewalk so they won't annoy the neighborhood. Bass could be better. Maybe I'll add a small sub later. Its still far better than a boom box radio.
About the Designer:
I grew up in the Mojave Desert in a small community of scientists, craftsmen, and engineers. We were the kind of people who didn't accept "it's impossible" or "you can't do that". If I want something that doesn't exist, I'll just make one. Now I'm a thermal engineer in the computer industry and I currently hold nine US patents.
Project Parts List: