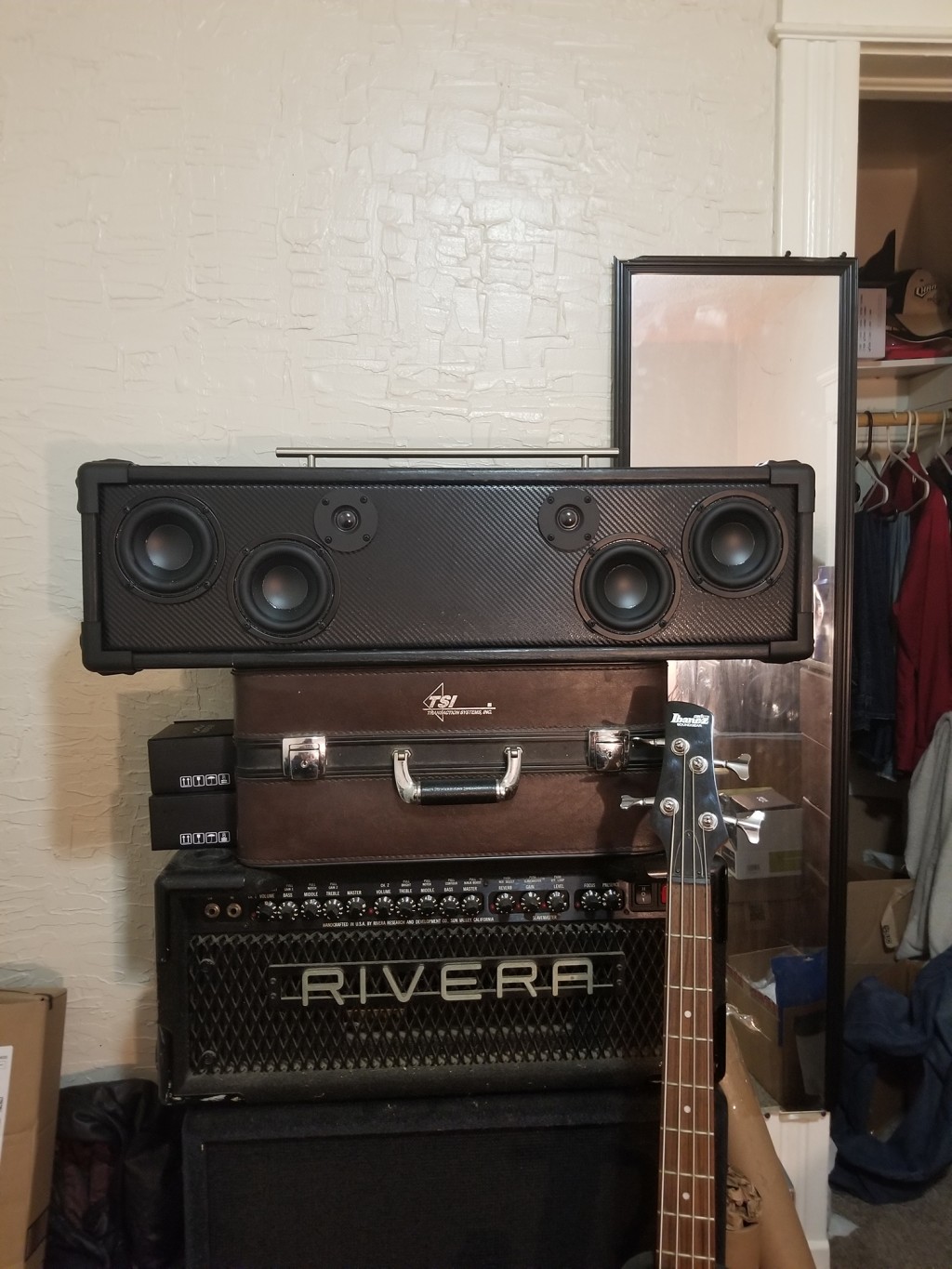 JimmiJams Bluetooth
---
Designer:
JimmiJams
Project Category:
Portable Speakers
Project Level:
Beginner
Project Time:
8-20 Hours
Project Cost:
$100 – $500
Project Description:
Dual 2way bluetooth speaker.
4 woofers, 2 tweeters ported.
50w per ch.
Design Goals:
I was looking to do something with smaller drivers. With a little shock and awe!!! Lol!!!!
Driver Selection:
4 Dayton TCP115-8 4inch woofers 8ohm part#295-416
2 Dayton TD20F-4 3/4 inch dome tweeters 4ohm part#275-020
Enclosure Design:
Separate speaker enclosures at.37ft3 . Made of mdf and wrapped with Vivvid xpo vinyl wrap. Ports are 1 3/8 ID tuned to 43Hz 5 inches long according to my btw app.
Crossover Design:
Pre assembled Audiopipe crossovers. Crossed at 4300Hz
Conclusion:
This thing rocks!!! Had a problem with the bass response at first. Thanks to Tim the tech at Partsexpress that's fixed. He advised me to reverse the polarity on the tweeters. Worked like a charm! tons of bass now! Also a big thanks to all the techs at Partsexpress. TIM,CHARLES, RUSS,AND TROY for all your help.
About the Designer:
51yr old, old school rocker with a passion for music. Carpenter for 30yrs(helps with cabinet building!) I'm a beginner in bluetooth building, but learning quickly!
Project Parts List: