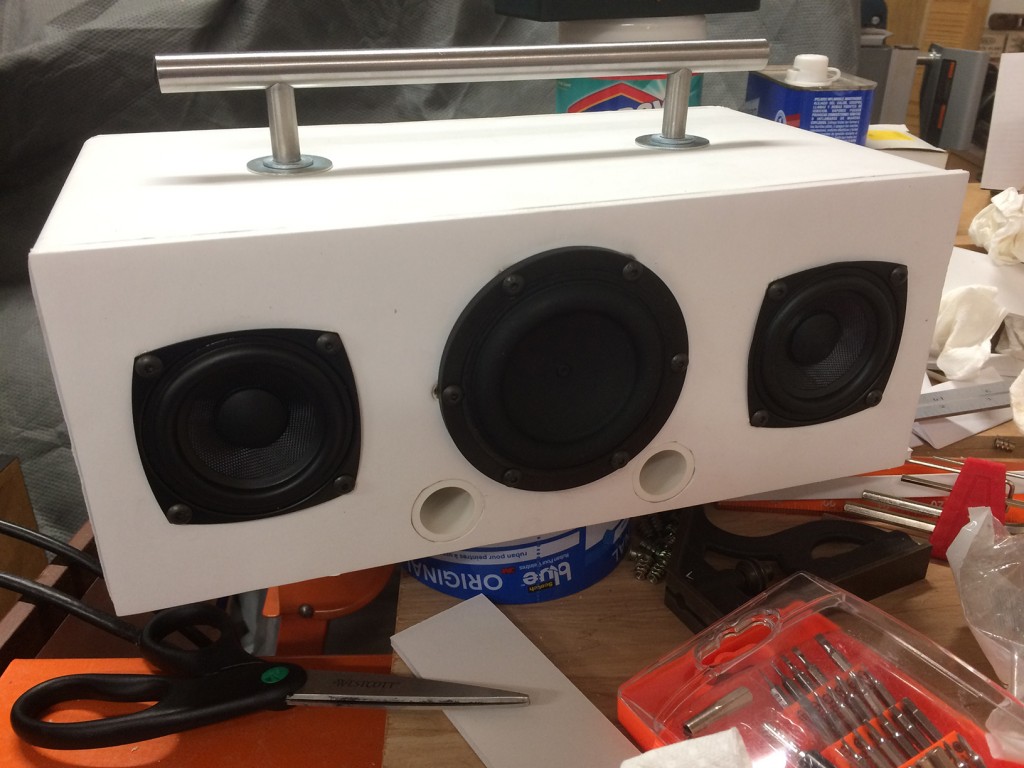 jwjarch
---
Designer:
The Foam Core Forte
Project Category:
Portable Speakers
Project Level:
Beginner
Project Time:
8-20 Hours
Project Cost:
Under $100
Project Description:
A 2.1 semi-portable boom box using foam core for the enclosure.
Design Goals:
I've been messing around with the idea of creating a compact stereo unit ever since our other high priced bluetooth unit started giving us trouble; cutting out, disconnecting intermittently, etc. The project goal was to create a relatively compact, very affordable speaker that covers from ~40hz on up, with hi-fi quality sound.
Driver Selection:
I wanted a selection of drivers that would give me the bass I was after and decent highs as affordable as possible. I picked up the CE65W-8's (285-143) on sale. And the Tang Band W3-1876S 3″ Mini Subwoofer (264-909) was the logical choice for a small format sub that could get down into the 40's no problem.
Enclosure Design:
Taking inspiration from builds in another online DIY forum for audio, the enclosure is constructed out of foam core. I included my CAD layout of all the cut pieces in the photos below. The foam core allowed me to complete the whole build in days rather than weeks if I had used MDF, hardwood, or plywood. I simulated the enclosure sizes for the drivers as well as the port specs for the subwoofer in Unibox.
Enclosure Assembly:
I glued the foam core together with good old white Elmer's school glue. The drying time isn't great but i feel like the bond it gives on foam core is really strong. The plate amp and drivers are held in place with 8/32 threaded inserts and black allen head machine screws. The Elmer's didn't do such a great job adhering the threaded inserts to the foam core, so I came back with some Titebond III on all of them, which seemed to do the trick. I used a cut up moving blanket to line the inside of each section of the enclosure and added a handful of polyfill to the subwoofer section.
Crossover Design:
The plate amp I used has an internal electronic adjustable crossover (from ~30-150hz) and is based on the TPA3118 class D chip. There are two chips. One putting out 2×30 watts to the CE65's, and the other gives 60 watts to the sub. It's running off of a 120W laptop power supply. This combo is more than enough to drive the CE65's and the 1876S.
Tips & Tricks:
Foam core is a fast and easy way to create speaker enclosures. It comes in 3/16 and 1/2″ thicknesses, so plan accordingly.
Conclusion:
Even though the CE65's only reach to ~16khz and this speaker isn't as compact as our old bluetooth, it beats the pants off of it in every way. The CE65's can play so much louder and cleaner with the 1876 picking up from 40-150hz. Jazz and vocals sound great with accurate reproduction of plucked bass notes and piano as well. I can say I'm already very happy with it. Hopefully it gets even better with a little break-in time on the drivers.
About the Designer:
I come from a family of machinists going back generations. I love working and creating with my hands and speaker building has been a great way to combine my interest in design, woodworking and electronics in the perfect way.
Project Parts List: