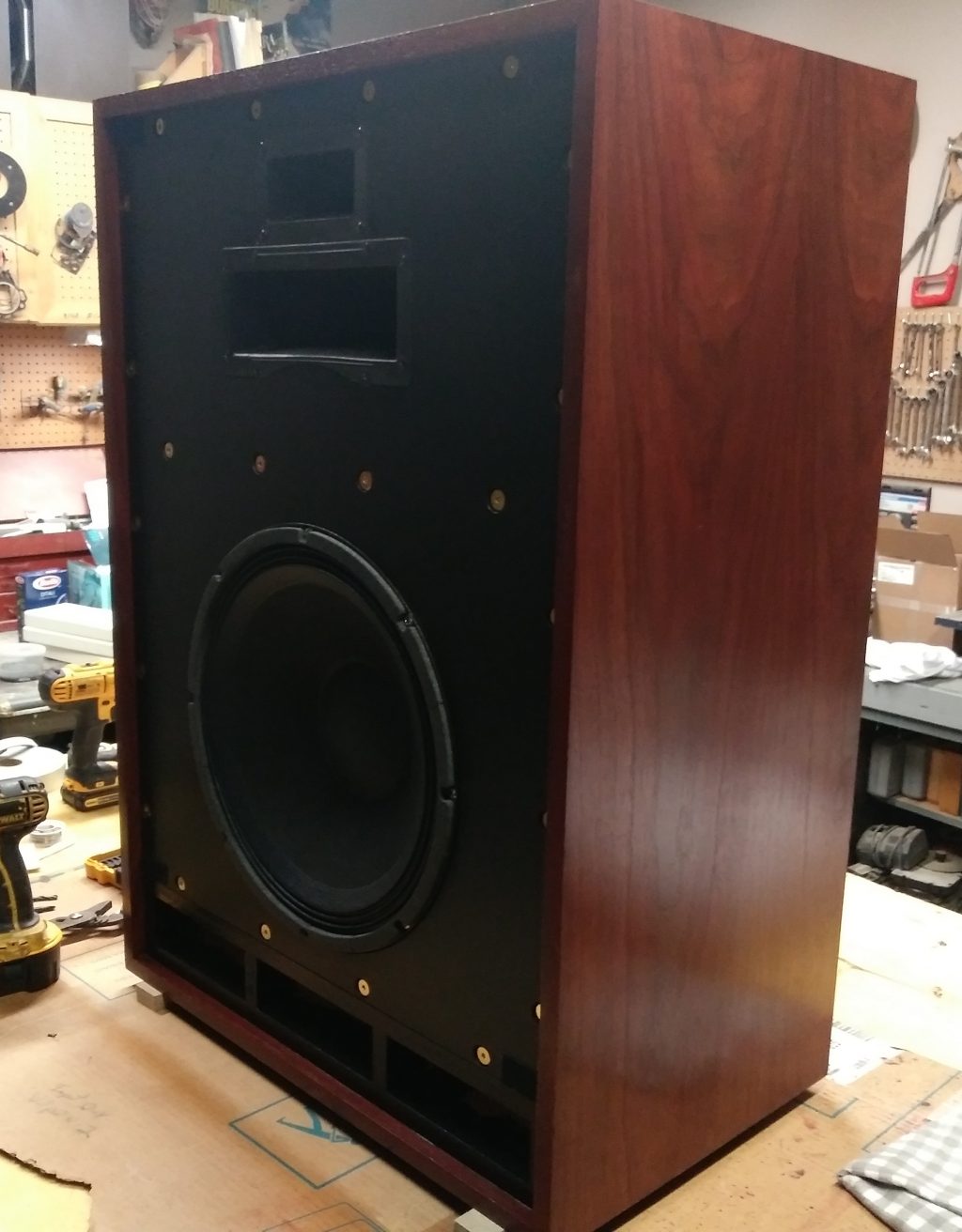 Klipsh Cornwall Copy
---
Designer:
FDR
Project Category:
Freestyle Speakers
Project Level:
Intermediate
Project Time:
8-20 Hours
Project Cost:
$500 – $1,000
Project Description:
Please excuse the lack of details as it was a few years ago that I built these so I don't quite remember 100% of the build process. If there are any questions please feel ask as it might refresh my memory.
Design Goals:
Wanted to build some big badass old school loudspeakers.
I had a pair of klipsh KP-250's(A PA version of the Heresy) with fried crossovers and blown woofers. After some research over at the Klipsh audio community, I figured I could brew up some Cornwalls with mid and high frequency horns of the KP-250's as the cabinets were in pretty hard shape.
Driver Selection:
I don't remember the model numbers on the mid and tweeter horns but they are basically the same as an early heresy model. I purchased titanium replacement diaphragms from Bob Crites for the tweeters. I used an Eminence woofer for the low end that worked out to be pretty good tuning for Cornwall cabinet and vent, and worked well up to about 800hz or so.
Enclosure Design:
Cornwall Cabinet can be found with a simple google search.
Enclosure Assembly:
Just basic cabinet building with extra bracing.
Crossover Design:
Cornwall B2 network. I got the transformer from Bob Crites
Tips & Tricks:
Take your time and enjoy what you do.
Conclusion:
What can I say, Its a Klipsh Cornwall with a better LF driver and Bob Crites parts. I like my music bass heavy and these do it for me with just about 20v or 100 watts. These will take 400watts no problem.
About the Designer:
Played with audio gear since I was a kid. Up until a couple of years ago, I really got into the crux of loudspeaker engineering. I have dabbled in many trades but i get bored of them easily.
Project Parts List:
| | | |
| --- | --- | --- |
| Part # | Description | Qty |
| 027-449 | Dayton Audio DMPC-68 68uF 250V Polypropylene Capacitor | 1 |
| 027-542 | Solen 3.0uF 400V Polypropylene Capacitor | 1 |
| 027-528 | Solen 1.5uF 400V Polypropylene Capacitor | 1 |
| 255-436 | Jantzen Audio 3.0mH 15 AWG Air Core Inductor Crossover Coil | 1 |
| 255-206 | Jantzen Audio 0.15mH 18 AWG Air Core Inductor Crossover Coil | 1 |