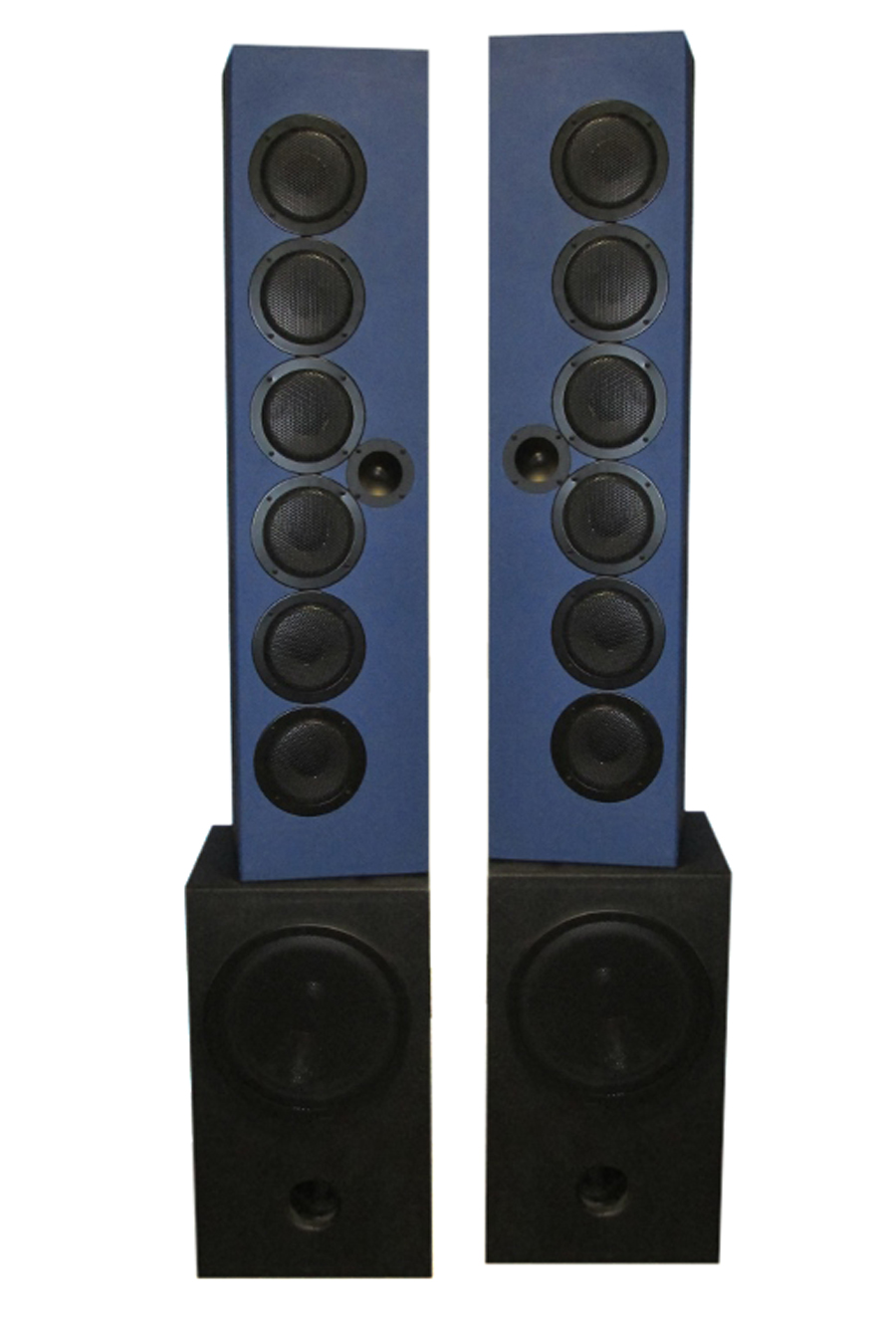 Konnections
---
Designer: Chuck Morris
Project Category
Tower Speakers
Project Level
Intermediate
Project Time
8-20 Hours
Project Cost
$100 – $500
Project Description
The Konnections are a line array system based on the Eminence 6.5″ buyout guitar speaker. Specifically designed for a large multi-use room.
Design Goals
Reliability, durability, vocal clarity, and simplicity. The system is fully passive so only a 2 ch amp is needed.
Driver Selection
Eminence 6.5″ guitar drivers, Tymphany H26TG45-06 1″ soft dome tweeter, Dayton Audio SD315A-88 12″DVC subwoofer
Enclosure Design
The line array cabinets are 2 cu ft sealed units, 48″h, 12″w, 8.75″d using 3/4″ material. Three cross braces were applied to the sides and rear panel and 2×4 material to the top and bottom (for on-wall mounting) The walls were lined with mattress topper and stuffed with about 1 lb of loose fill.
The woofer cabinets are 2.3 cu ft and vented using a 3″ID x 8.5″ long port. This provides an Fb of 28hz and f3/6/10 of 33/28/23. Cross braces were added here as well. The cabinet is line with carpet padding.
Enclosure Assembly
Nothing special, simple butt joints and glue. The finish is 2 coats of black duratex and 1 more coat of blue duratex on the line array cabinet.
The drivers in the line array cabinet are flush mounted. The drivers are centered top to bottom and 1″ from the edge. The tweeter is centered and also 1″ from the edge. Both cabinets also have a 3/8″ round over.
Crossover Design
The crossover is a 12 element design, 2nd order electrical on all except the mid high pass which is 1st order. This results in approx a 4th order LR slope at both points. Crossover points are 250Hz and 2.7Khz. The mids are wired 3 in series and the 2 groups then in parallel for a nominal 6 ohm load. The mids are also wired in reverse polarity. The woofer uses a lamintate core inductor and the mid and tweet use air core. NPE caps are used in the parallel (to gnd) legs and Dayton Audio poly units in the series positions. The .47uf cap is used to suppress cone breakup. The 47ohm is used to reduce the impedance peak of the sealed enclosure. I used a pair of 20w 20ohm resistors for power capacity.
Conclusion
The Konnections were designed for a large multi-use room measuring 24ft wide and 45ft deep. They are used for music, speaking, movies, and live sound. They are an on-wall design to maximize floor space and safety (of the speakers and kids).
This was a really fun project. Obviously, they have a large presentation but do so without being overbearing. They hit the mark on every aspect of the design.
About the Designer
I  am an avid builder and designer who enjoys challenging myself with each build. Something new for me every time. And these challenged me in nearly every facet.