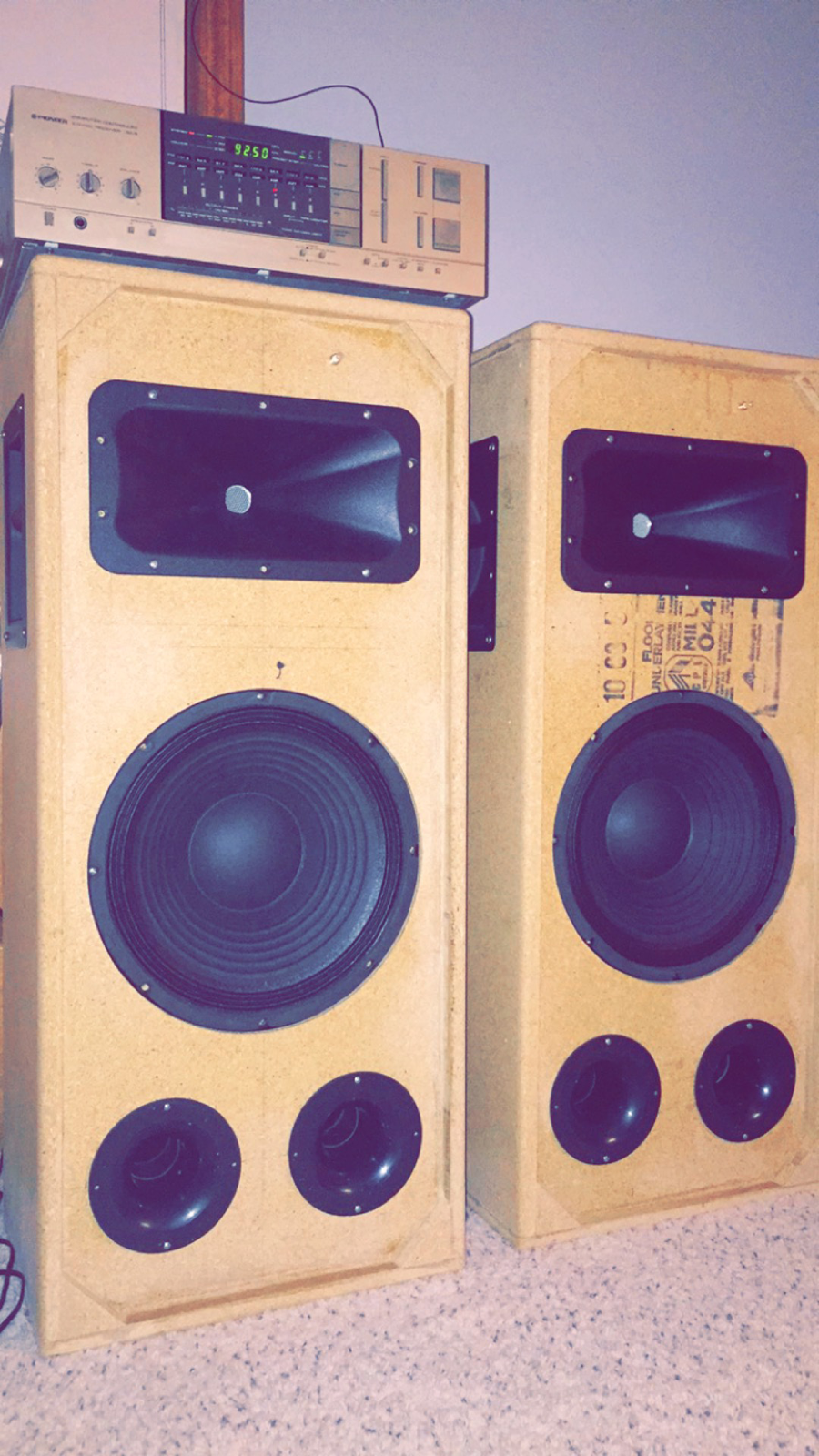 L1 Loudspeaker
---
Designer:
Kyle
Project Category:
Loudspeakers/Cabinets
Project Level:
Intermediate
Project Time:
20+ Hours
Project Cost:
$500 – $1,000
Project Description:
The L1's utilize a 12″ Dayton audio woofer along with JBL horn drivers coupled with a crossover to ensure a balanced sound. An Lpad was incorporated to allow for high end adjustment. Banana jacks were used for inputs but could easily be replaced with speakon or 1/4″ jacks depending on your setup. The cabinets are covered ntracted from 3/4″ particle board which ended up working quite well when assembled using a Craig jig to make pocket holes. The front face baffle uses two stacked boards for higher strength and allowed the woofer cutout to be countersunk to allow the woofer to sit flush with the face. The cabinet is coated in duratex which has a high quality textured finish that also covers small imperfections and can be easily repaired if scratched. The cabinet it split in to parts internally to maintain the proper volume for the woofer. The crossover was built on a pice of mdf and is screwed inside the upper portion of the divided cabinet. Two ports were used based on a volume calculator and the cabinets were loosely filled with Polyfill. The crossover was based upon a design I previously found on the parts express project site.
Design Goals:
To create a speaker loud enough for parties with a higher build quality than what's found in most two way PA speakers that are common on the market. They needed to be easily moved by one person and portable enough to be taken to a variety of venues as well as durable to withstand their environments.
Driver Selection:
The Dayton Audio PA310-8 12″ Pro Woofer (part #295-032) was selected and the cabinet was built to the suggested ported cabinet specifications.
The JBL Selenium D220Ti 1″ Titanium Horn Driver 8 Ohm (part # 264-270) was used along with a Dayton audio flared horn.
Enclosure Design:
Four Precision Port 3″ Flared Speaker Cabinet Port Tube Kits (part #268-350) were used and port length was decided based upon included equation and cabinet size.
Parts Express Steel Bar Speaker Cabinet Handles (part #262-821) were used for ease of mobility.
Acry-Tech DuraTex Black 1 Gallon Roller Grade Speaker Cabinet Coating (part #  260-101) was used to finish the cabinets with enough left over to cover two more cabinets of the same size.
Parts Express Recessed Speaker Wire Terminal Cup Banana 5-Way Binding Posts (part #260-303) were used for the inputs but could easily be replaced with Speakon or 1/4″ hookups.
Acry-Tech DuraTex Black 1 Gallon Roller Grade Speaker Cabinet Coating (part #  260-101) was used to finish the cabinets with enough left over to cover two more of the same size.
Enclosure Assembly:
The cabinets are made out of particle board and constructed with Craig jig pocket holes. Imperfections were filled with wood filler. They were then covered in three coats of Duratex to achieve the desired texture.
Crossover Design:
Crossover based on Econowave crossover design.
Tips & Tricks:
To get the most out of your speakers, always follow suggested cabinet volume guidelines.
Conclusion:
The L1 loudspeakers fit my design goals in that they are loud but also have quality sound reproduction, they're portable, durable, and have a higher craftsmanship than many commercially available PA speakers all for under $600. They are currently driven with a Crown amplifier.
About the Designer:
I'm a high school student who recently got into vintage tuners and amplifiers after my first glance at a McIntosh amp. I wanted to design speakers that were durable and sported the quality craftsmanship of a vintage speaker. I find interest in the design of speakers and enjoy the construction process. At the end of the day, it's satisfying to see what comes from hard work and a Dad who's willing to help.