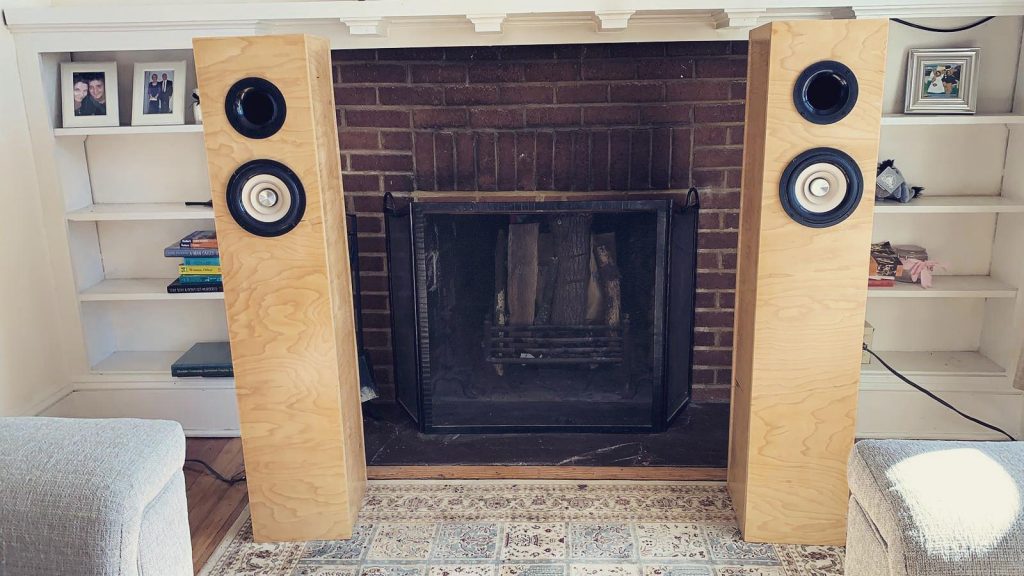 Laurel Loudspeaker
---
Designer:
Laurel Loudspeaker
Project Category:
Tower Speakers
Project Level:
Beginner
Project Time:
20+ Hours
Project Cost:
$100 – $500
Project Description:
Floor standing single driver full range speaker. It is my first project so wanted something simple to try out my wood working skills
Design Goals:
Speakers for our main system used for home theatre and audio so wanted them to sound and look great
Driver Selection:
Wanted a full range driver with good bass and flat response. My ears don't go to much into the high end so wasn't to concerned about the top end. The specs on the Tang Band W6-2144 look good so went for them.
Tang Band W6-2144 6-1/2″ Paper Cone Full Range Driver 8 Ohm
Part # 264-959
Enclosure Design:
Simple box with bass reflex. Due to the furniture in the room I chose to place the base port above the driver. I chose a maple plywood for a classic wood finish. Height 4ft width 9" depth 10"
Enclosure Assembly:
I choose a maple ply wood panel for looks and cost. The shop cut it don't to the size I wanted, which made everything simpler. I glued and used pocket screws to fix the main box then braced all the joints. Before closing I glued acoustic foam on the internal walls. Sanded and stained the exterior with a natural stain.
Crossover Design:
Not applicable
Tips & Tricks:
Spend the time up front to get the basics right and make come together quicker.
Conclusion:
Look and sound great, just wish I had better wood working skills.
They go as deep as advertised and the mis are really nice. There is a bit or resonance at the high end and some distortion when I put too much power through them but that really loud. Over all I really like them and enjoyed making them
About the Designer:
I am beginner with wood working but enjoy good sounding music
Project Parts List: