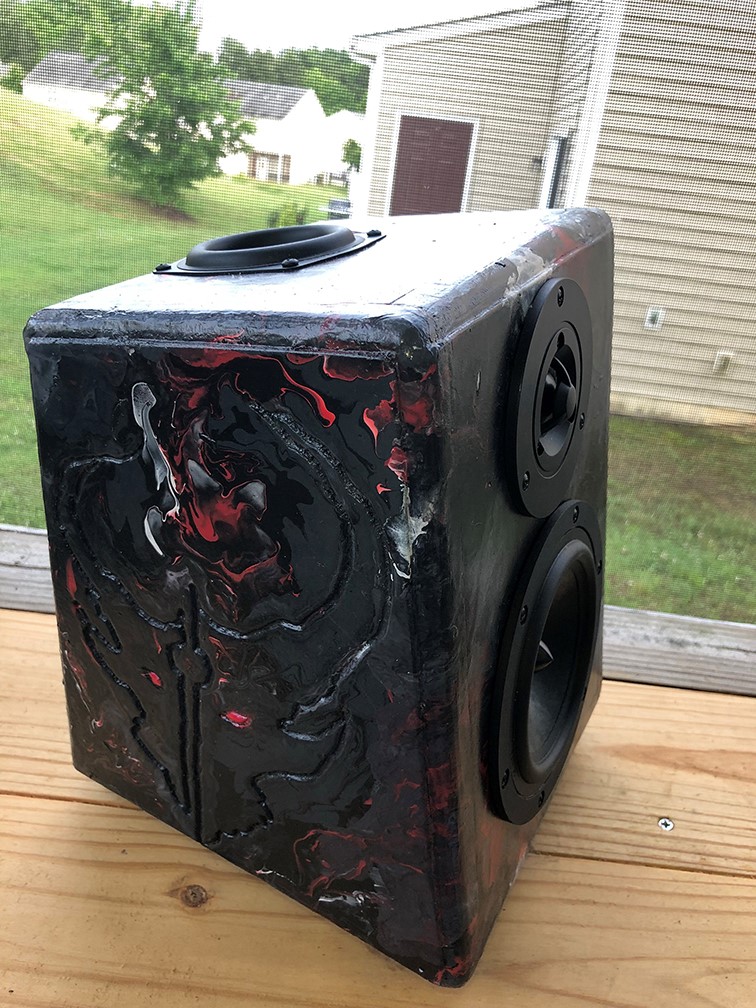 Life War Demon Hunter box
---
Designer:
clif friese
Project Category:
Bookshelf Speakers
Project Level:
Beginner
Project Time:
8-20 Hours
Project Cost:
$100 – $500
Project Description:
After a month of researching and watching speaker builds, I decided to try one. I liked styles with angled sides and front baffles. I was not sure I could even cut a straight line, I am a mechanic by trade, with maybe an hour of wood working skills. I saw kits with premade boxes, but did not care for the speakers much. So I decided to pick out speakers and build my own box. used a plate amp with Bluetooth and aux input for using with my phone and computer.
Design Goals:
goals were to build a speaker to put out by my grill, just to chill to while cooking diner, or relaxing by the bonfire with friends and family.
Driver Selection:
292-554 , 295-563, 290-209
Enclosure Design:
PR radiator was used in bookshelf speaker. Used a plate amp 310-4000, so when I build second speaker it can be used by amp for stereo sound.
Crossover Design:
Dayton Audio XO2W-3K 2-Way Crossover 3,000 Hz was used for crossover, I wanted to try soldering a crossover as I learn more in a future project.
Conclusion:
speaker sounds better than expected. Friends are surprised of the clean sound from a small speaker.
About the Designer:
I wanted to make a speaker for relaxing by the grill or bonfire, I wanted it to be abstract and different, my wife used a pour paint style to paint speaker box. I wanted it to be edgy and represent a metal genre for music. A favorite band of mine is Demon Hunter, so I used there logo and my router and engraved it in each side
Project Parts List: