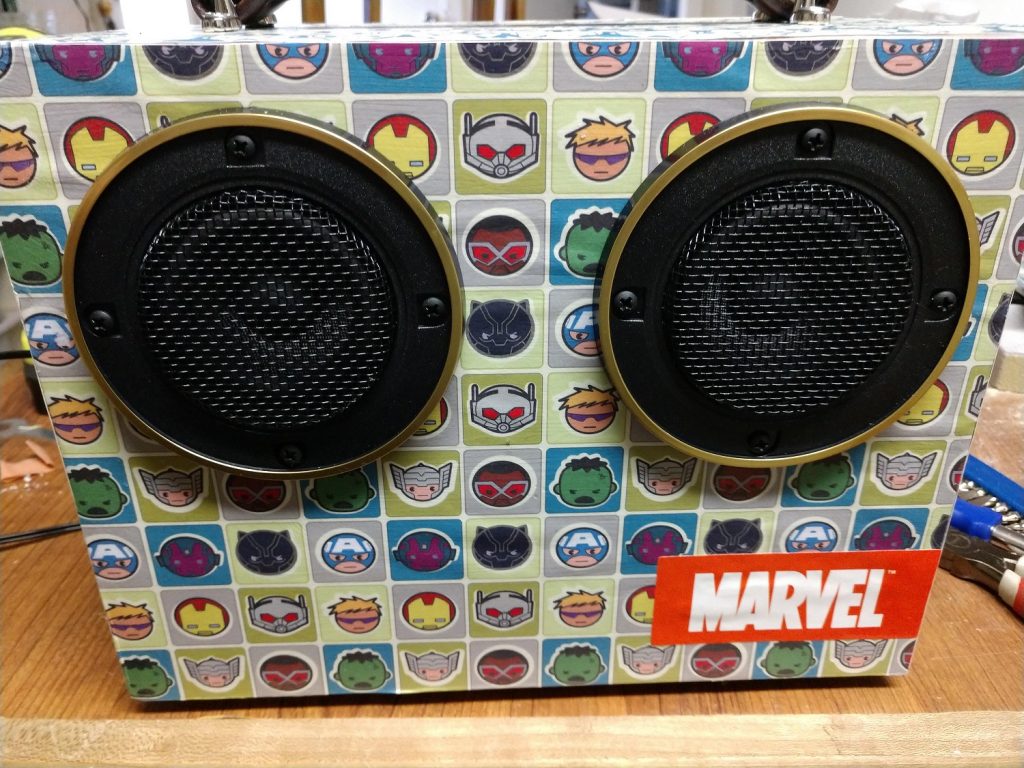 Marvel Battery Powered Bluetooth speaker
---
Designer:
John A Nelson
Project Category:
Portable Speakers
Project Level:
Beginner
Project Time:
8-20 Hours
Project Cost:
Under $100
Project Description:
Custom designed Bluetooth speaker using the #300-7304 Bluetooth kit with an additional battery backup and the KAB-PMV3 panel mount. Found some awesome Marvel Cricut paper, and custom decorated the speaker.
Design Goals:
Build a cool, fun and portable Bluetooth speaker for my Marvel obsessed 13 year old. She loves the finished product, and while I am just a beginner, I think it turned out OK!
Enclosure Design:
Simple plywood box made this design easy and simple. I used 1/2 inch plywood that I had left over from another project.
Enclosure Assembly:
Ported the enclosure to improve bass response, 1″ tube cut to about 3″ deep.
Crossover Design:
Not required because I used full range drivers
Tips & Tricks:
I used modpodge to "set" the paper in place on the box It was sort of like working with wallpaper, so it was pretty messy and easy to mess up, so be careful! After the paper was in place, I added another coat of modpodge to the paper, coating the whole thing. Then, after a week I coated the whole thing with two coats of clear sealer designed to work with the modpodge to give it some durability.
Conclusion:
The overall build was pretty simple, using the full range driver and the KAB board really made the development easy and straightforward. Box constructed from some scrap 1/2 in plywood I had from a previous project.
About the Designer:
Hobbyist woodworker and tinkerer from New Jersey. My basement shop is my happy place.
Project Parts List: