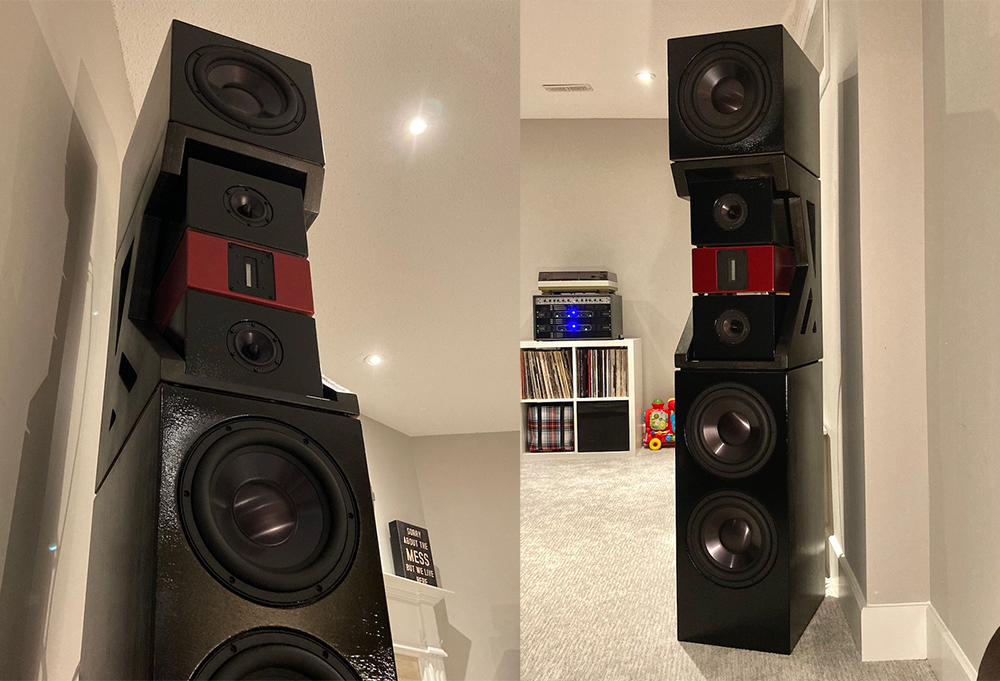 Modular Towers
---
Designer:
NEX LEVEL AUDIO
Project Category:
Tower Speakers
Project Level:
Advanced
Project Time:
20+ Hours
Project Cost:
Over $1,000
Project Description:
Bottom Sub has 1x 10″ Dayton RSS265HF-8 Subwoofer, 1x 10″ Dayton RSS265-PR Passive Radiator.
2x 4″ Dayton RS100-8 Midranges wired in parallel for 4 ohms
1x Raal 70-10 Ribbon Tweeter running at 8 ohms. 15uF capacitor wired in series to avoid any accidental low end thumps which would destroy the tweeter instantly.
Top Sub has 1x 10″ Dayton RSS265HF-8 Subwoofer wired in parallel with the bottom sub creating a 4 ohm load total for the subwoofers.
I'm running a 3-way active crossover (DBX 234XS) which gives me so much control over my speakers. I can really fine tune the sound I want in the room.
The subwoofers are powered by an ART SLA-2 with 280 watts a side RMS
The midranges and tweeters are powered by an ART SLA-4 with 140 watts RMS going to the midranges and approximately 100 watts RMS going to the tweeters.
Design Goals:
I wanted to create the best sounding speakers with as much versatility as possible.
Driver Selection:
295-442
295-500
295-352
Enclosure Design:
Passive Radiator on Bottom Sub
Sealed on Top Sub
Sealed Midranges & Tweeter
Crossover Design:
No crossover as I am using an active external crossover with tri-amping
Conclusion:
Overall I am extremely happy with the sound, definitely blow my old Dynaudio BM15A's out of the water. The Raal tweeters are the crown jewel of my build. They sound literally, REAL. They're extremely smooth and have such a nice "air" to them. Everything is so silky and I'm amazed at the dispersion, much wider than I anticipated. The midranges sound great and the subs are very tight and controlled. No "woofy" sounds going on but I can get the thump in my chest if I want.
About the Designer:
I build custom bespoke bluetooth speakers and this is my first Hi-Fi build
Project Parts List: