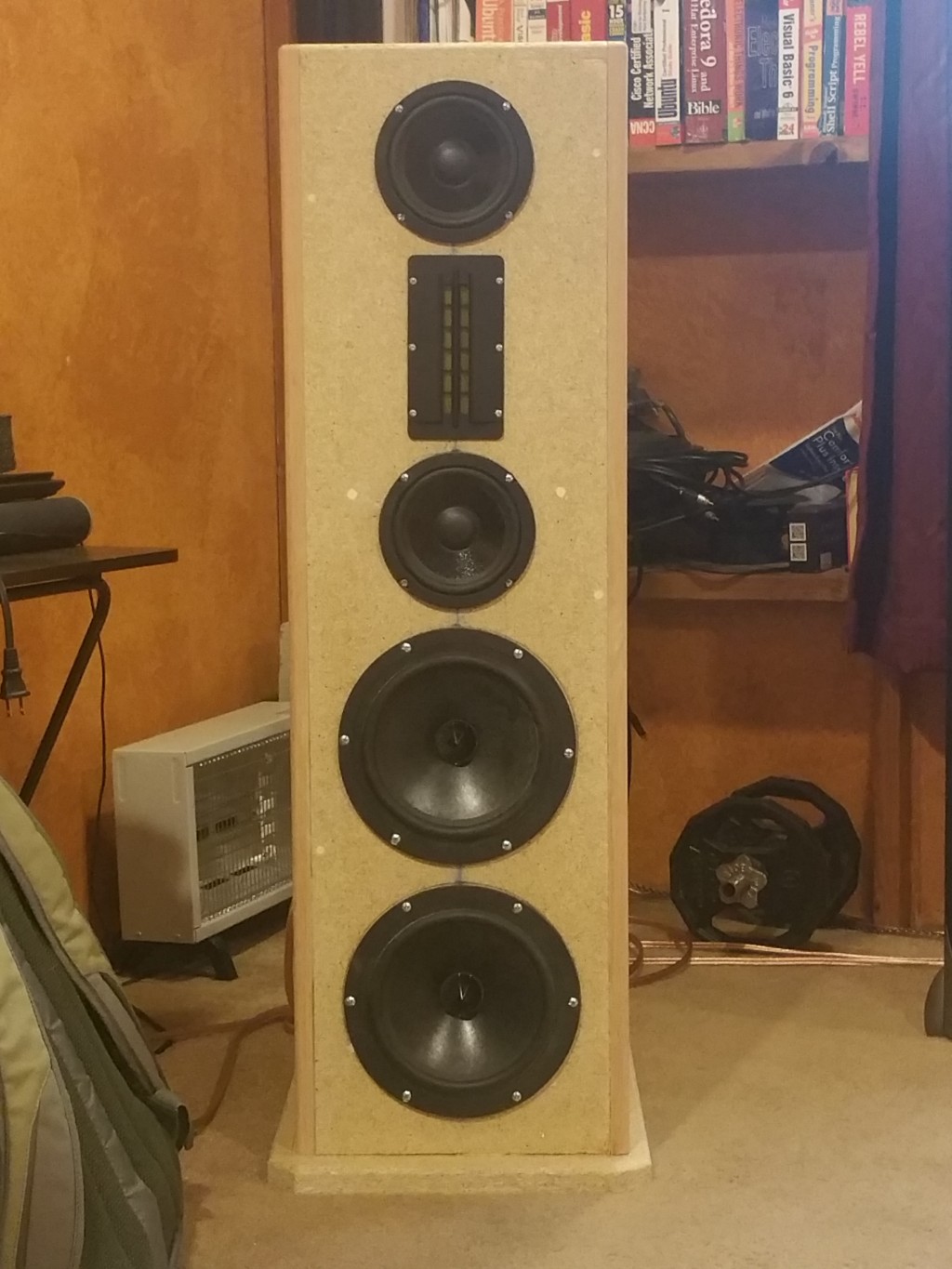 More Pleasing Midrange Representation
---
Designer:
Bensen
Project Category:
Tower Speakers
Project Level:
Advanced
Project Time:
20+ Hours
Project Cost:
Over $1,000
Project Description:
Tower speakers with a design to fill a larger room but to have accurate reproduction in smaller rooms as well.
Design Goals:
1.) Detailed highs
2.) Airy mids
3.) Good midbass with deep extension
4.) No cabinet resonance. Very sturdy cabinet
Driver Selection:
1.) Dayton Audio RS225P-4 8″ Reference Paper Woofer 4 Ohm
Part # 295-377
2.) Dayton Audio DC130B-4 5-1/4″ Classic Woofer Speaker
Part # 295-307
3.) Dayton Audio PT2C-8 Planar Tweeter
Part # 275-085
Enclosure Design:
Tunable to different rooms
1 3/4″ particle board (two 3/4 glued together)
In line array
Accessible crossover
1.) Sealed mid box with two 5 1/4 midranges separated by divider, tweeter between division
2.) Top 8″ driver slot ported midway on backside of speaker for adding airy texture to low mids
3.) Lower 8″ woofer in sealed box.
Enclosure Assembly:
4 4×8 3/4″ Particle board
1 piece 1″x3″x8′ oak for front corners
1 1 1/8″ x 24 x 6 benchtop for base
Crossover Design:
Dayton Audio XO3W-375/3K 3-Way Speaker Crossover 375/3,000 Hz
Part # 260-150
——————————————
Added for Mid attenuation
Parts Express Speaker L-Pad Attenuator 100W Mono 3/8″ Shaft 8 Ohm
Part # 260-262
————————————-
Added for high attenuation
Speaker L-Pad Attenuator 100W Mono 1″ Shaft 8 Ohm
Part # 260-265
Tips & Tricks:
I knew I'd need some tweaking on the planar tweeters but had to get an additional Lpad to attenuate the midrange drivers.
Dual midrange drivers chosen for greater surface area and flat response and the planar tweeter was specifically ordered for the flat response and higher DB sensitivity
Originally I had the top woofer ported in back and bottom ported in front. this added to much air to the airy effect I was going for. I ended up removing the port from the bottom driver by simply shortening the cabinet and reducing air space in the lower driver. The result was very desirable
Conclusion:
Very happy.
After a moderate amount of tweaking the result is great. I own multiple semi expensive towers that just did not fit the bill I trying to pay. I almost went to electostat or planar ribbon towers but didn't want to sacrifice the bass for a more open midrange.
The end result is much airier mids then my other midrange (cost wise) speakers but still very tight bass with good bass extension.
The planar tweeter was intended to blend with dual mids for airy presence and a good sense of detail and did exactly that.
Very flat response depending on the settings of the Lpad mixed with the the mood I'm in 🙂
Adding the Lpads did not degrade sound enough for me to ever care. Still much more pleasing and detailed to me than my Def Tech 9040's or my Paradigm Studio 60 V5
I still have to paint the speakers gloss black but am taking a break !!!
About the Designer:
Unix Specialist @ IBM. Always geeking out in one way or another.
Many technical degrees but focus in IT in programming.
Former Home Renovator and General Contractor
I've been a sound enthusiast for my whole life.
I have never been able to find the perfect sound for me so figured since I've researched for years I'd just bite the bullet and start making my own ideas come to life.
Parts Used:
2 Dayton Audio XO3W-375/3K 3-Way Speaker Crossover 375/3,000 Hz
Part # 260-150
———————————————
2 Parts Express Speaker L-Pad Attenuator 100W Mono 3/8″ Shaft 8 Ohm
Part # 260-262
————————————-
Added for high attenuation
Speaker L-Pad Attenuator 100W Mono 1″ Shaft 8 Ohm
Part # 260-265
—————————————–
4 Dayton Audio RS225P-4 8″ Reference Paper Woofer 4 Ohm
Part # 295-377
—————————————
4 Dayton Audio DC130B-4 5-1/4″ Classic Woofer Speaker
Part # 295-307
—————————————-
2 Dayton Audio PT2C-8 Planar Tweeter
Part # 275-085