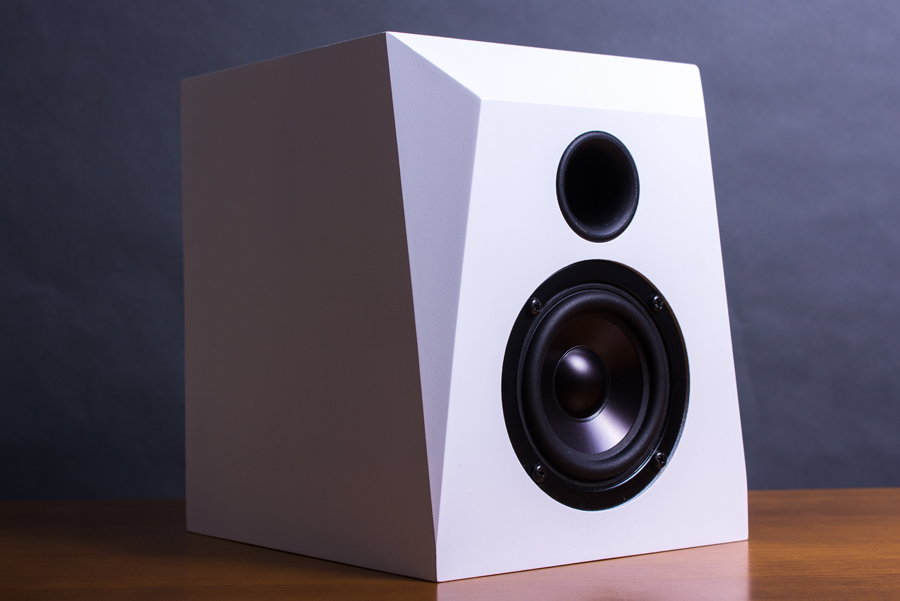 My First Build
---
Designer:
Daniel Tonks
Project Category:
Bookshelf Speakers
Project Level:
Intermediate
Project Time:
1-8 Hours
Project Cost:
Under $100
Project Description:
I currently own a set of large, floorstanding speakers as well as a moderately sized pair of bookshelf speakers, but I wanted a set better suited to near-field listening for a computer desk. I specified a level of "Intermediate" simply because the cabinets aren't pre-fab. These are certainly easy enough to build if you know how to use a table saw, sand paper and spray paint.
Design Goals:
Quick, cheap and simple! Obviously I wanted them to sound good as well, but for me that went without saying. Lastly, I wanted to build a pair of speakers that didn't just look like drivers in a box.
Driver Selection:
These were meant to be easy on the wallet. Because of this I didn't want a driver that would necessitate the use of filter networks and compensation circuits. I ended up choosing the Dayton Audio DS90-8 for the task.
Enclosure Design:
I did some calculations by hand and utilized WinISD and WinSpeakerz for further simulations. I settled on a volume of ~0.08 cubic feet with a port 4 inches long by 1 inch diameter. I suspected that having chamfered corners would help reduce the effects of baffle diffraction (compared to the usual rectangle), but without building a second set for comparison I guess I won't actually know if there's an audible difference.
Enclosure Assembly:
With a rough idea of what I wanted them to look like I headed to the woodshop and got started. I actually built two pairs in parallel: one set for myself (the test pair) and one as a gift. I began by simply constructing rectangular enclosures, then raising and tilting the tablesaw blade to make the angled cuts.
I sanded the bare enclosures up to 220 grit, then sprayed them with high-build primer, wet-sanded that up to 800 grit and then painted them white. I chose to skip clear coating them and just used a high gloss enamel paint instead.
Crossover Design:
No crossovers here!
Conclusion:
I was blown away. Overall I'm very happy with how these sound. I tested them with a small Emotiva amplifier and high resolution digital files. Test tracks included Nils Lofgren's "Keith Don't Go", Sarah McLachlan's "Angel", the MTV Unplugged recording of Alice in Chains' "The Rooster", Earth Wind & Fire's "Sing a Song", the main theme from Schindler's List, Rachmaninoff's "Rhapsody on a Theme by Paganini, Op. 43" and a few others.
Some strengths: Great imaging and detail, instruments (guitar and piano in particular) sound very natural.
Some cons: I've found that vocals can sound a little bright for my taste.
I took some very informal measurements in-room with an un-calibrated mic, so I won't place too much stock in the results, but measurements on axis at ~1m show an f3 around ~65-70Hz.
About the Designer:
I'm an electrical engineering student with too many interests for my own good.
Project Parts List