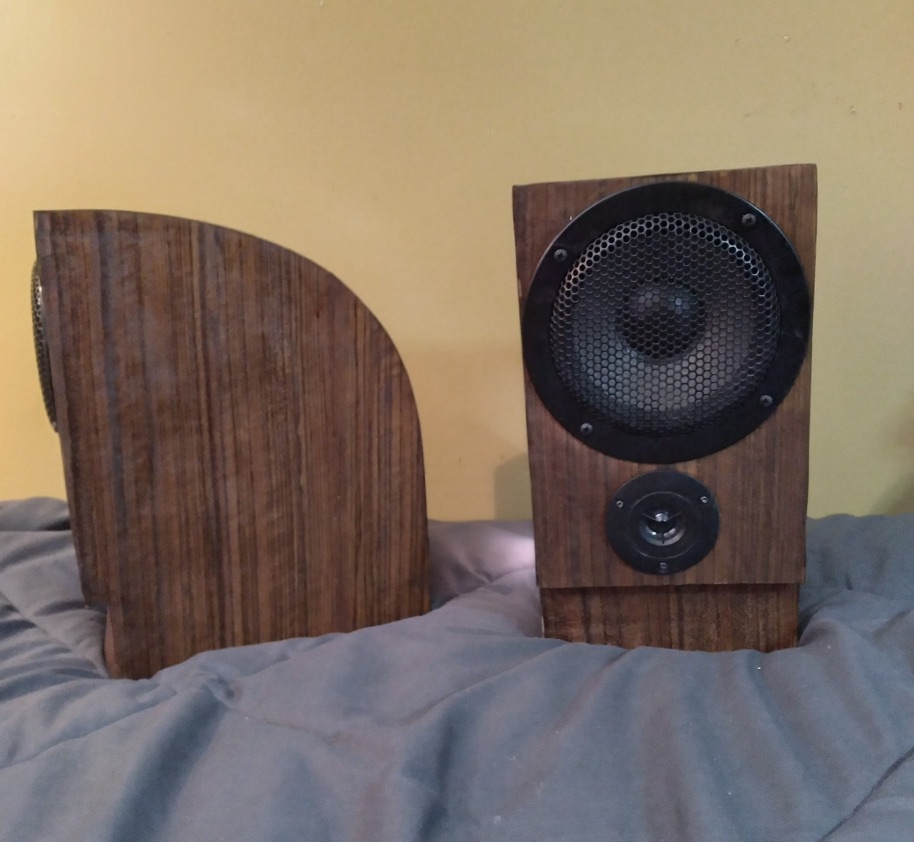 nautaloss I
---
Designer:
Bob Compton
Project Category:
Bookshelf Speakers
Project Level:
Beginner
Project Time:
20+ Hours
Project Cost:
Under $100
Project Description:
Speakers were built from foamcore with a 58″ Fibonacci spiral transmission line in a 12x9x7.5″ curved box covered in Mozambique veneer based on a design found on diyAudio by xrk971 They are progressively stuffed with polyfill.
Design Goals:
I was intrigued by the unique design and use of the unusual building material, as well as the quality sounds derived from inexpensive speakers. I was not prepared for the sound these speakers produced. They have a strong bass response to 45 Hz, and test down to 20 Hz. Total cost, minus shipping, was $16.00, plus the $2.85 for the foamcore and $16 for the veneer.
Driver Selection:
269-609 6.5″ poly cone woofer 4 ohm
292-438 mylar tweeter 4 ohm
Enclosure Design:
Nautaloss I design 58″ Fibonacci spiral infinite baffle transmission line copied from diyAudio from a design by xrk971. https://www.diyaudio.com/forums/full-range/247598-nautaloss-ref-monitor.html
Enclosure Assembly:
12x9x7.5″ 3/16″ foamcore covered with 1/42″ Mozambique wood veneer
Crossover Design:
3.3 uf cap (027-328) and 1/2 amp polyswitch speaker protector (071-251) in series with the tweeter; .2mh inductor in series with the woofer on a modified speaker plate (269-011).
Tips & Tricks:
Go to diyAudio and the foamcore thread for plans. xrk971 is the guru for this, and for all foamcore enclosures. He recommends a combination of white glue and hot glue for assembly, and that works very well. Scoring the interior of the curve through the paper with a sharp razor knife aids making the spiral immeasurably, too, without creasing the outside, ruining its look. I didn't see that step before I started, so I used spackling to build up the body to cover the bumps of the creases I made , which worked well, but made for an splotchy finish, hence the veneer. The original speaker called for is a 3.5″ full-range driver, the Tymphany TC9FD (264-1062 for 8 ohm, back order, or 264-1358 for 4 ohm), and the original width is 5.5″.
Conclusion:
The speakers were easy but a bit time-consuming to build, as they were my first such project, and I was modifying the original plans to compensate for a larger size speaker and adding a tweeter, because the original plans called for a full-range speaker and I had already bought the ones I used. The veneer added a lot to the looks, but doubled the cost of the project. I was very pleasantly surprised by the quality of sound from these speakers. The bass is outstanding, and the mids and highs are very natural. I can listen a long time with no fatigue.
About the Designer:
I am not the original designer. He is xrk971, on diyAudio, out of metro DC. He is a genius with foamcore, and has made several other foamcore designs, another of which I have also copied, with great success. I am a 75 year-old former F-15 mechanic who now hears jet-engine-sound tinnitus instead of the upper frequencies from my stereo, who loves to tinker and so made these as my second ever speakers.
Project Parts List:
| | | |
| --- | --- | --- |
| Part # | Description | Qty |
| 299-609 | 6-1/2″ Poly Cone Midbass Woofer 4 Ohm | 1 |
| 292-438 | GRS 1TM-4 1″ Mylar Tweeter 4 Ohm | 1 |
| 269-390 | 6-1/2″ Wire Mesh Speaker Grill with Trim Ring | 1 |
| 269-011 | Panasonic SUPS135-11 Speaker Terminal Plate with Tweeter and Mid High Pass | 1 |
| 027-328 | 3.3uF 100V Electrolytic Non-Polarized Crossover Capacitor | 1 |
| N/A | .2mh inductor | 1 |
| N/A | foamcore | 1 |
| N/A | wood veneer | 1 |