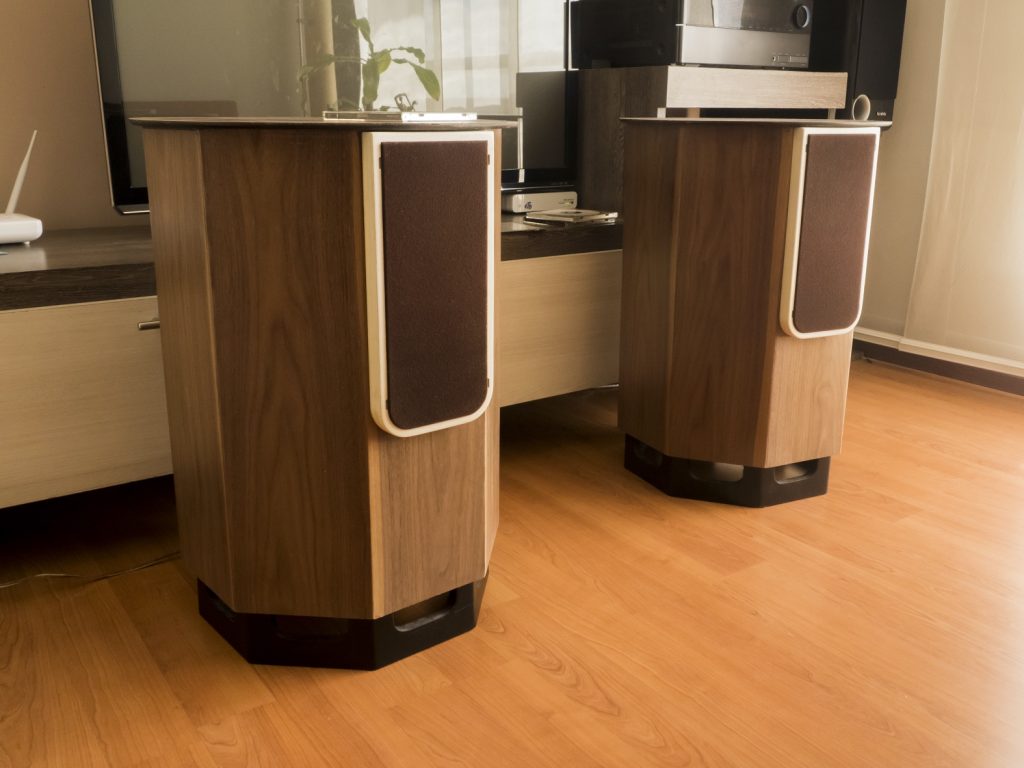 New Empire
---
Designer:
Heldesign
Project Category:
Freestyle Speakers
Project Level:
Beginner
Project Time:
8-20 Hours
Project Cost:
$100 – $500
Project Description:
Since the 80's my dad has a Marantz audio equipment, and from that time he bought some DIY speakers that were based on the Empire design, they always fascinated me but over the years their deterioration was evident. I finally decided to renew them trying to preserve their vintage spirit.
Design Goals:
My goal was to renew all the electronics, the drivers and its exterior appearance, but keeping its sound and vintage appearance.
Driver Selection:
For the crossover I used I tried to get drivers that will work well being the idea to follow the vintage line.
I used 2 Phenolic Ring Tweeter Replacement for AR-4X CTS Marantz and More 8 Ohm Part # 270-252
2 Visaton M 10 4″ Sealed Back Cone Midrange Driver 8 Ohm Part # 292-594
For the woofers I used the originals that were in excellent shape, a 12 "Japanese Tonegen.
Enclosure Design:
As I explained at the beginning, the design is based on the Empire Grenadier Speakers of the 70's, they are hexagonal in shape, on one side are the tweeter and mid-bass drivers and a 12″ down-firing woofer mounted at the bottom, radiating through grillework around the entire cylinder
Enclosure Assembly:
Los cerramientos ya estaban hechos, solo los cubrí con chapa de nogal y les di un acabado semi-mate con laca catalizada. Conservé las cubiertas de mármol originales.
Crossover Design:
I found a couple of Marantz crossovers of the SP 1200 model in very good condition that maintained the vintage sound that I wanted and complied with the characteristics of the drivers. I'm not good at designing crossovers so I decided to use them and was very happy with the result.
Conclusion:
El resultado final me dejó muy feliz, el sonido es muy detallado y cálido con graves profundos y muy equilibrado con frecuencias altas y medias. Obtuve el aspecto y el sonido vintage con un toque de modernidad que realmente se adapta muy bien.
Si lo desea, tengo un video con algo de su sonido en este enlace de youtube https://youtu.be/lyskR3lQHwQ
About the Designer:
I am an Industrial Designer and a lover of good sound, I work in furniture and I love these projects that combine my hobby and my work.
Project Parts List: