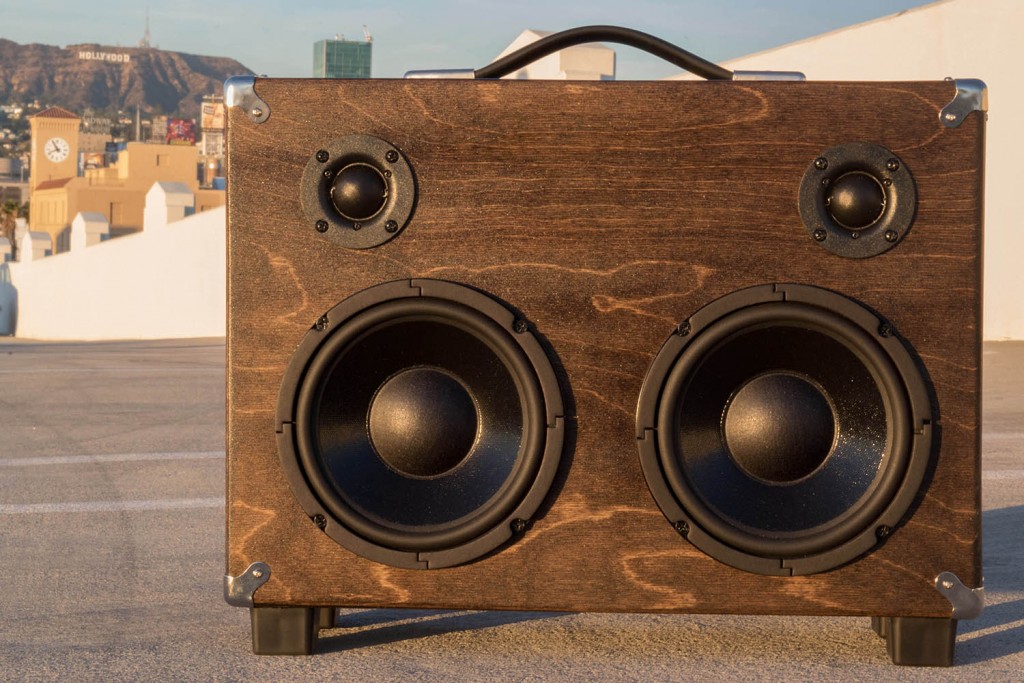 NinjaBox v1
---
Designer:
Steven M. Turner
Project Category:
Portable Speakers
Project Level:
Intermediate
Project Time:
8-20 Hours
Project Cost:
$100 – $500
Project Description:
My first speaker build. I rounded all the corners by hand and did not have access to a table saw.
Design Goals:
Be self powered, have a great sound signature, look stylish, and be able to transport easily.
Driver Selection:
295-309, 275-040, 295-498
Enclosure Design:
Made with 1/4″ Baltic Birch plywood and reinforced with 3/4″ x 1.5″ on the inside. I used a Fender Amp handle because of the clean design yet strong construction and 1″ feet so I don't have to worry about uneven ground.
Enclosure Assembly:
I used Gorilla Wood Glue and then 3/4″ finishing nails for extra assurance.
Crossover Design:
After learning more afterwards, I learned that the crossover I chose doesn't really do anything due to the impedance difference of the speakers. Therefore making the crossover point irrelevant.
Tips & Tricks:
Always leave some overlap when cutting your panels so that you have enough to work with when it comes time so sand everything flush to each other. You can always take material off but you can't add more back on.
Conclusion:
For this being my first build involving electronics, I am extremely happy with how my boombox came out. It sounds and looks great with over 15hrs of battery life per charge.
About the Designer:
Studying to enter the video game industry, I enjoy doing projects involving woodworking when I have free time as well as building computers. I also enjoy the satisfaction after completing a project and knowing you built it all from just a pile of wood and components.
My Website:
steventurner.artstation.com
Project Parts List: