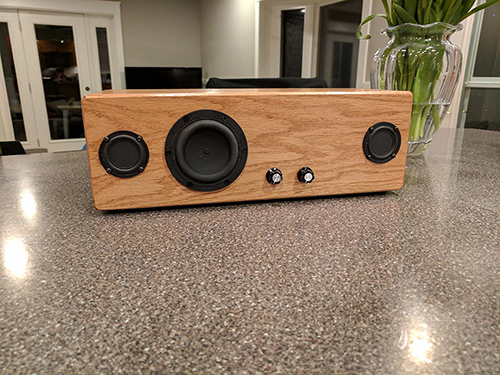 Oak 2.1 Boombox
---
Designer:
Jonathan
Project Category:
Portable Speakers
Project Level:
Beginner
Project Time:
8-20 Hours
Project Cost:
$100 – $500
Project Description:
A compact bluetooth boombox with the power supply and subwoofer built in.
Design Goals:
This was one of my first complete builds. I wanted a bigger boombox for my workshop that I could also use around the house. It replaces a miniature box I built with BMR drivers that had almost no low end. I wanted it to be compact and clean with no external power brick and minimalist interface.
Driver Selection:
I chose the Tectonic Elements TEBM35C10-4 BMR 2″ Full-Range Speaker (#297-216) and the Tang Band W3-1876S 3″ Mini Subwoofer (#264-909) for their similar appearance and small size. I also liked the wide dispersion from the BMR driver in my work area. The whole thing is powered using the buyout Mini Hi-Fi 2.1 Class D Audio Amplifier Board (#329-608) which sounds pretty good and has an integrated volume pot.
Enclosure Design:
The box is a long rectangle approximately 15″ x 5″ x 6″. The subwoofer is mounted in roughly 1.4 L with a passive radiator. The BMR drivers are sealed in roughly 0.7 L. A fourth chamber houses the amp, Bluetooth reciever, and 75W power supply.
Enclosure Assembly:
The box is assembled from 1/2″ oak board from the big box store. The front and back panels are 1/4″ oak board. Besides the back panel, everything is rabbeted / dado'd and glued. I cut the driver holes with a router circle jig and everything else with a jigsaw. I rounded all the edges with a router and sanded the joints flush. I used Minwax 'Cherry' stain (though not as dark as I'd like, for some reason) and three coats of satin polycrylic.
Crossover Design:
There is no crossover but I did put a 3-ohm resistor in series with each of the BMR drivers. It sounded a little 'shouty' and the bass had to be maxed out to match it — the resistor quieted it down and the levels match better now. I didn't use an L-pad because the speaker was 4 ohm impedance and the amp is rated for 8 ohms. The amp board has a fixed 150Hz low-pass filter for the sub channel. There's also a separate pot to adjust the subwoofer level.
Tips & Tricks:
The box depth is 6″ — 5.5″ standard board width and 1/4″ baffles. This way I didn't have to rip-cut any boards.
The Q&A sections for all of the Parts Express products I used typically have enclosure recommendations and box tuning information. Lacking access to any special software, this was a big help to double-check calculations.
Conclusion:
The sound is really great for what I listen to, mostly rock and electronic/pop music. There's a surprising amount of low-end thump from the little subwoofer, and the full-range speakers are clear and loud.
I was really pleased with the clean physical appearance of the box. It's nice to plug it directly into a wall socket with no brick or anything. It's small enough to fit on a shelf above my bench, or on the kitchen counter.
About the Designer:
I'm a mechanical engineer who got into building speakers when I saw a DIY tabletop speaker in a store and I thought "I can build that!". I enjoy woodworking but had minimal prior experience with electronics or music.
Project Parts List: