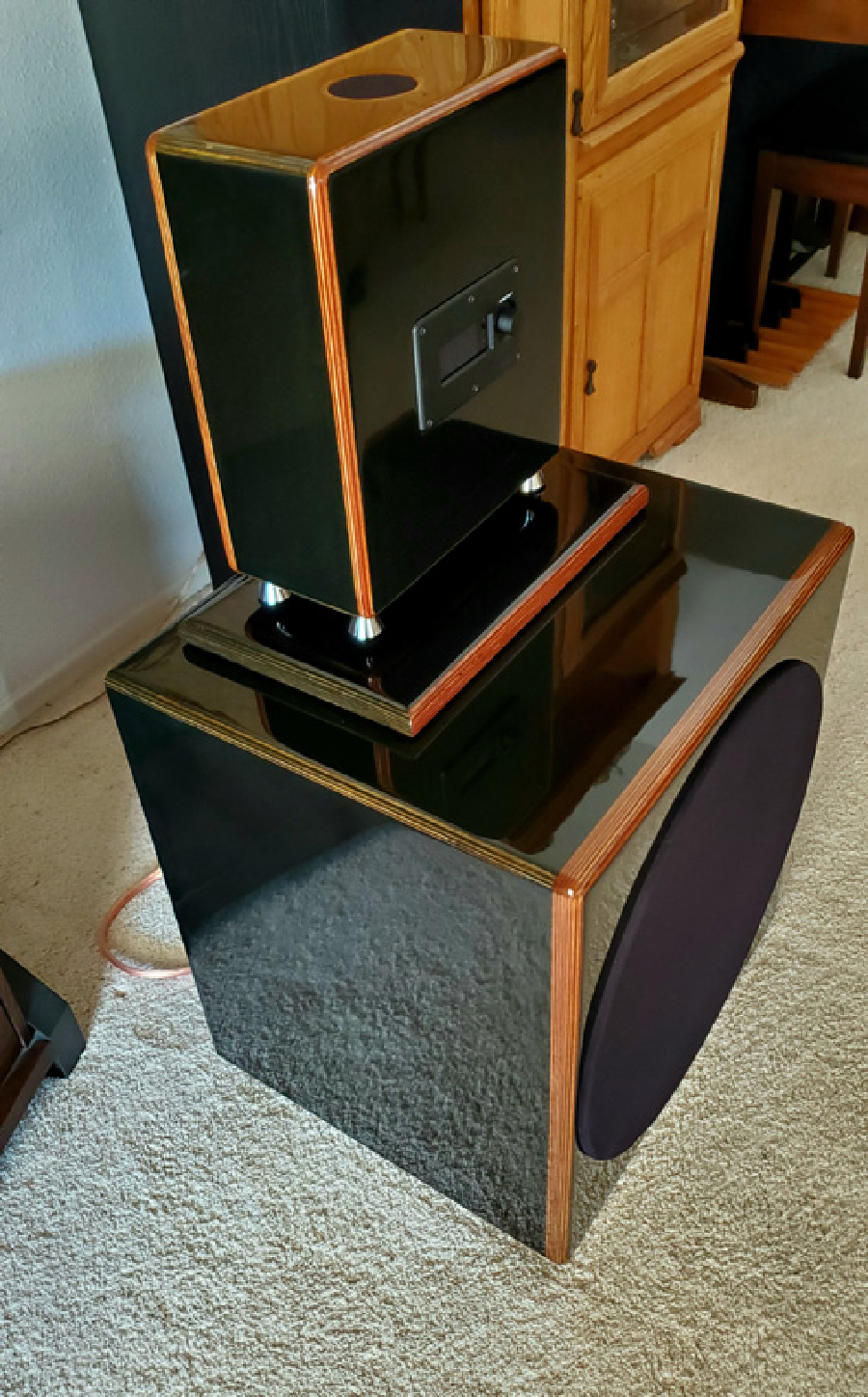 One of a kind
---
Project Category: Sub-woofer
Project description: To create an incredible sounding sub that is truly one of a kind. Time to think outside the box, sorta say.
I wanted to build a high end sub without paying over the top pricing for off the shelf solutions, relatively speaking. This is the last sub I want to buy and I have had many off the shelf brands over the years. I'm going to enjoy this challenge!!
Design goals: Build a sealed enclosure that has superior sound quality, super rigid, functional and beautiful. Simple goals right??? My end goal, an incredible performing sub that integrates into my surroundings looking like a fine piece of furniture.
Driver Selection: This was easy, wanted performance, top build quality, size and DSP capability for room calibration. The Dayton Audio 18″ Ultimax Subwoofer with SPA1200DSP Amplifier fit the bill. My friend purchased the same set up and when I heard it for the first time… I have to have to have one!!
Enclosure Design: Spent hours scouring the web looking at homemade subs to find design/finish ideas. Saw some great stuff but nothing stood out to me so I decided to go over the top with this design. From the start I really wanted that professional piano black finish utilizing a box construction I believe never done before creating a true one of a kind sub. With the Parts Express sub kit I noticed the SPA1200DSP had a cooling fan. I needed to design a second box for the SPA1200DSP that allowed airflow for cooling so I did not want to integrate it into the sub enclosure.
Using appropriate software and the Ultimax sub specifications I knew the optimal enclosure volume.
Enclosure Assembly:  I think I can honestly say this enclosure has never been done due to the overall costs. If you're going to do it…? Didn't want to use MDF as finishing the end product just wasn't where I wanted it to be.
First off, want to thank Tom at Heritage Hardwood Furniture for providing me the foundation to start this project off with. Top notch build. All pieces of the enclosure rabbet matched to fit together perfectly in a truly remarkable solid piece.
Material? Found a perfect candidate using a 17 layer 1″ hot-press plywood. This material is so hard I anticipate absolutely no flexing of the box structure under high volume. Carrying the 4' x 8' piece, although incredibly heavy, didn't show any flex over the entire area, cutting to smaller pieces even better. Stacking two layers deep on the front of the enclosure provided a 2 inch baffle.
This thing is DARN heavy! Planned early on how take advantage of the layers of plywood and bring it into the design. So much prep work on this enclosure, grain filler and sanding to provide that ultra-smooth finish for that piano black look. Like painting a car, finish is only as good as the foundation. Started off by rounding the square edges at of the box at different radius's to highlight the front of the enclosure and to take away from the stark square edges.
To keep things consistent there was enough leftover wood to build a look alike box for the SPA1200DSP Amplifier.  Tom at Heritage Hardwood Furniture took care of this with my specifications and his eye for detail.
Crossover Design: N/A
Conclusion: I have been in audio over 40 years and had some pretty impressive systems, to me, over the years. I built my own custom car audio system using tube amp for front stage and won several awards in car audio competition for sound quality class. I prefer tonal balance without a sub being over gained. I can honestly say I have never heard bass detail, attack and decay in the bass notes like this Dayton Audio 18″ Ultimax Subwoofer matched with the SPA1200DSP with the exception of a well-mixed live concert. To hear a kick drum and bass guitar details, this is one that is truly satisfying. This Project took 5 months to complete with all the wood prep work and finishing. Of course had to practice several times on scrap piece to perfect the final outcome. The standalone piece in the pics was the sacrificial one. That poor thing went thru so many iterations, my sander worked overtime J Found out you have to have incredible patience working with spraying oil based polyurethane and to allow proper cure time before handling. Hours and hours polishing to achieve that piano black look…. Unfortunately some of the pics don't do justice, a couple pics looking at the depth of the reflection will demonstrate overall look…depth and clarity I am very pleased with.
A 7.1 surround system fully calibrated with this set up, beginning of Saving Private Ryan! Wow, the depth an accuracy, this sub ROCKS! Felt like I was on the beach taking on fire, those poor soldiers L I appreciate your service!!!
Tips and Tricks: Patience is a virtue, get a plan together and stick with it.
About the designer: Just a regular guy that enjoys the finer details and balance while listening to any type of audio. Engineer at heart that has to have everything thought out ahead of time before first step is taken.
I could talk audio reproduction for hours and sharing my experience and knowledge. Someone want chat or want one of these? Email me at, [email protected]. Be prepared, $$$$
Products used: 
| | | |
| --- | --- | --- |
| 300-7200 | Dayton Audio 18" Ultimax subwoofer with SPA1200DSP and cabinet package | 1 |
| 240-715 | Dayton Audio DSS4Black Chrome Speaker Spike Set 4P | 2 |
| 329-045 | Parts Express Magnetic Grill Guides 0.395" Dia x 0.2 | 1 |
| 340-650 | 5 Min Two Part Two Part Epoxy Adhesive 4.5 oz. Kit | 1 |
| 269-2158 | Speaker Cabinet Port Tube 1 ¾" ID x 7/8 L | 1 |
| 260-542 | Parts Express Speaker Gasketing Tape 1/8 x ½ x 50ft | 1 |
| 100-028 | Audtek 10 AWG OFC Speaker Wire 50 ft. | 1 |
| 091-1245 | Dayton Audio BPA-38G HD Binding Post Banana Jack  Pair G | 1 |