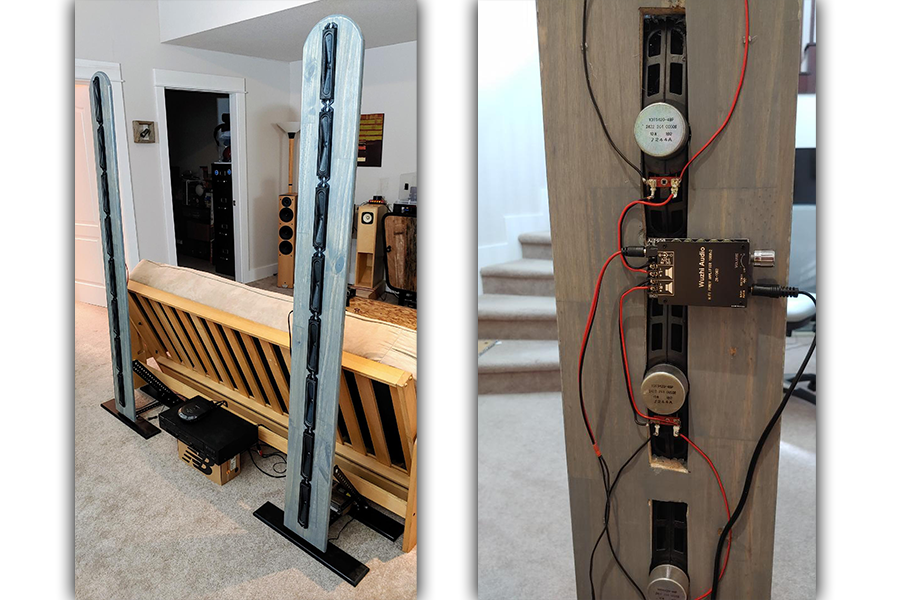 Open-baffle line-source speakers
---
Designer:
GaryG
Project Category:
Tower Speakers
Project Level:
Intermediate
Project Time:
1-8 Hours
Project Cost:
Under $100
Project Description:
Self-powered line-source array.
Design Goals:
Concept was to create a simple but nice sounding speaker using budget drivers that I spotted in P-E's "factory buyout" section.
Driver Selection:
YDT0420-4BP full-range 16-ohm (described as flat-screen television drivers).
Enclosure Design:
Open-baffle
Enclosure Assembly:
Stained poplar with tilt-angle adjustable wood/metal stands. Each speaker is 6 ft tall, 8" wide.
Crossover Design:
None; drivers operating in unison as full-range. As such, here's the wiring scheme: Each speaker has two "groups" of four 16-ohm drivers, each group wired in parallel, resulting in a 4-ohm load per group. The stereo amplifier connection is one channel per group, and each speaker's amplifier is driven in mono (via left and right channels respectively from the source). Clean & simple.
Conclusion:
Surprisingly full sound with an open & spacious sound stage, nice detail with an overall smooth presentation. Lower-end response is also respectable on their own given the driver specs, though the addition of a powered sub rounds thing out nicely.
About the Designer:
Retired engineer who's been into fine audio equipment for many decades, like having fun with class-A amplifier builds and unconventional speaker designs.
Project Parts List:
| | | |
| --- | --- | --- |
| Part # | Description | Qty |
| 289-2128 | YDT0420-4BP 1-1/2″ x 7″ Paper Cone Full-Range Speaker 16 Ohm | 16 |
| 320-699 | TPA3116D2 2x50W Class D Stereo Amplifier Board with Volume Control | 2 |
| 300-627 | Dayton Audio SUB-800 8″ 80 Watt Powered Subwoofer | 1 |