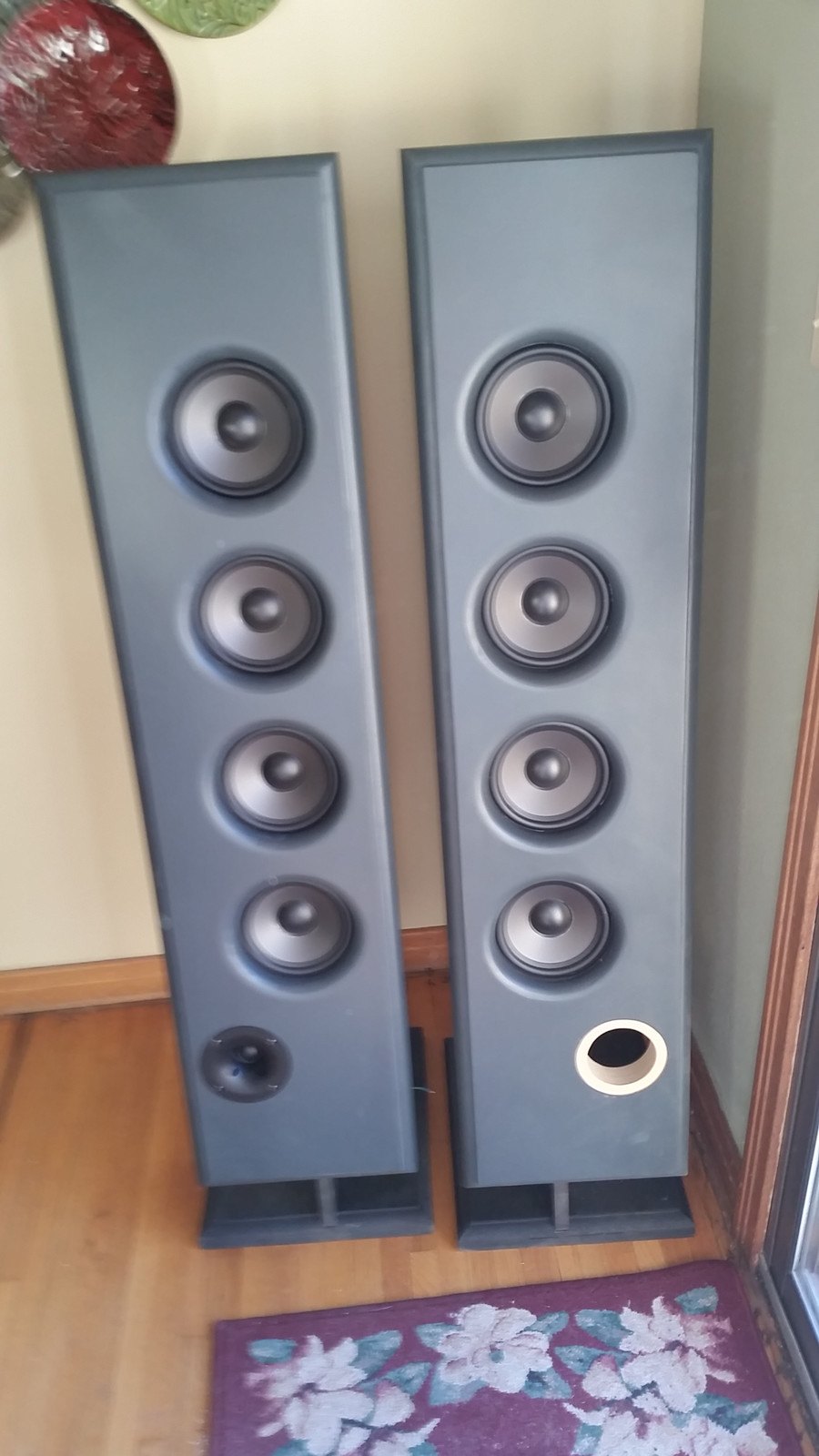 open baffle rookie
---
Designer:
bhearts
Project Category:
Tower Speakers
Project Level:
Intermediate
Project Time:
8-20 Hours
Project Cost:
Under $100
Project Description:
i have never dealt with open baffle designs before, but i love how this turned out. wonderful, flat bass response that plays alot lower frequencies that i ever would have expected from an open baffle design.
Design Goals:
make a great sounding tower that i can give to my in laws while making them think i spent tons of money building them something that also looks good.
Driver Selection:
6.5 inch poly cone midbass speakers that are on the factory buyout deal because who doesnt want to make awesome towers using 4 dollar speakers and the goldwood 1″ softdome horn tweeters
Enclosure Design:
the face of the OB is 2 sheets of mdf thick so that i could round over the speaker exit to give it a streamline look. the face is 12×48 and the total height with stand is roughly 4.5 feet tall. i painted the rear non visible areas of the OB tower with a black spray paint, and the face of the tower was a grey with a nice clear poly over it. no real previous knowledge of open baffle designs so i just kinda winged it on the dimensions.
Enclosure Assembly:
I didnt have any huge set backs why designing these towers. i wired the speakers up in a series parallel design to end up with a 4 ohm impedance. toughest part was probably figuring out how to attach the face to the base plate, which i do think turned out looking quite fashionable. i really liked how the speakers mounted from the rear, are replaceable, and how the wiring worked itself out. its very rigid wiring design which helps because its all exposed to the elements.
Crossover Design:
i used the premade PE 5khz 8 ohm hpf crossovers for the tweeters. no filters on the midbass drivers.
Conclusion:
i dont think ill ever go back to enclosed towers ever again. the bass from this open baffle is the best thing ive ever heard. its so smooth and seems to extend down to the sub 50 range, although i have not performed any formal tests to verify this. i think these towers will look great in my in laws living room.
Project Parts List: