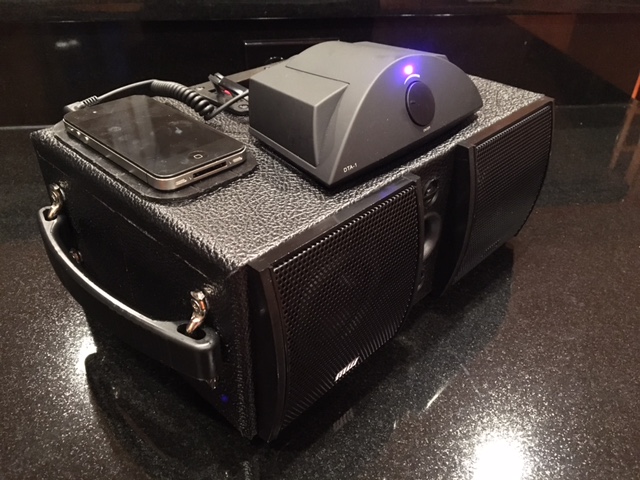 Pandora's Box
---
Designer:
Mike W.
Project Category:
Portable Speakers
Project Level:
Intermediate
Project Time:
1-8 Hours
Project Cost:
$100 – $500
Project Description:
Pandora's Box is a portable, battery operated/plug-in, boom box. It is a separate speaker with a Dayton Audio DTA-1 amplifier capable of 15W/channel piggybacked on to it. The DTA-1 can run on 8 AA batteries or the supplied 2A 12V AC adapter.
Design Goals:
Create a portable boom box (small, light, rugged) that can operate on AA rechargeable batteries with outstanding sound at a reasonable price. Source is from an iPhone running Pandora, which rests on the unit and connects via headphone jack to the amp via the included cable.
Driver Selection:
2 x [290-208] Dayton Audio ND90-4 3-1/2″ Aluminum Cone Full-Range Driver (4 ohm).
1 x [264-841 Tang Band 13-1761S 1/2″ Silk Dome Tweeter Pair (8 ohm).
Enclosure Design:
The single enclosure is made of ½" MDF glued together. The edges are chamfered using a router. The box is finished off with a textured vinyl wrap and carrying handle.
• Exterior dimensions: W x H x D: 12" x 4 ¾" x 8"
• Interior Volume: 0.167 cuft
• 1" Port tube cut to 2" in length to achieve Ported F3 of 59Hz
• 1.5oz of Acousta-Stuf
Enclosure Assembly:
Enclosure is a simple rectangle with the pieces glued together with wood glue. It was temporarily screwed together while the glue set. Screws and/or nails could not be left in place as the edges are camfered (1/4 round) with a router.
Crossover Design:
I attempted to use the 12db 5kHz crossovers from PE but this rendered the tweeters unusable (horrible distortion and attenuation). So far, I have experienced no issues with having them in parallel/full-range even at maximum volume. Currently the drivers and tweeters are wired in parallel and are both operating as full range. So far, I have experienced no issues with having them in parallel/full-range even at maximum volume.
Tips & Tricks:
To secure the phone I used one of those grippy rubber pads. You know the kind you can buy for your car dashboard to keep your phone from sliding around. It is quite safe to carry this around by the handle and not have the phone fall off.
Conclusion:
The sound from this little box is inspiring for its size with surprising good bass response. The midrange is excellent and the tweeters are a "must add", to achieve excellent clarity at the high-end. I am using Panasonic Eneloop AA rechargeable batteries and they have lasted exceeding long as I have yet needed to recharge them (it's been over a week of regular use). The amp is held in place via Velcro, which allows easy access to the underside battery compartment when it's time to recharge/replace the batteries.
About the Designer:
I am an Electrical Engineer by profession and a fairly handy person. This was my first speaker build and I had a lot of fun doing it!
Parts Used:
PE Parts List for build:
2 290-208 Dayton Audio ND90-4 3-1/2″ Aluminum Cone Full-Range Driver (4 ohm)
1 300-380 Dayton Audio DTA-1 Class T AC/DC Amplifier 15 WPC
1 260-760 Vintage Marshall Style Black Bronco Tolex Vinyl Speaker Cabinet covering
1 320-435 Adhesive Rubber Feet Dome Shaped 12-Pack
1 262-306 Penn-Elcom 0394BK Black Rubber Strap Handle 7″ x 1″
1 269-013 Dual Channel Speaker Wire Terminal Plate with 550 Hz High Pass Filter (Must remove high pass filter!)
1 260-317 Acousta-Stuf Polyfill 1 lb. Band
1 264-841 Tang Band 13-1761S 1/2″ Silk Dome Tweeter Pair (8 ohm)
2 260-170 Speaker Cabinet Jumper Wire 24″ with 0.205″ Disconnects
1 260-470 Port Tube 1″ ID x 4″ L Flared 1.98 1.98
Additional Items required which I already had on hand:
• 2'x2'x1/2" MDF
• Wood Glue
• 3M 77 Adhesive
• Velcro
• Black pan head screws
• 4" Automotive Speaker Grills
• Speaker wire (Amp to Speaker) and assorted female crimp-on terminals