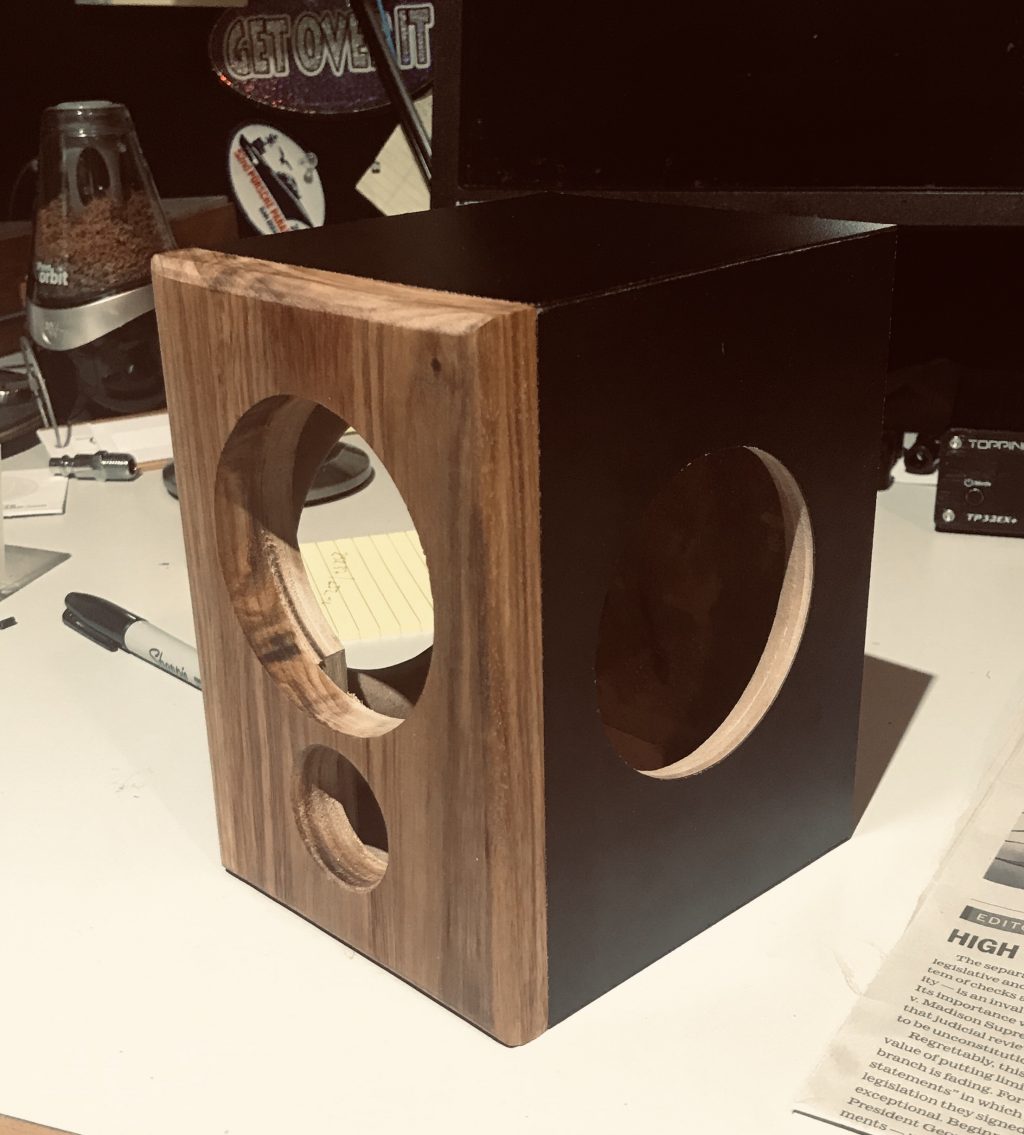 Passive Agressive Kit Build
---
Designer:
Bob G.
Project Category:
Bookshelf Speakers
Project Level:
Beginner
Project Time:
8-20 Hours
Project Cost:
$100 – $500
Project Description:
Build of Passive Agressive Mini Speaker kit.
Design Goals:
I wanted to build my own speakers. I am otherwise a Dynaudio fan.
Driver Selection:
Dayton Audio ND91-4 bass driver
Dayton Audio ND90-PR passive radiators
Dayton Audio ND20FB-4 tweeter
Enclosure Design:
Passive radiator
Enclosure Assembly:
Glued MDF and Canary wood
Tips & Tricks:
The layout of the crossover parts requires care, there is not much room inside the enclosure. Make sure wires do not obstruct the passive radiators. I glued the fronts separately from the rest of box and this made checking clearances inside easier. Install the passive radiators last to make sure all is clear. I used the MDF front panel supplied as a pattern to make a front of Canary hardwood using a router to shape panel. Not sure it helped or hurt but I routed a 3/8″ radius around the inside surface of the speaker holes to improve air flow then added back the lost volume with a thicker front panel. Sides are vertical grade laminate.
Conclusion:
Great sounding speakers for my desk. Nice imageing. I drive them with a Topping TP32EX+ DAC/Amp with USB input from Tidal high res stream running off my PC
About the Designer:
Retired Doc and my first speaker build.
Project Parts List: