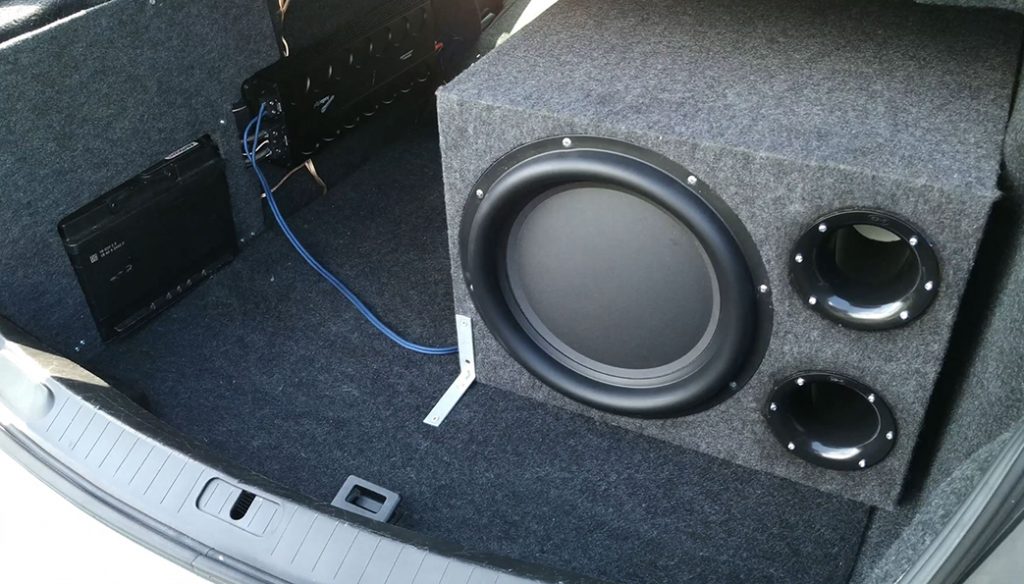 Peerless STW-350 Trunk Build
---
Designer:
BudgetBassHead
YouTube: BudgetBassHead
Project Category:
Car Audio
Project Level:
Advanced
Project Time:
8-20 Hours
Project Cost:
$500 – $1,000
Project Description:
Subwoofer: Peerless By Tymphany STW-350F
Dual Ports: 3 diameter, 5 1/4in flared, 18in length
Enclosure Volume:4.1cu.ft.
Port Tuning: 21Hz
Auxiliary battery – 120AHr AGM
Amp – Audiopipe 2000.1d
4 Ohm load: 800 watts RMS
LOC – PAC LC2i
Design Goals:
I wanted to build an enclosure that saved space and had optimum output capabilities.
Driver Selection:
Peerless by Tymphany STW-350F-188PR01-04
Enclosure Design:
Enclosure Volume:4.1cu.ft.
Dual Ports: 3 diameter, 5 1/4in flared, 18in length
Port Tuning: 21Hz
Enclosure Assembly:
3/4 in MDF Plywood
Carpeted
Crossover Design:
Crossover controlled internally by amplifier.
Amp – Audiopipe 2000.1d
Subsonic Filtered @ 80Hz
Conclusion:
I eventually removed the Peerless By Tymphany STW-350F from my car. This subwoofer is just too powerful was shaking all the paneling from my car's interior. This will have an effect on the resale value of the vehicle and for that reason, I replaced it with something less powerful. The subwoofer is now part of my home entertainment center.
About the Designer:
Audio enthusiast since childhood. I was the little fellow ripping apart headphones to see the diaphragm vibrate.
Project Parts List: